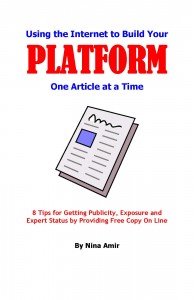 Today, most book publishers require that nonfiction writers take on most of the promotional and marketing duties necessary to sell their books. However, to accomplish this job, nonfiction writers have to begin promoting and marketing their books long before they hold the bound tome in their hands. They have to begin building what the industry calls a "platform," a base of potential readers that know them as an expert in their field or on their subject from their speaking, writing and presence on the radio, television and Internet. (Actually, fiction writers need a platform as well.) Expert platforms consist of:
numerous appearances on radio and Internet talk shows and television talk and news shows
frequent quest blogs
a well-know presence in on-line forums and social networks
popular videos or pod casts
frequent interviews on other peoples' pod casts
your own Internet, radio or television show
a multitude of published articles or books in both print and Internet publications
an extremely-large mailing list
frequent talks and presentations given to small, medium and large groups
For nonfiction and fiction writers alike, writing loads of articles for specialty and mass-market magazines and newspapers and for e-zines provides an infinitely-easier method of platform building than any of the others. While publishing articles in traditional print publications is advisable and encouraged, and magazines and newspapers carry a lot of clout, when it comes to platform building, the easiest way to start building your platform involves writing and publishing articles for on-line publications. As these articles are published, you will begin to achieve expert status. You will find yourself also asked to speak for organizations and at events, to be interviewed by podcasters, and to appear on radio and television shows. As a result, you will end up with a platform large enough to please any publisher large or small. Add to that a great book idea and some great writing skills, and you'll soon have a published book. (If you're a self-published author, your platform will help you get readers buying your book.)
Start building your platform today by writing articles and offering them to e-zine directories on line! Purchase this e-book, Using the Internet to Build Your PLATFORM One Article at a Time, to find out how!
Cost: Special limited time only  $10 (Value of Information:  Priceless) No Shipping – e-book (PDF)