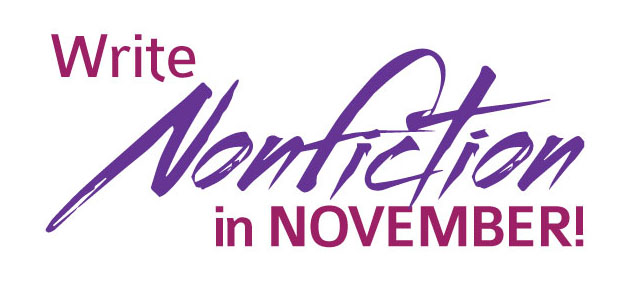 Write-a-Book in a Month Coaching Program
You've decided to take the challenge to write a nonfiction book in a month.
But now you're feeling a bit worried. Can you really start and finish a book (or some other nonfiction project) in a month?
Of course, you can!
But meeting the challenge is easier with support, writing buddies, and accountability. You'll have an easier time and loads more fun if you take the Write Nonfiction in November (WNFIN) Challenge with others ... and have a coach to cheer you on and keep you moving toward the finish line.

When you join the WNFIN Write-a-Book in a Month Coaching program you receive:

Support as you try to complete your manuscript in 30 days.

Coaching--the opportunity to ask questions and get help when you are stuck.

Accountability to keep you writing daily for a month.

Deadlines and word count goals.

Tools to avoid getting stuck or losing focus.

Strategies to stick to your writing schedule.

Answers to your questions about writing and publishing.

Tips, tools and strategies used by the most high-performing writers.
Additionally, every Monday during November you will gain access to an interview with an expert. This person will provide tips and strategies on how to successfully write a book in a month. Here is the list of experts:
Tom Corson-Knowles, #1 Amazon Bestselling Author of more than 20 books and founder of TCK Publishing

Ellen Violette, The Ebook Coach

Grant Faulkner, author and executive director of National Novel Writing Month

Shelley Hitz, author and founder of the Author Audience Academy

Rick Benzel, editor, ghostwriter, and book coach

WNFIN coaching will help you finish what you start. Get the support you need to write your book in a month.

Coaching sessions are by teleseminar line and will be in a Q&A format. During sessions Nina Amir will provide an accountability process, support, tips and strategies to help you complete the WNFIN challenge.
Calls will be held on Monday, November 6, 13, 20, and 27.
Each session will run from 9-10 a.m. Pacific Time.

WNFIN Write-a-Book in a Month Coaching Program
NFWU Members: FREE
(Non-NFWU Members: $147)