Download your copy of my Kabbalah of Conscious Creation eBook
The Kabbalah of Conscious Creation, How to Mystically Manifest Your Physical and Spiritual Desires takes you through the four Kabbalistic worlds of creation to help you manifest your desires while also teaching you how to become not only a receiver but a giver as well, thereby developing a connection with the Ultimate Creator and tapping into the Divine flow of giving and receiving. Designed with short, easy-to-understand chapters, this booklet includes tips, tools and meditations for creating what you want and need on the physical and spiritual planes.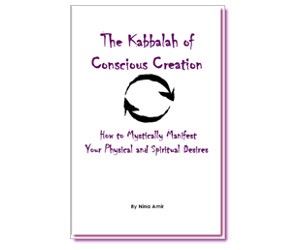 To get your free copy of Nina's book The Kabbalah of Conscious Creation please complete the form below. An email with a link to download a PDF of the eBook will immediately be sent direct to your inbox. 
Completing this form will also subscribe you to Nina's email list and you will receive the bonus eBook, How to Create--and Achieve--Your Goals.