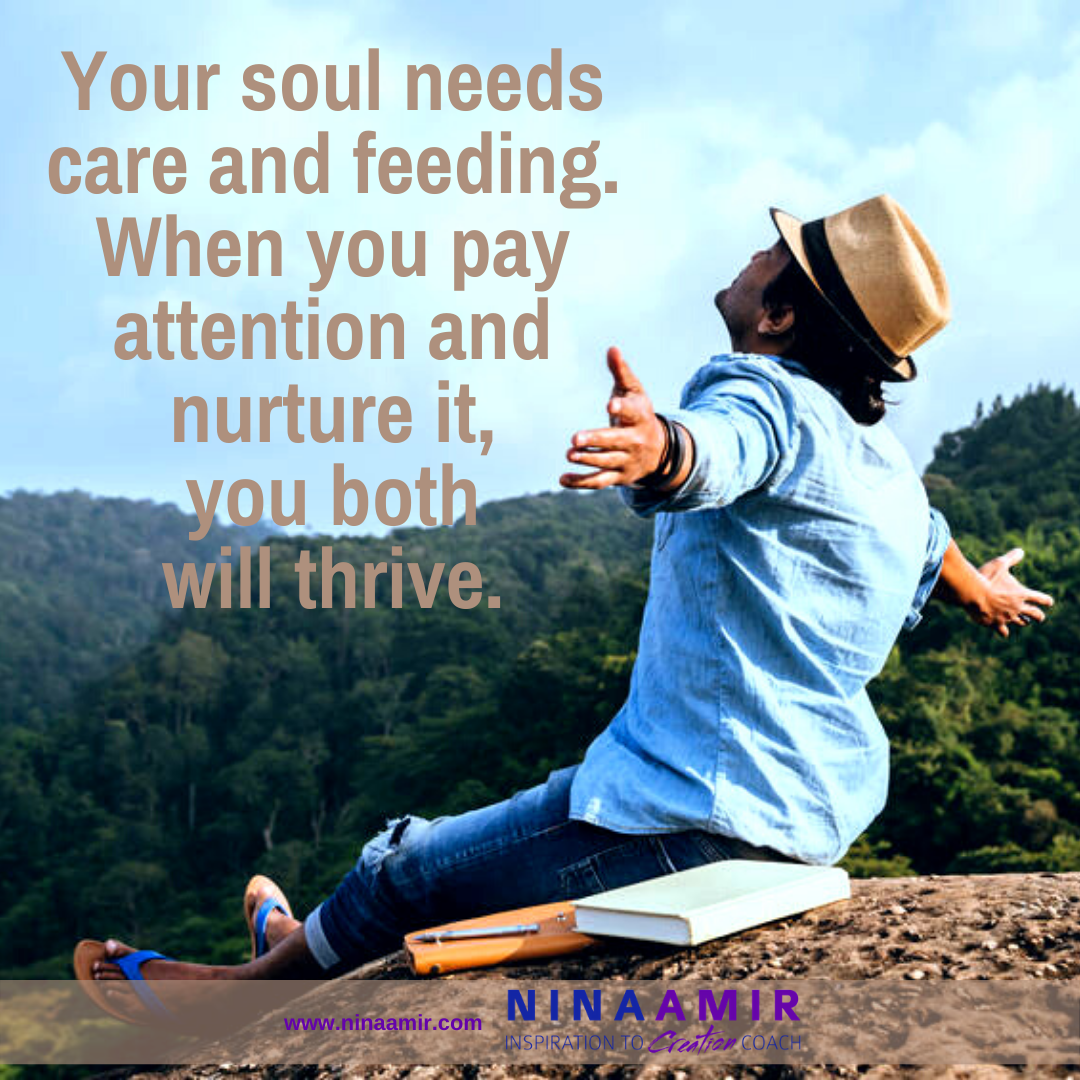 Most of us don't spend a lot of time thinking about how we care for our souls. If you are spiritual or even religious, you might know that observing the Sabbath, praying, or meditating does the soul good. But when you aren't involved in spiritual practices, you may fail to consider how you care for or feed your soul.
Your soul can't survive for long without care and food. And if it begins to die, so do you.
When your soul is starving, you experience the effects. These include a deep feeling of unhappiness, discontent, and restlessness. As time goes on, your body and mind become impacted, too. It becomes hard to focus, and you start to have aches and ailments.   This makes sense since you are a body-mind-spirit being. If one aspect of your system is impacted, all the rest suffer as well.
You might not realize what is happening. Indeed, like many people, you might not have any clue that you are killing yourself a little bit each day by not paying attention to your soul's needs.
So how do you care for and feed your soul? How do you keep it healthy, vibrant, and happy? Here are 16 strategies you can employ.
1. Get Quiet
Stop talking. Turn off the music, television, podcast, audiobook, or video. Allow yourself to experience quiet. In that quietude, listen. Your soul will speak to you softly.
2. Talk
Have a conversation with your soul. Or, talk to Source, Creator, God—whatever you call Divinity. Pray. Speak as if you are bearing your soul to the one person you trust totally and who can offer you support.
3. Inspire Yourself
Read books, have engaging conversations, listen to music, watch videos of motivational speakers. Do something that inspires you.
4. Journal
Write your thoughts in a journal. Even better, ask your soul to speak to you. Then let your pen fill the pages with everything your soul says.
5. Say No
Say "no" to the things that don't make you happy, excited, fulfilled, peaceful, or inspired. Whenever you say "yes" to something you don't want to do or be, you starve your soul a little bit. And you fill your time with responsibilities and activities that don't care for or feed your soul.
6. Say Yes
Say "yes" to the things that make you happy, excited, fulfilled, peaceful, or inspired. Every time you say "yes" to something you want to do or be, you feed your soul. And you take time to address it's desires and needs while you achieve your purpose.
7. Commune with Nature
Spend time outside the concrete jungle, your cubicle, and the walls of your home. Spend time in nature! Hug a tree. Plant a garden. Sit by a lake or river. Swim in the ocean. Admire the flowers. Watch the wind ruffle the leaves. Allow yourself—and your soul—to experience Mother Nature.
8. Surround Yourself with Art
Play music that makes your soul sing. Look at paintings or photographs or even beautifully filmed movies that touch your heart and soul so deeply that tears come to your eyes. Or make art of any kind—compose a poem, play a song on the piano or guitar, write a book, paint a picture… All of these things connect you with your soul and allow it to express.
9. Practice Gratitude
When you practice gratitude daily, you provide your soul with the prescription it needs to thrive. It knows there is plenty… It is part of the abundance of the Universe. When you feel grateful, you acknowledge your soul.
10. Think Positively
Complaining, judging, jealousy, and focusing on scarcity and other negative things are poisonous to your soul. Change your thoughts to ones of appreciation, acceptance, abundance, and hope. Say affirmations. Look for the silver lining. Be a Pollyanna. Positivity aligns you with your soul.
11. Daydream
Take time to let your mind wander. While visualization is an intentional focus on what you desire, daydreaming is a chance for your soul to show you want it wants for you.
12. Just Be
Do nothing. You are not a human doing. You are a human being. In fact, you are a spiritual being in a physical body. So be.
13. Pay Attention
Become highly conscious of what makes you feel good, what draws your attention, and what you feel pulled to do. These are the things your soul desires. And if you aren't feeling good, are distracted, or feel obligated to do something, your soul is asking you loudly and clearly to make a different decision.
14. Be Happy
Despite your conditions, it's possible to be happy. Happiness is a choice. So, no matter your situation, choose to be joyful. That makes your soul happy, too.
15. Remember Who You Are
Every moment of every day, remember that you are a spiritual being having a human experience. If you do that, you'll be aware of your soul talking to you at all times. You'll know how to care for it best and what to feed it consistently so it thrives—and so do you.
16. Conduct Rituals
Create or conduct rituals of any type and from any spiritual tradition that speaks to you. Light candles. Burn incense. Begin a morning routine. Smudge. Set intentions. Your soul will join you and grow stronger with every ritual you perform.
Be Patient as Care and Feed Your Soul
I've spent a lot of years taking lousy care of my soul. I did not feed it well. It's no wonder I felt empty inside… My soul was starving, and, as a result, I was starving for a soulful connection.
I can't fix that situation overnight. It takes time.
Now, every day, I ask my soul what it needs. And my decisions are based on the answers I receive.
It's not always easy. Sometimes the choices seem counterintuitive, or I'm sure I'll be judged. But I choose to care for and feed my soul no matter what.
If I continue on this path consistently, I'm sure my life will be different. It will be soul-full. I have to be patient as I nurture my soul, but I know my efforts will pay off.
You can have a soul-full life, too, if you take care of and feed your soul. Try it for 30 days. Make a note of the difference in how you feel and live your life.
Do you have other ways to care for and feed your soul? I'd love to hear them. Leave me a comment below, and please share this post with a friend.

Never miss one of my videos! Click here to subscribe to my YouTube channel.
Photo courtesy of Patiwat Sariya.