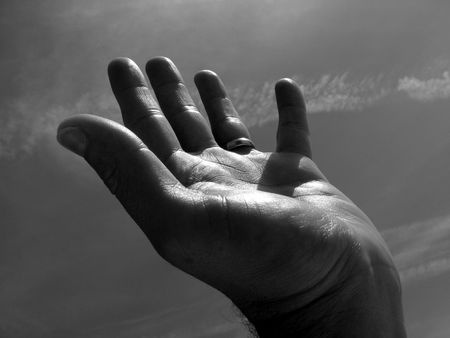 The Kabbalists taught that human beings were created as receivers. God, the Ultimate Creator, created us to receive all the goodness the Divine had to offer., explained these Jewish mystics, Our purpose in creation lies in receiving that goodness. We naturally desire that goodness, and the desire pulls the goodness to us. We need only be open to receiving that goodness.
Allow your natural desires to be born. Then, be open to the desire showing up. Receive the desire.
Sounds simple, right? Easy schmeasy.
Yet, allowing in the goodness can feel difficult. We don't always get what we desire.
So, what's up with that?
How to Open to the Goodness in the World
To receive what you desire, say the Kabbalists, you need  a new desire, a different desire. You have to want a new consciousness, one that wants to receive Divine goodness not for your own sake but rather for the sake of giving it to others.
That's the hard part. You have to have the desire to share what you receive
If you love your children, pet, significant other, friends or family this new giving consciousness may feel natural and easy. You share with them unconditionally already. However, to manifest your desires, you have to want to give unconditionally to everyone and everything. You have to want to share with all of creation.
Not only that, you have to want to receive in order to share.
And when you possess this desire, you place yourself in harmony and unity with the Creator. From this place and with this consciousness, you can create amazing change in your life and in the world.
Share the Goodness of the World?
Why are you alive at this time in history? Do you want to influence positive change? Do you want to be a change agent? Would you like to inspire and motivate others? Would you like to be a fabulous role model or start a movement?
The first step to creating change of any kind is simple (not necessarily easy): Desire to receive God's goodness—anything you want—so you can share it with all of creation—or with a specific group.
Then ask yourself, "How will I share this goodness?" The answer will help you discover your purpose in this lifetime and in this world.
What are your special talents and gifts, and how will you use them to create positive change? In other words, what is your mission? Put this to use now. It is time.
We can't stop change, but we can be a part of it. I challenge you to begin by simply changing your own consciousness and what you desire. Create change within. When you do so, you will find all you desire flowing your way. And you will be open to receiving those fulfilled desires.
As you share what you receive, you naturally will create change all around you.

Certified High Performance Coaching
can help you generate the mindset, character traits, and habits to help you achieve the results you desire. It supports you becoming more clear, courageous, energetic, productive, and influential in all areas of your life.
To set up a 1-hour FREE High Performance Coaching session, click here.
Sign up for 12 Certified High Performance Coaching sessions and receive a
FREE ticket
to Brendon Burchard's next
High Performance Academy
(value $997). It's your time to master your physiology, psychology, productivity, influence, presence, and purpose so you can fulfill your potential and purpose and live more fully. (Ask me about the
Bonus Author Career Plan or Your Sacred Text sessions
—each one valued at $997—my Certified High Performance Coaching clients receive as well.)
Copyright: hypermania2 / 123RF Stock Photo