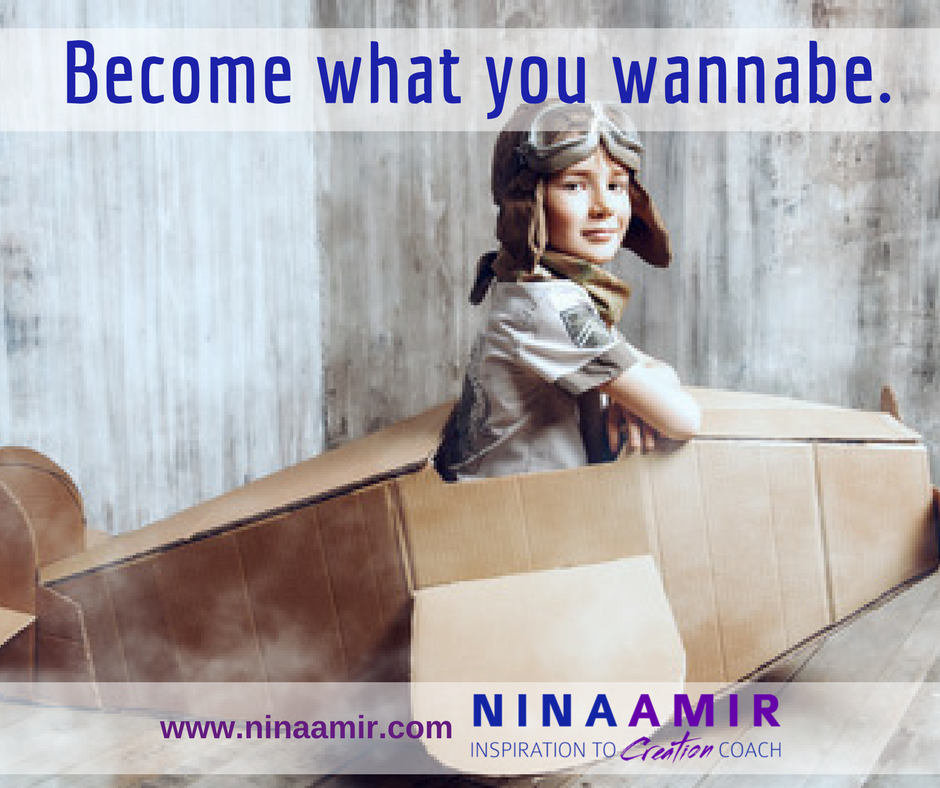 Are you a "wannabe"? Or are you someone who is becoming what you wannabe?
What's the difference? One type of person stays a wannabe. The other takes action to become what they want to be.
All Talk No Action
I recently spoke at a writers' conference, and the majority of attendees at the event were not writing. They were aspiring authors—wannabes. To date, they had done a lot of talking about writing, but they were not writing—or publishing— consistently.
Granted, being at the conference gave them ample opportunity to take what they learned and put it to use…to go from aspiring to published writer. And some of them would take action and become published authors. But many of them would go home and never take the steps necessary to achieve that goal.
They would remain wannabes.
What do You Wannabe?
Writers are not the only perpetual wannabes, though. Many of people who come to me for Certified High Performance Coaching have unrealized aspirations—ones they've taken no action on to date. (Of course, we work on this in the coaching sessions, and they move from wannabe to becoming what they want to be.)
What about you? What do you wannabe?
Here's a more important question: What are you doing to stop wanting and to start becoming that person?
You might want to become something, but if you're don't do something to realize that dream, then you will stay a wannabe forever.
You could want to become:
an artist
a marathon runner
a millionaire
a more giving person
a more productive person
a more energetic or positive person
a chief executive officer
a parent
an accountant
a gardener
a yoga instructor
The goal doesn't matter as long as you take action to achieve it. You can be whatever you want…but you have to do something to make that happen. You have to take action. Otherwise, you remain a wannabe.
How to Become What You Want to Be
We continually discover new things we want to become. For example, you may be may be happy with your career, but you want to be more loving or demonstrative. You may be satisfied in a relationship, but you want to feel less angry or more giving.
If you are growth-oriented, then you always want to move toward becoming your best self and living more fully. But how do you do that?
Here are three ways to accomplish growth in any area of your life:
1. Look for role models.
Find people who have already become what you want to become. Study them. How did they get to be that which you want to be? Success leaves clues; follow the clues. Model these people.
Study more than one person. Discover their path to success. For instance, if you want to become a professional dancer and work for Boston Ballet, study the other dancers who work there now or in the past. What training helped them get their position with the ballet company?
2. Take action.
In the beginning, you may just take small baby steps, but you do, indeed, take action toward your goal. It's not like you're going to become a chief financial officer right out of accounting school. You have to hold down a lot of different—less-important—jobs and acquire experience first. Look at the CFOs in your industry, and discover out how they became CFOs. Begin walking in their footsteps. Break down their journey into little steps, and start taking them.
Keep in mind that action might mean working on yourself—focusing on personal development. You might have to change your mindset, habits, or learn new skills.
3. Step into that dream.
At a certain point, you must step into your dream. You have to be who you want to become…now. See yourself not as a wannabe but as the person you want to be.
Believe that's who you are and be it. If you want to be more caring, start acting like a more caring person. If you want to become a yoga instructor (and you've taken action to get certified), confidently go out and get a job as a yoga instructor.
Make this the year you stop wanting and start becoming the person you know you can and want to be.
What do you commit to becoming?
Never miss one of my videos! Click here to subscribe to my YouTube channel.
Live your life fully. Find out how when you click here.
Photo copyright: Andrey Kiselev /123RF.com