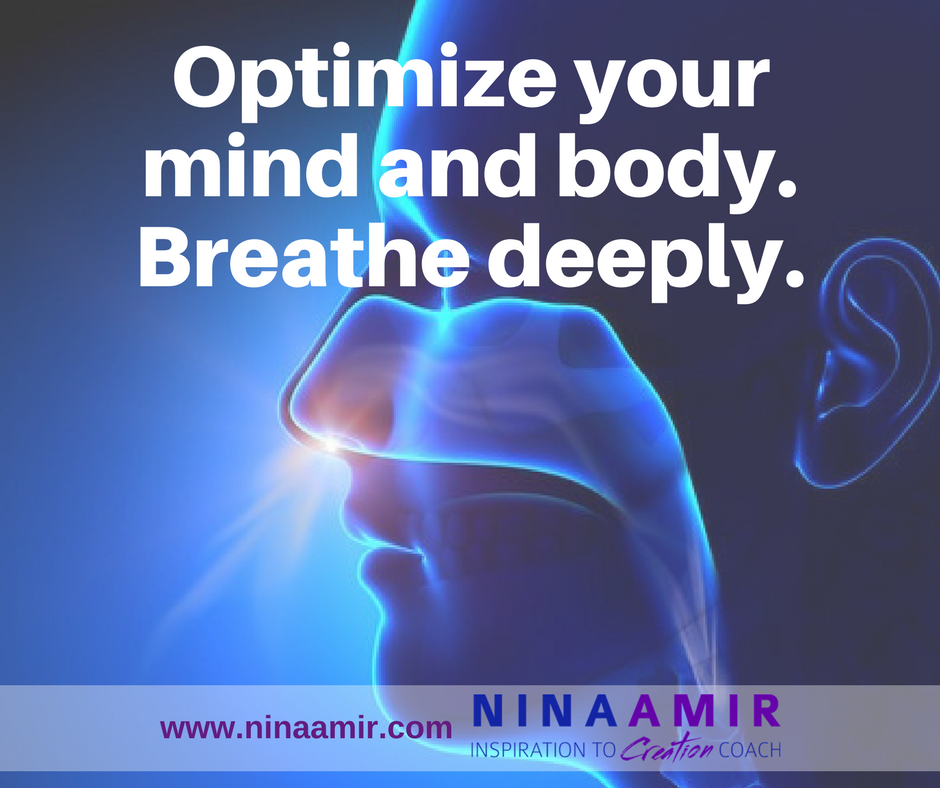 For centuries, wisdom traditions have touted the importance of breath. Yes…it gives us life. But it can raise or prana (life force) and change our physical and mental state. Now, neuroscience has proven that breathing also can help us change habits and mindsets.
I use breathing techniques all the time with my Certified High Performance Coaching clients. We use it to energize the mind and body. This prepares us to take on any task with more creativity, focus, and enthusiasm.
However, one of my clients, a psychotherapists whose work is based in neuroscience, taught me that the breath does so much more. It can help a therapist alter a client's brain in such a way that the person feels calm and the brain optimizes, which allows it to change more quickly. Couple deep breathing with visualization, and change happens even more rapidly.
By breathing deeply into the abdomen—called diaphragmatic breathing, you can lower your heart rate. You also can stimulate the parasympathetic nervous system, which relaxes and calms your body and brain.
The Shallow-Breathing Habit
Most of us forget to breathe deeply. Of course, we breath without thinking; if we stopped, we'd die. But our breathing tends to be shallow. We breathe into our chest, not our abdomen. And we do this habitually.
Sitting at a desk for hours can cause your breathing to get shallow. Feeling stressed or anxious even while exercising, cleaning house or taking care of children, can keep your breath shallow and chest centered.
As long as you don't breathe deeply, you will find yourself tired, unfocused, uncreative, and generally not operating to your potential.
Breathe Deeply
Breathing deeply needs to become your new habit. Here are a few ways to begin breathing in a way that oxygenates your brain and body and helps you feel energized, focused, creative, and effective, which means productive.
Set a timer for every 15 to 20 minutes. When it rings, take three deep breaths. After a week or two, you'll no longer need the timer; you'll naturally take a few deep breaths several times per hour.
Before you sit down to work or start an activity, spend two minutes breathing as deeply as possible. Breathe forcefully and quickly. Give your brain and body what they need to function at an optimal level.
Break ever 50 to 60 minutes. During that break, repeat the two minutes of deep breathing.
Take a few deep breaths before you eat or drink anything.
When you wake up in the morning, sit on the edge of the bed and breathe deeply for 30 to 60 seconds. Start the day energized.
Before you go to bed, breathe deeply. This will calm your body and make it easier to fall asleep and sleep soundly.
Before you enter into a tough conversation or any type of stressful situation, take a minute to breathe deeply. Help your body and brain destress.
You will likely find many other times to breathe deeply. As long as you engage in diaphragmatic breathing, you'll see amazing results from this practice.
So, this week…and every week…breathe. You'll see a huge difference in your results.
Have you tried deep breathing? Tell me about your results in a comment below.
Never miss one of my videos! Click here to subscribe to my YouTube channel.