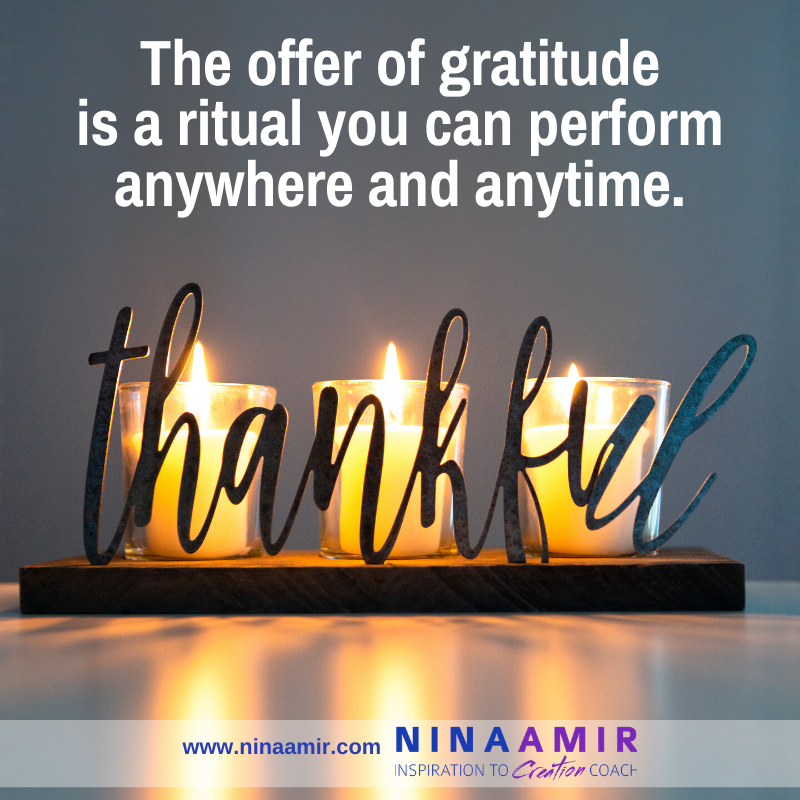 A friend of mine gave me a book about rituals. It provided a super reminder about the importance of these sacred actions. Yet, most of us don't feel we have the time for even the smallest of rituals. Our lives have become too filled to light a candle, say a prayer, or set an intention.
I've been interested in rituals since I was in my early 30s. I even wrote a short book about how to make rituals meaning-full and spirit-full. However, I, too, often let rituals fall by the wayside. After all, they take time and require attention.
Often I feel too busy to bother—like in the morning if I get up too late or feel stressed about what I need to accomplish that day. Then I don't bother with my pre-work ritual of lighting candles and incense, setting intentions, and taking a moment to ask Creator to guide me throughout the day.
Sometimes I also forget to perform the easiest, quickest, and most potent ritual in my day—offering gratitude.
How You See Life
I had already started writing this piece when I happened to see a post by my mentor and New York Times bestselling author Brendon Burchard on Facebook. On his 43rd birthday, he posted the following: "Gratitude is the golden frame through which we can see the meaning of life."
Indeed, an "attitude of gratitude" changes how you see and experience life. When you feel grateful and express that gratitude daily, you see the immense abundance life has to offer. You acknowledge and feel thankful for even the smallest of gifts that come your way.
It's easy to call this a gratitude mindset. And, as with most things, your mindset impacts just about everything. You have to work on your mindset and habits to change anything—even how often you experience and express gratitude.
But if you do that, everything changes. The world looks different. You become different.
The Ritual of Gratitude
I like to think of gratitude as a ritual—one you can do anytime and anywhere. I give it a spiritual overlay, which turns the expression of gratitude into a prayer.
I once heard that the strongest prayer we can offer is one of thanksgiving. I believe that's true.
I taught my children when they were young to say "thank you" for things like rainbows, a penny found on the road, or the spring blossoms on the trees.
And I use gratitude as my morning and evening ritual. I thank Creator for…well…just about anything and everything!
For instance, when my eyes open in the morning, I say, "I'm grateful for my new client, my health, my children's safety, my husband's job, the money in the bank, my health, the opportunity to be of service, a beautiful day, the rain that is coming, and my work."
At night, when my head hits the pillow and I close my eyes, I say, "Thank you God for another day of life, for the clients I served, for the time to work on my book, for the amazing dinner my husband cooked for me, for the great weather, for my literary agent, for the people who help me with my business, and for my friends."
These are gratitude rituals—ones I can do anywhere. I can even do them anytime. If I forget to offer gratitude upon awakening, I can do it later in my journal, for instance. Or I can do it while making coffee.
Gratitude Anywhere and Anytime
There are lots of ways to add gratitude rituals to your day and life. Here are a few you can try:
Write down five things for which you feel grateful. Do this practice daily. If you want some help, check out Sarah Ban Breathnach's gratitude journal.
Every morning or event, create a mental list of things for which you feel grateful.
While you are driving—especially while stuck in traffic—thank Creator for anything and everything, including getting where you are going safely.
Offer gratitude while cooking, eating, doing the laundry, washing your hands—turn menial tasks and profane moments into sacred ones.
Take a moment before you being work express gratitude for your job, the money you receive in return for your work, the opportunity to serve, and the chance to use your gifts.
The Secret to Powerful Gratitude Rituals
It's super easy to offer gratitude, and that's why so many people do it in an empty manner. The practice becomes rote, and then it's not powerful.
For gratitude to become a powerful and sacred ritual, you have to fill it with meaning. That means you must know why you feel grateful.
And, even more important, you have to feel grateful in the moment that you perform this ritual. That's where the effort comes into play.
When you say you are grateful for your job, feel it. When you say you are thankful for the food on the table, feel profoundly grateful.
Close your eyes…imagine all the reasons why you are grateful. Let gratitude fill your heart and soul.
That's the true expression of gratitude, and your ritual must include that aspect if you want it to be more than a rote task.
If you add a gratitude ritual to your day, you'll find you've given your life new depth. You fill it with meaning and spirit…just by saying "thank you" in an intentional and sacred way.
Do you have a gratitude ritual? Tell me about it in a comment below. And, if you know someone who would find this post helpful, please share it with them.
Never miss one of my videos! Click here to subscribe to my YouTube channel.
Photo courtesy of pasja1000