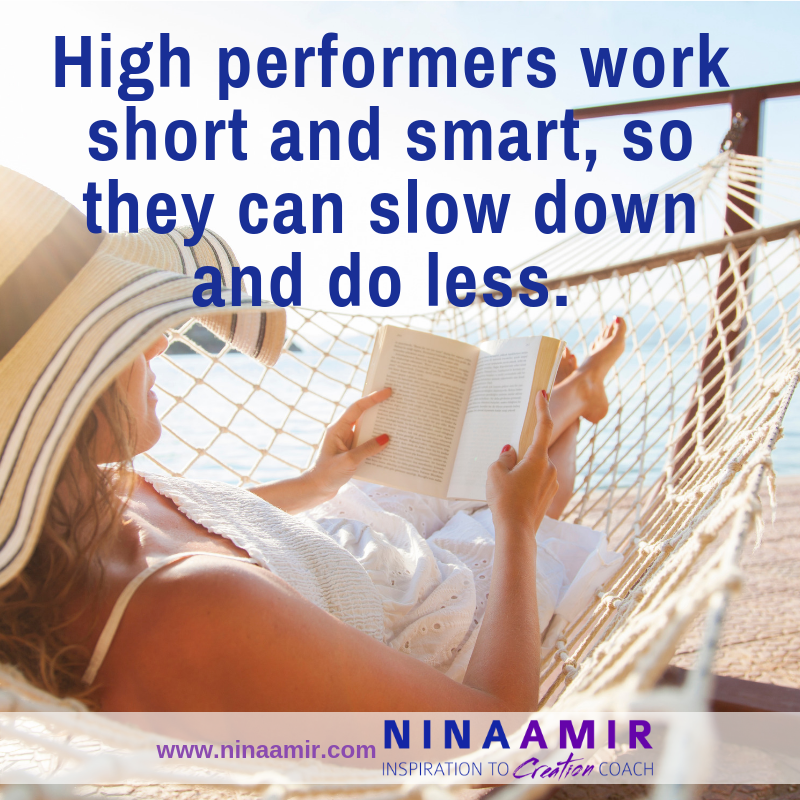 Sometimes, when I speak about Certified High Performance Coaching, people mistakenly think I want to help them do more. If they already feel stressed by the number of commitments they have, they balk at any mention of "leveling up" their current performance. "I want to do less," they say, "not more. I don't want more pressure to perform!"
I get it. I want to do less, too.
We live in a crazy busy world, and, like me, you probably feel like there's not enough time to do what must get done let alone what you love or want. It's hard to remain connected to your your core essence and passions.
I understand.
But high performance can mean doing less…not more. If you learn how to tackle  life with a higher degree of effectiveness, you can, indeed, have more…of most things, including freedom.
S-L-O-W It Down!
Over the past few years, I've worked long and hard. Yet, I haven't always achieved my goals. Sometimes, I've felt a bit like a hamster on a wheel…running and getting nowhere. And, over time, I began to lose my motivation, inspiration, and passion for my dreams. I felt disconnected from my authentic self and my life felt empty.
That's when I realized I needed to s-l-o-w w-a-y d-o-w-n.
I needed to stop focusing on pushing myself to do more every day. Instead, I needed to allow myself the time and undistracted space to go deeply into my work. I need to give myself the chance to reconnect with my passions and hobbies and express myself and my purpose more often. I needed time and space to connected with myself as well as with the Creator.
If I hadn't been involved in personal development work. I would have remained clueless…and stressed, unhappy, unfulfilled, disconnected, and dispassionate. And I would have continued doing more…rather than less.
Here's the thing about Certified High Performance Coaching: It's personal development… My involvement in personal development helped me realize I had to slow down and do less. And the mindsets and habits fostered during this type of coaching helped me know how to optimize my efforts so I could, indeed, do less. And they can do the same for you.
Why Focus on Personal Development
For some people, personal development is all about doing more and moving toward their dreams, goals, and highest potential. For others, it's about gaining the clarity and courage to say "no" to the things in their life—especially those that aren't working, like:
too any long hours at work
too little sleep
bad eating habits
little exercise
unsupportive relationships
no time spent on things that bring them joy
And for still others, it's a way to get super focused and effective so they open up more time in their days…time to do what they want or nothing at all. It's about doing what you do well enough so you can slow down and do less.
I focus on my personal development for both reasons: to do what I do effectively and to have more time to do what I want. As I work toward slowing down, I know the more clarity and productivity I achieve, the more quickly I'll get my tasks done. Yes, that's about speeding up, but by doing so, I create the white space to read a book or nap in a hammock or pursue my passions and hobbies.
How to Slow Down and Do Less
If you feel that internal push to slow down, if you want to be happier, healthier, more fulfilled, and more connected to yourself and others, you need personal development. That's the prescription for what ails you.
Becoming a high performer will not add more to your plate. (I don't want anyone adding more to mine…unless it will help me step into a better version of myself and live my life more fully.) High performance will, however, create more space on your plate and help you feel as if you are living as your best self and creating your best life.
And it will help you slow down.
Successful People Know How to Balance Doing More with Doing Less
Take a moment to think of some of the successful people you know or have heard about… Do they work all the time? Probably not. Most of the highest performers I know have plenty of time for vacations, hobbies, and spending time with family. They work out daily, meditate, and enjoy life while also fulfilling their obligations and purpose.
Do they work? Of course. Most work short and focused…so they get more done in less time. They work smart. And that allows them to leave work behind and slow the pace…and enjoy life. That's how the keep themselves feeling passionate and inspired as well.
You can do the same.
To slow down and do less, raise your current level of performance. Work on your personal development. Develop the habits and mindsets of the most successful people in the world. (If you want to know how, click here.)
Have you learned how to slow down and do less? Tell me how in a comment below.

Never miss one of my videos! Click here to subscribe to my YouTube channel.
Photo courtesy of Dan Cook on Unsplash