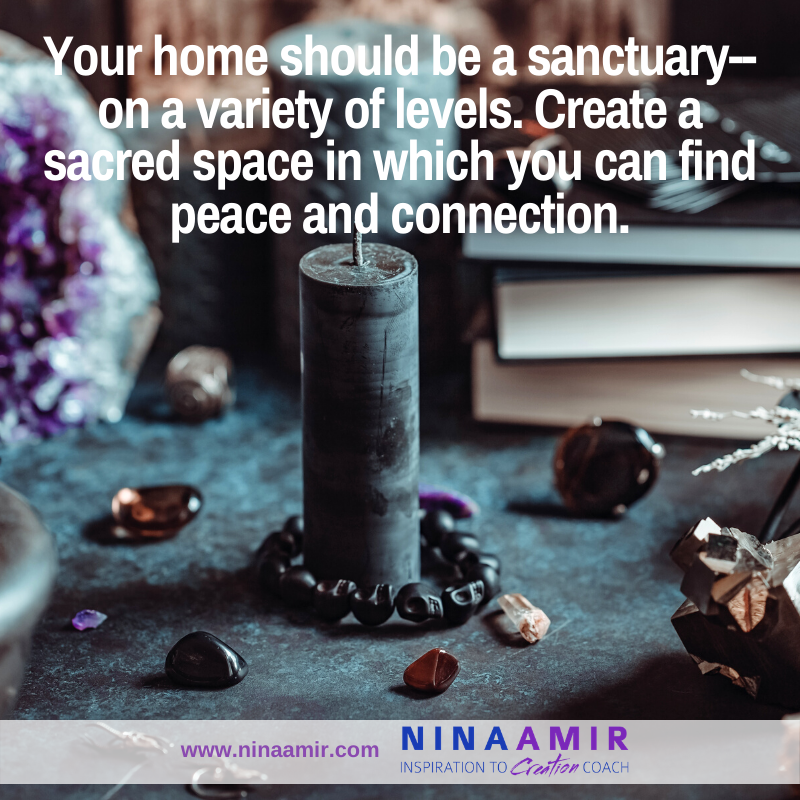 You pause at the door before turning the key in the lock. You're tired, stressed, and irritated. For a moment, you close your eyes, take a deep breath, and anticipate your arrival home. You are ready to enter your private sanctuary and experience some peace.
You turn the knob, walk inside, and drop your coat and bags by the door. As you step farther inside, your jaw clenches and your chest tightens.
Your home is not the sanctuary you desire. Instead, it's an ugly, dirty, cluttered space that causes you more distress.
And you aren't sure how to transform it into a sacred space where you can feel peaceful, let alone connected to your higher self or the Divine. You have no time and too little money to create a sanctuary in your home.
Or so you falsely think.
Actually, it's possible to turn your home into a sacred space. Not only that, the Jewish mystics encouraged all of us to seek peace within our own households as a spiritual goal. They called this shalom habayit or peace in the home.
A peaceful and sacred space is not outside your reach. This is true even if you live in the lowliest of hovels, have the most hectic life ever, are on a super-tight budget, or have to contend daily with the mess created by animals and children.
A Stressful Living Space
I live in a lovely house in the Santa Cruz Mountains. But, until recently, I did not feel comfortable there. It was not a sanctuary.
It did when I first moved in…when the house was newly painted inside and out, and we had brought in furniture, paintings, plants, and knick-knacks. I placed angels and crystals in every room in my effort to make the space feel sacred.
Over the last 15 years, though, the house began to deteriorate from lack of upkeep. Plus, our furniture became threadbare, faded, and stained. (I couldn't even sit on it without throwing out my back.) The number of small and large jobs that needed to get done grew larger and larger. It included replacing the windows, fixing the dry rot, repairing the hole in a wall, and figuring out how to get the bathtub to hold water.
Every time I looked around the house, I felt a low level of stress.
You don't notice that kind of stress, but it's there…in the background…all the time. It's that little voice in your head saying, Oh, yeah…that still needs to be fixed, or, That really doesn't look good.
It got to the point that I wouldn't invite people over to the house. I was too embarrassed. And I didn't enjoy spending time in the house. It just didn't feel good.
Creating a Sanctuary in My Home
Recently, however, my husband and I found ourselves in a position to do some repairs…and even get new furniture. I was so excited!
We repaired the siding, painted the house, replaced the fogged windows and glass doors, and fixed the deck. Then we purchased new deck and living room furniture.
That alone would have been enough to make me feel much better about the space—and it did. But I went a step further.
I reorganized the knick-knacks and brought in more crystals. Then I purchased plants and placed them strategically around the living room.
The change in the space was palatable. It felt alive. I could sit in the living room and feel peaceful. The space felt sacred.
I had created a sanctuary!
How to Create a Sanctuary
You might be thinking, I don't have the money to do that. I get it. Really, I do!
But you can do just a few simple and inexpensive things and create your own sanctuary. I could have done the same, and have done so in other rooms, like my home office.
Yes, you might have to live with your shabby furniture or a dark apartment. However, you can still make that space feel peaceful and spiritual.
Let me share four simple steps to help you accomplish that goal.
1. Clean and Declutter
It's nearly impossible to relax and feel peaceful in a cluttered or dirty space. Your mind focuses on the distractions—the mess—like piles of clothes or magazines, the dog hair on the rug, the books falling over on the bookshelf, or the dishes in the sink.
Anyone can clean up their living space. Yes…even you.
So get some big garbage bags, and fill them with all the stuff you don't need and can throw away. Put some of them out for the trash service to take away and take the rest to Goodwill, the Salvation Army, or some other donation service in your area.
Clear the Energy in the Space
Every space has an energy of its own. The people who live there contribute to that energy. That energy might be positive and peaceful, or it might be negative and stressful. The energy could be high or low, good or bad.
That's why the next step requires that you clean the energy, so the space feels good to you and all who enter. You can do this in the following two ways.
Light a little bit of dried sage and walk around your house, allowing the smoke to clear the energy. This ancient Native American ritual of "smudging" is very powerful. If you don't like the smell, open the windows afterward. Or use incense instead.
Clean the space with sound. You can use Tibetan bells, a chime, or a singing bowl. You can also chant and drum.
Place Sacred Objects in the Space
Now that your space is clean on a variety of levels, it's time to add sacred objects. You can add crystals, candles, photos of Jesus or Buddha, or anything that invokes a feeling of sacredness.
Try using a small white cloth on a table—even a little section of a table—and placing a small vase with flowers, an incense burner, and a candle in that spot. Suddenly, you have created a tiny altar. If you have space, you can create an altar in one corner of the room.
Bring the Room to Life
Finally, add something alive—like a plant. It's incredible how that living thing brings the room to life. Plus, it's beauty enhances the sacredness of the space.
You might choose a Peace Lily, solely for the symbolism. Or maybe some other flower has spiritual significance for you.
Bring in the Four Elements
Here's another way to make the space in which you live feel like a sanctuary—bring in the four elements. These are fire, air, earth, and water.
If you add a candle, you've included fire. Incense serves to represent air. The plant mentioned earlier represents earth, and a small fountain, bowl of water, or even flowers in a vase add water.
Clear All Spacial Energy Blocks
Additionally, you can use Feng Shui to help your space feel harmonious and balanced. This Chinese art is founded on the belief that the world is driven by unseen forces.
Using the principles of Feng Shui, which involve where you place furniture and how you arrange the rooms in your house, you allow the forces to flow freely and create balance in your space and life. You remove all spacial energy blocks.
Set an Intention
Sometimes an intention is enough to transform a space from mundane to sacred. If you tell yourself every time you walk into your home, "This is a sacred space. It's my sanctuary where I feel peaceful and connected to Source," that's what you will start to experience.
Give these tips a try and create a space in which you can experience peace, harmony, and spiritual connection. Build a sanctuary for yourself, and watch how that sacred space transforms your life.
Tell me about how you create sacred space in your home and what type of difference that has made in your life. Leave a comment below. And please share this post with anyone else who would benefit from reading it.
Never miss one of my videos! Click here to subscribe to my YouTube channel.