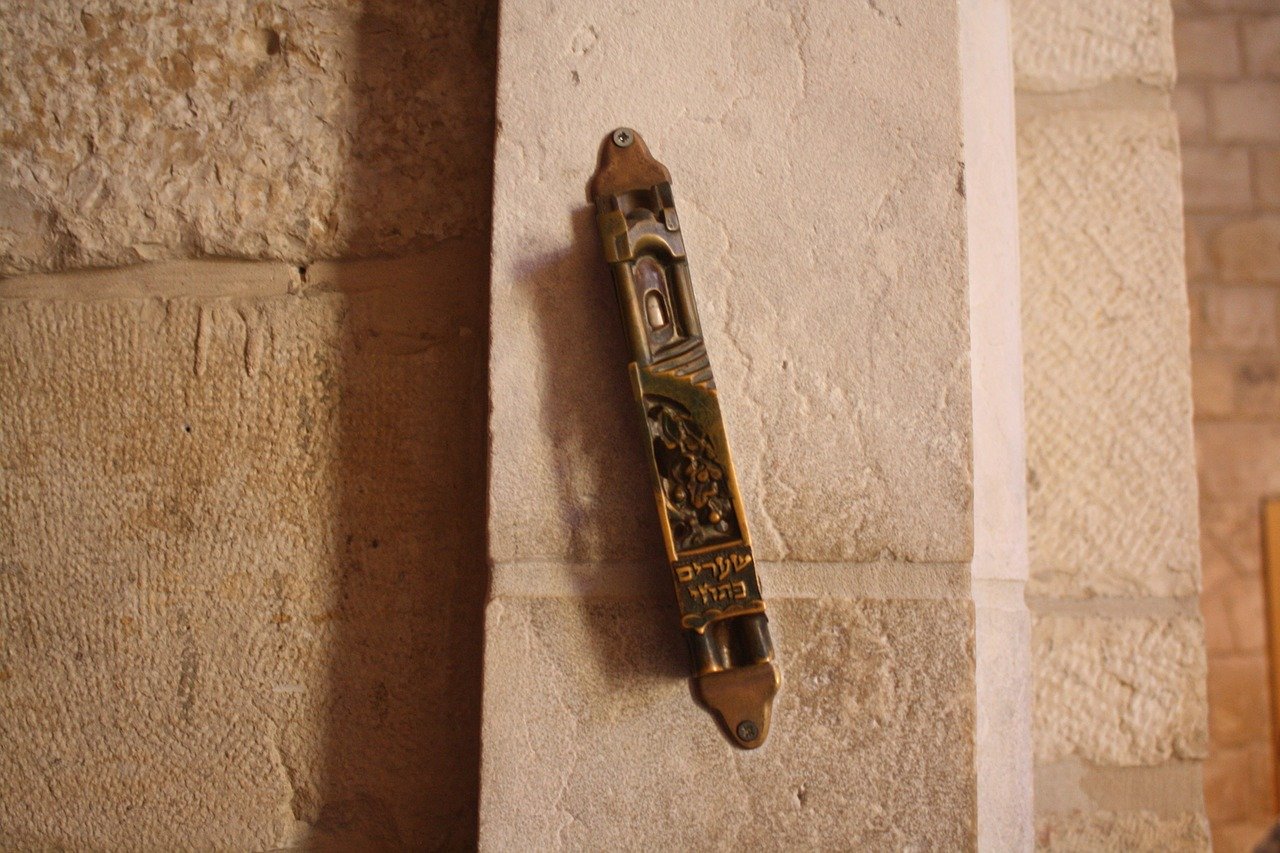 On the right doorpost of almost every Jewish home you will find a small rectangular box positioned on a slight angle. This box serves as a reminder to live by God's commandments.
Everyone can benefit from a spiritual yellow "post-it" note of some sort to remind them to live a spiritual or religious life, and that's the purpose a mezuzah serves. So, while today I'm writing about a mezuzah, remember that if you aren't Jewish you want to implement something that fulfills the purpose of the mezuzah in your life. This tradition may come from Judaism, but it works as a practical spiritual tool that can be adapted by anyone from any religion or spiritual tradition to fit their needs.
Jews have a mezuzah on their doorpost because the Torah commands them to affix one on each doorpost of their homes. While some Jews have it just on the front door, others have it on every doorpost outside and inside (with the exception of the bathroom).
Many people think the mezuzah is the actual box on the doorpost. Actually, the mezuzah is the piece of parchment inside the box. On this parchment are two chapters from the Torah written in Hebrew by hand. The parchment is rolled into a scroll, wrapped in paper or plastic, inserted into the box, and affixed to the doorpost.
The essence of the mitzvah, or commandment of the mezuzah revolves around the concept of the Oneness of God. The first verse written on the mezuzah is the Shema, the most important prayer in Judaism, which says,  "Hear, oh Israel, the Lord is our God, the Lord is One." When observant Jews pass a doorpost that holds a mezuzah, they touch the mezuzah (or the box that holds the scroll) and remember that God is One. They also remember that God is one with them, and that God asks them to live in a certain manner and by certain laws, or rules. Touching the mezuzah in passing―when leaving the house (or a room) or when arriving back home (or entering a room) also reminds them that the Torah offers instructions for living. It actually tells Jews how to actualize their human potential, how to have good relationships, and how to find happiness, meaning and fulfillment.
With the ritual of touching the mezuzah when going through a doorway, Jews are reminded of these spiritual or religious instructions for living. The mezuzah serves as a permanent post-it note stuck onto the door. It's a reminder to live a spiritual and/or religious life. It's a reminder to think about God. It's a reminder to connect with God. The mezuzah is a bit like God's writing on the wall saying, "Hey, remember me and my teachings on your way out into the world and your way back into your home. Remember…as you pass from room to room in your home."
In this way, the Jewish tradition demonstrates how to make Jewish values an everyday part of our lives. However, it's easy to walk by the mezuzah and not notice it. It's also easy to walk by, kiss your fingers and touch it–the way Jews traditionally complete the ritual, without thinking about why you do so. Don't do it by rote. Do it with thought. Don't look at that yellow post-it note and walk by so quickly that you don't read the words written on it. If you do, you will have missed the point of the spiritual practice–and the message.
If you aren't Jewish, find some way to mimic this practical spiritual tool. You could put anything on your doorpost instead of an actual mezuzah–a small ceramic tile, a stenciled flower, a painted symbol, a crystal, or even a yellow post-it note. You might even want to affix a small box with your favorite prayer inside. Then use it in the same manner. Touch it as you go in and out of the house. Put something on each doorpost inside your home as well, and touch these as you move around your house. Have these serve as reminders to connect with the Source and to live a more spiritually attuned life.
If you are Jewish and you have a mezuzah on your door, I suggest you begin touching it as you come and go from your home. Each time, think about the way in which you would like to connect with God and live your life spiritually. Use it as a reminder to connect and to live spiritually. If you haven't put a mezuzah on your door, do so and begin this practice. It's so quick and easy. It takes absolutely no extra time. (You can find all the information you need about hanging the mezuzah online; there is a ritual for doing so. Or ask someone at the Judaica shop or temple where you buy the mezuzah to instruct you on the proper way to hang a mezuzah.)
The mezuzah offers one of the quickest, easiest and most effective practical spiritual tools available, and no reason exists for it to remain only a Jewish ritual. It's way too powerful for that. So today, place something on your doorpost to help you live a more spiritual or religious life.
Photo courtesy of BRBurton23 /pixabay.com