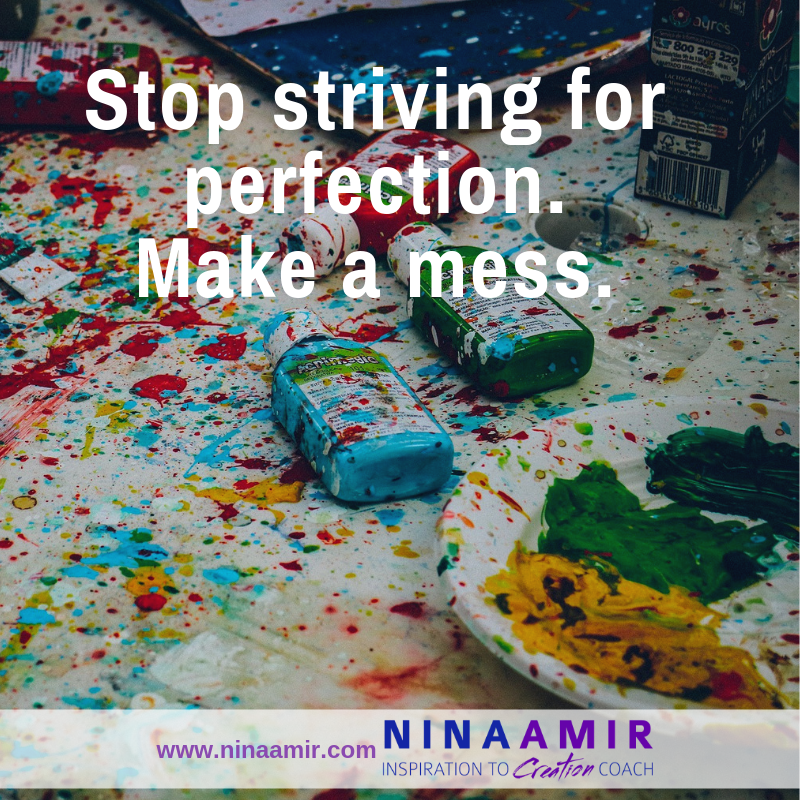 Are you a perfectionist? Or are you okay with things being a bit messy?
Here's the thing—nothing is ever perfect. You can always find some way to improve on just about anything. Therefore, if you wait for whatever you do to be perfect, you'll never finish. If you wait for perfection, you may not even start. Nor will you ever release what you create to the world.
While messy might not be optimal in some situations, it can be quite useful in others. It frees you up to create and complete, and then see what happens. You can adjust as needed.
Plus, messy makes it possible to start…to move forward without the need for everything to be just right before you do so.
Spaghetti on the Wall
People often comment on my propensity for taking action—usually long before something is perfected. It's not that I don't like "perfect." I've just learned that perfectionism holds me back. I get more done and release more work into the world if I allow what I do to be a little messy.
Along these lines, I often say, "I like to throw spaghetti on the wall and see if it sticks." You see, if it's a bit undercooked, I can cook it some more. If it's overcooked, I might have to recook. But if it's just right, it will stay on the wall, and someone will see it. I can go on to the next batch of spaghetti.
It's Okay for Something to Be Unfinished
We are raised to believe everything we do should be planned and systematized. We are taught not to call something "done" until it's truly as good as we can make it. We are told not to make a mess or leave anything messy when we are done.
Sure, it's a good rule of thumb to do your best and finish what you start—and to pick up after yourself. But there is another way.
Rabbi Joe Black wrote a song called "Leave a Little Bit Undone," that seems like an antidote for perfectionism. The lyrics speak of the fact that nothing is ever done, and there is always another chance to continue the work.
You see, God did not finish the work of creation in six days. The act of creation was not one of perfection or of completion. Creation continued—and continues—on. We continue the process of creation, and sometimes that means perfecting even a Divine creation.
Let It Go
Plus, to perfect something you create, you must at some point release it into the world or give it a life of its own. As the song says, "Let it go!". Only then can you discover what needs to be perfected.
Consider the tech industry. New apps, computers, system, and program are regularly created and released to end users long before they are perfect. Think about all the glitches in iPhones when a new system is released. Apple just releases an update to fix whatever went awry or didn't work. The same is true of Microsoft or any software company.
I recall when I worked for a communication consultant and was responsible for writing and designing three newsletters. Every month I would call Adobe and tell them I was getting an error while designing one of the issues. Each time, it was a different error. The technicians at Adobe would always say, "Can you tell us how you got that error? We've never seen it before." Once I explained how I had created the error, they would set to fixing the glitch in the program.
The work of perfection happens only after release.
Make it Messy
Rather than challenging you to perfect anything, I'd like to encourage you to make a bit of mess. In fact, I give you permission—if you feel you need it—to consciously make whatever you do messy—at least at first.
If you feel stuck in any area of life, evaluate if you've wanted things to be perfect before you moved forward, completed, or took a new action. Are you waiting for your business to be perfect? Your website to be perfect? Your product or service to be perfect? Your spouse or kids to be perfect? Your weight to be perfect? You're income to be perfect?
Do you know how many products I've created by telling people I was ready for them to purchase that I hadn't produced anything yet? Sometimes the product was a bit messy, but I created it and made money, and my customers were happy. Did I know I could do better? In some cases, yes…and I then improved and perfected what I'd done.
I get that sometimes it feels scary to let something be messy for a while—especially any aspect of your life. But you'll survive…and maybe even thrive.
Stop Waiting to Become Perfect
Or consider this: maybe you waiting for yourself to become perfect. I hate to break it to you, but none of us are perfect. So you can stop waiting for that right now.
A lot of the time I'm a hot mess. That doesn't stop me from boldly showing up.
I continue to strive to be less of a mess, but I don't wait for perfection. If I did, I'd prevent myself from living life or pursuing my dreams.
Relationships are Messy
I took a course called the Landmark Forum. The Forum leader encourages you to have difficult conversations with people and not worry about whether those conversations become messy. As a matter of fact, they tell you to allow them to be messy—say what you need to say rather than worry about getting the words just right and allow for the chance that the other person might misinterpret what you mean, get defensive or in some way react badly.
Express yourself. Be authentic. Make it messy.
Stop Controlling for Perfection
Sometimes I've found myself holding back—not saying what I really want to say or doing what I really want to do—for fear that there will be negative ramifications. That's inauthentic.
And it's an attempt to control or perfect my results. I'll get better results in the long run—and so will you—by expressing authentically.
This week, stop holding back. Do some messy things. Create a mess. Stop wanting your actions or results to be perfect. Stop controlling for perfection.
Do it, and don't worry about the mess you create. You can clean it up later.
When you give up your perfectionism and embrace imperfection instead, you'll find yourself taking a lot more action and, as a result, creating more inspired results.
Remember: release and perfect. Release and perfect. Let it be messy.
Tell me in a comment below what messy action you took and the results that came out of that action.

Never miss one of my videos! Click here to subscribe to my YouTube channel.
Photo courtesy of Dan Cook on Unsplash