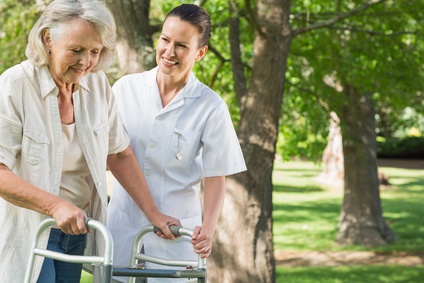 For more than a week, I've spent most of my time in a rehab center. My 91-year-old mother broke her hip. I noticed one thing as I watched her and the people who care for her, as well as the other rehab patients. Cheerfulness makes almost anything bearable.
For a patient, it's easy to get depressed, lose hope or feel frustrated. When you get injured, in pain, lose your independence, and are forced to live away from home, it's difficult to feel positive or happy. Additionally, as a caregiver, seeing people in pain, depressed, angry, or frustrated every day can prove quite trying. It takes a lot of patience and compassion to serve others who are challenged by difficult situations.
Cheerfulness Makes the Job Easier
In both cases, cheerfulness makes the "job" easier. Put a smile on your face, say a kind word, crack a joke, or offer a positive thought. You'll be amazed at the response you get from the other person—and at how much easier what you have to do becomes. Patients become more relaxed and willing to comply with requests, and caregivers become kinder and more willing to help and listen.
For example, my mother has been quite despondent. If a nurse smiles at her and jokes with her, she smiles and jokes back, even if she was complaining and unhappy previously. At that moment, you can see the stress leave her face and body. For even a few seconds, she's happy or happier and less stressed.
When my mother works with a physical or occupational therapist who is cheerful and upbeat, she has more ability and desire to perform given tasks—including walking. These individuals help her feel more hopeful and capable.
When I've asked the caregivers how they manage to stay so cheerful, they all respond the same way. They say, "Being cheerful makes the job easier, so I just work at staying in that frame of mind. And it helps everyone—the patients and me."
I've seen a variety of patients and residents in the rehab facility. Some are unhappy and unpleasant. Others are happy and pleasant. Who do you think makes the most progress? The second group of course. And who is easier to work with? The second group.
Approach Challenges with a Cheerful Attitude
We all encounter difficult situations in life. I wouldn't say uprooting myself to care for my mother is easy, for instance. I'm away from my family, juggling my work, and spending long hours cooking for my mother and caring for her. I have a friend who has been flying to another state every other week to care for her elderly parents—and she has been doing it for three years—while she juggles work.
Your situation might be different. You could struggle with a horrible boss, long work hours, or a project from hell. Your marriage could be failing. Maybe you've had surgery or suffer from a long-term illness. You could have business or financial concerns.
The struggle or challenge doesn't matter. A cheerful attitude makes whatever you are going through easier to bear. It also helps you deal with it with less stress.
I met a man at the rehab facility who has multiple sclerosis. He was there because his illness relapsed. He is always smiling and cheerful. He lives with his condition every day of his life, yet he doesn't let it get him down.
Practice Cheer
What about you? Can you keep a cheerful countenance despite life's challenges? Can you flow through your days with a smile on your face, and a kind and uplifting word for all you meet—no matter what is happening in your life or theirs? Can you make others happy and ease their pain simply by being cheerful?
It takes practice, but I know you can do it. Let your inner light shine, and the world will be a brighter place. After all, your essence isn't dark and sad. It's bright and cheery. Be cheerful, and you'll see the light in every face that cheerfully reflects your light back at you.
If you want to find your inner light, I'd be happy to discuss how High Performance Coaching might help you fulfill your potential and live your life with more clarity, courage, energy, productivity, and influence—and cheer. To set up a 1-hour FREE High Performance Coaching session, click here. Then download the free session application, and submit it. I'll contact you to schedule your session time.