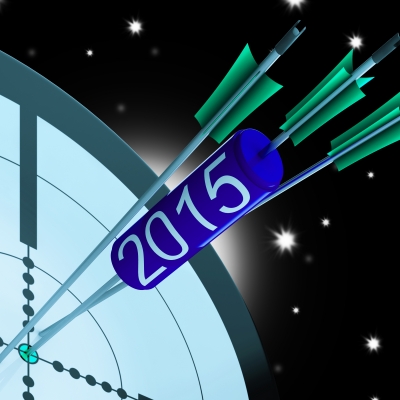 December and January are huge goal-setting months. As the New Year approaches and settles in, like me, you may have created new targets to hit in the next 12 months. You now have a long list (or a short list) of personal and professional goals you'd like to achieve. However, it's easy to forget an important step in the goal-setting process—a step that makes your targets easier to hit.
Most people set goals for the New Year—or make resolutions—and never make it to January 30th before they give up. (Admit it…you've done this. I know I have!) The reason for this is simple: The goals feel too large or too distant—too unachievable.
Chunk Down Your Goals
The trick to sticking with your "resolutions" until you achieved the goals is to have a plan consisting of smaller goals that help you achieve the big goal. In other words, chunk down each goal into small action steps. Doing so makes achieving the bigger goal seems realistic. When each of your goals has three to ten action items, you are more likely to make progress by completing the smaller items. You then see yourself progressing through and achieving the smaller goals—the action steps—and working your way steadily toward achieving the larger goal.
Look at your list of goals for the New Year. Did you complete the "chunk-it-down" step? Do you have smaller goals for each larger goal? If not, take the time right now to determine what baby steps you need to take to move toward your ultimate goal. What will get you there, little by little? What tasks do you need to complete? You can use this basic format:

Let's look at an example. If I have the big goal of writing a book this year, which I do, my plan (with smaller goals) might look like this:

Notice the deadlines and starting points. Add these for every one of your goals to push yourself along and stay accountable.
Many of the smaller goals also could be chunked down into smaller steps. For example, "researching the topic" might involve:
reading blogs
seeking out current books on the topic
surfing the Internet for the latest information
going to the library to search for the most current articles on the subject
As I complete each small goal, I move closer to completing the larger one. But I don't feel overwhelmed. Why? Because I'm not focused on the large goals as much as on one specific small goal. When I finish that one, I move on to the next one…and the next, always moving closer to my final destination: writing a book.
Make sense?
Almost any goal will feel more manageable if you chunk it down into smaller goals. And that's the way to achieve your big goals…one small goal at a time.
By the way, if writing a book is one of your goals for 2015, watch my free video series on how to craft, write, and promote bestselling books and create a career as a successful author.
Photo courtesy of Stuart Miles | freedigitalphotos.net.