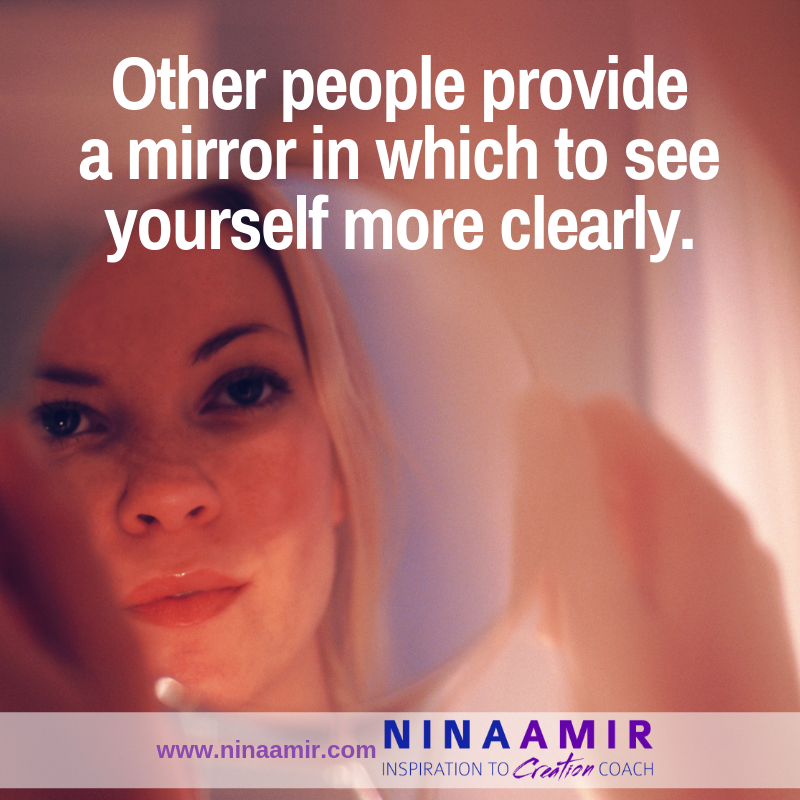 Years ago, I taught a class on mirroring. I gave all the participants small hand-held mirrors, but their task went beyond looking at their reflections. I challenged them to see in the mirror the part of themselves reflected by other people—especially those who triggered them in some way.
If someone in their lives or certain types of people consistently brought up strong judgment or emotion within them, their assignment was to look carefully at themselves. Then, they were asked to find the same characteristic—no matter how much they did not want to admit they possessed it. If they couldn't find it, they were asked to determine if that characteristic was one they lacked but would benefit them in some way.
The concept of mirroring provides a way to debunk the belief that you are different than those people you don't like, judge as "bad," or believe are different in some way. The more you can to see yourself in others, the more accepting and loving you become of them—and of yourself.
What is Mirroring?
Debbie Ford discussed mirroring in her book, The Dark Side of the Light Chasers, although she didn't call it that. However, mirroring has been a strategy used in personal development for years. And it's a super simple one almost anyone can use without a lot of assistance or training.
The basic principle of mirroring is simple: Anyone who triggers judgment or emotion in you—a co-worker, your child, your spouse, terrorists, school shooters, thieves, liars, people of color, those who practice a specific religion, the guy who cuts you off in traffic, a rude waitress, or your sibling—reflects something to you about yourself. What you see in the mirror could be a trait you dislike in yourself or don't want to admit you possess. Or it could be a characteristic you lack but wish you owned.
Mirroring as a Personal Growth Strategy
To apply mirroring in your own life as a personal growth strategy, notice when you get triggered by other people. If you find yourself judging or experiencing strong negative emotion related to someone, you are triggered.
Once you realize you are triggered, ask yourself a tough question: What do you see in that person that is a reflection of you?
Once you realize that you possess the same trait, could behave in the same manner under the right circumstances, or lack that characteristic, you can let go of judgment and lessen the degree of emotion you feel.
That step does not, however, mean you condone a behavior or quality. Instead, by understanding how you are like the other person in some way, you develop compassion and understanding for him—and yourself.
Then it's up to you to change based on what you've learned. You can be more accepting of the other person, or you can begin to develop the desired trait.
A Mirror in My Life
I'd all but forgotten to practice mirroring until a friend of mine began talking about seeing herself in others. I then read Ford's book for the second time, and I started using mirroring every time someone upset me.
For example, one of my kids tends toward negativity. He doesn't want to be let down, and so he thinks the worst rather than the best. I find this enormously annoying. His negativity makes super angry and upset because I strive to be positive and believe our thoughts are creative. I don't want to create what I don't want, so I focus on what I do want…or so I thought.
As I looked into the reflection he provided, I realized that I, too, can be negative…really negative…in some situations. For instance, I'm a worrier. If that's not negativity, what is? I focus on the worst that could happen—and usually try to find solutions to avoid that outcome. All the same, I allow my negative thoughts to get the best of me in those situations.
Also, I may talk about positivity—and even speak positively—but in the background, my thoughts are negative. I tell myself I have less spiritual connection as my girlfriend—and maybe I never will be or don't deserve to be. I read into email responses from a team member and tell myself he is angry with me. And then, each time I send him an email, I am convinced I'm just annoying him further. I sometimes think I'm not good enough, a bad person, too outspoken, not demonstrative enough, a fake, or a failure.
In short, I'm negative and don't control my negative self-talk—even though I work hard to be positive. No wonder my child's negativity grates on me! It's a reflection of the fact that I am doing the exact same thing in my own way—even though I wish I weren't.
Knowing this about myself, I am more forgiving of my child's tendency to be negative. I get it..I get him…I get me.
Mirrors Everywhere
You may think someone like a terrorist couldn't reflect anything to you about yourself. Look carefully in the mirror…
Have you ever wanted to be heard or noticed so badly that you felt as if you'd do just about anything? Do you have strong religious convictions—so strong that you try to live by them every day in every way possible? Then, you could be a terrorist under the right conditions.
Don't think you're prejudiced? Think again.
Have you ever judged someone? Have you ever thought something nasty about a person of a different race, religious persuasion, or political party? Have you "unfriended" someone on Facebook who had opinions with which you didn't agree?
Time to ask yourself what these people tell you about yourself.
And what about a co-worker who seems too outspoken and pushy? You can tell yourself you don't want to be anything like them, and that their behavior is unacceptable. But I bet you are quiet and rarely ask more than once for what you want. Maybe you don't speak up about for what you want and need. Is it possible, you could benefit by taking more bold action and using a louder or more-demanding voice?
Listen to Yourself
Here's another way to notice when someone is mirroring something for you: listen to yourself. What type of language do you use to describe others?
Do you find yourself saying things, like "jerk," "idiot," "asshole," "liar," or "fake," about people you know or meet? If so, ask yourself, "When am I a jerk, idiot, asshole, liar, or fake?"
And why do you get triggered by people who you describe in these ways? Did someone once tell you you were a liar? And now you pride yourself on being super honest? Did someone once call you an idiot, ever since, you've tried to prove how smart you are?
These days, I ask myself regularly what other people mirror to me. And I find I've softened and become much more compassionate and caring in the process. I judge less and accept more. And that not only makes me happier but improves my relationships as well.
What do the people in your life mirror to you? Tell me in a comment below. And if you enjoyed this post, please share it on social media or with a few friends.

Never miss one of my videos! Click here to subscribe to my YouTube channel.