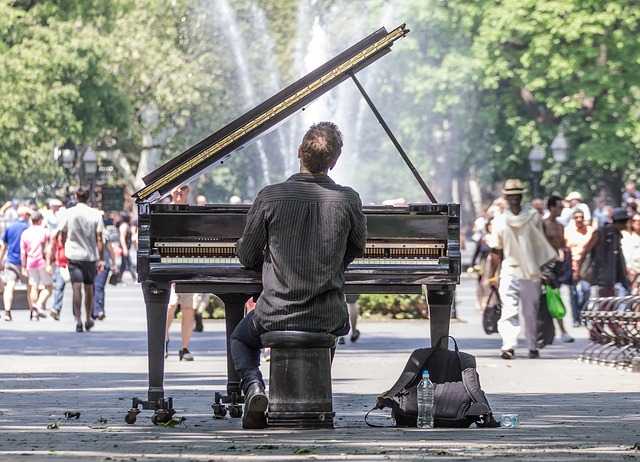 If money didn't matter—you had enough and didn't need to worry about a paycheck—what would you be doing right now? How would you spend your time?
You've probably heard stories of people who didn't have money but quit their jobs to pursue their passion—and became happier and more financially successful. They took a leap of faith or trusted their intuition—and went for it.
While I admit that's not always easy to do, the fact remains that the desire to have an income stops many of us from pursuing our passions and sharing our greatest gifts.
Granted, you may need your income to support your family or yourself. We all need money to live. But eeking out a living shouldn't stop you or me from doing what we love or from sharing what we have to offer.
That's why it's an interesting question to answer. What would you do if you weren't concerned about money? (You might journal about it.)
Pursue Art and Share Your Talents
If I didn't need to worry about money, I'd stop fussing so much about my websites, my sales copy, and developing new ways to bring in readers, clients and customers. Instead, I'd write more.
I'd allow all the rest to fall into place—or hire someone to do it for me—and focus on creating my art. That's my gift, I believe, and I'd spend my time sharing it.
I wouldn't worry about getting published—which doesn't mean I would stop wanting my work to end up as published books, articles or posts—and I'd produce manuscript after manuscript. I'd write all the books I've always said I wanted to write—one after the other. And I'd continue writing for my blogs and for magazines—whether I got paid or not.
What's Your Gift?
What gift do you have to give the world that you aren't giving because you are too caught up in earning a living? What would you produce or do if you didn't feel you had to be paid. (Actually, it's only a gift if you give it freely without the need for financial compensation.)
Once you've identified that gift, I challenge you to find a way to give it anyway.
That's right. Free of charge.
Give Your Gift for Free
Don't wait for the money to arrive or for someone to reassure you that you'll be paid after the work is done. Just start producing it.

Your art might be watercolor paintings, quilts, or hand-made dolls. Your gift might be developing business plans for start-ups, creating native gardens, or providing health plans for those with health issues. Or maybe your unique talent is listening to others, cooking, or caring for children.
Don't wait for money for these endeavors. Just do them. See what happens.
Act as if you have won the lottery and can do whatever you choose.
Don't Wait
You don't have to quit your job to offer your gifts to the world. Decide it's more important to give your gifts now than to wait until the right time—the time when finances are not an issue.
That time might not come, and you will die without creating your art, sharing your  gift or leaving a legacy. You won't make an impact in anyone's life by offering that unique talent or skill you possess.
Start sharing your gift and producing your art now. Then, watch what happens.
Let me know… Leave me a comment.
Get a copy of my FREE ebook, 20 High-Performance Strategies and Habits You Can Implement TODAY! Just fill out the form below. (The ebook will arrive attached to an email.)
Don't wait! It's your time…now…to level up so you can achieve your potential, fulfill your purpose and live your life fully.
Photo courtesy of Robert_z_Ziemi / Pixabay.com