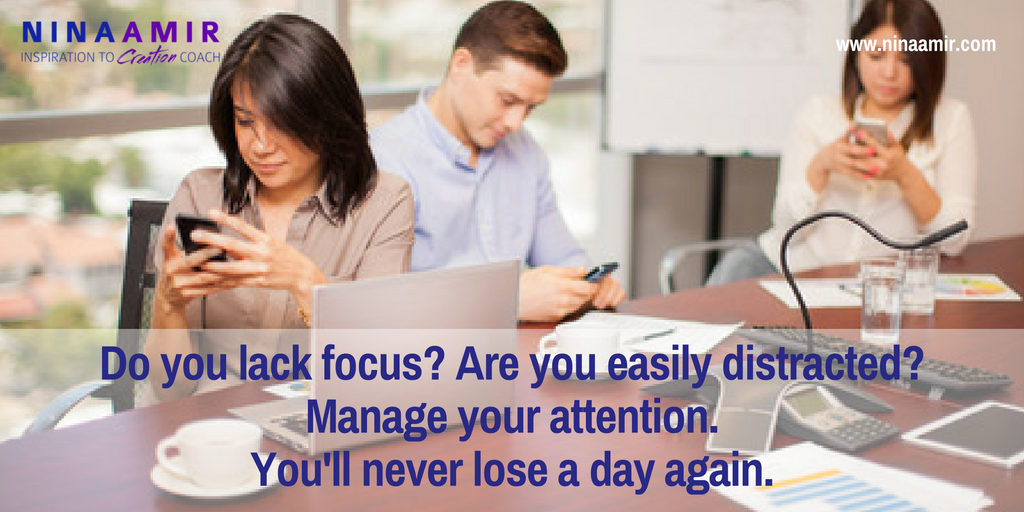 Have you ever lost a day?
You now what I mean…you had plans. You woke up in the morning and had things you were going to do…and then the day ended, and you had nothing to show for it.
Maybe you even blocked time on your schedule for your priorities, responsibilities, and obligations. Your schedule was meant to ensure you accomplished everything.
But when you left work or went to bed, you realized you'd done almost nothing.
You lost somewhere between eight and twelve hours…or more.
Where the hell did they go?
Good question.
Here's the answer: They went wherever your focus went. And you failed to focus on the things you planned to accomplish.
Where Did You Place Your Focus?
You might not even realize when your focus shifted. But it did.
Maybe your focus turned to:
Emergency meetings called at work
A call from the school telling you to pick up your sick child
Your failing marriage
Something someone said to you that left you feeling out of sorts
Facebook
The search for an answer to some question
The laundry
Your email (every time it beeped to tell you something arrive)
Trace your time backward. Remember…you were on track for the first hour of the day, and then you checked your email—which was not on your schedule.
In that first email, someone asked you to do something, so you dropped your schedule and replied.
Next thing you knew, two hours had gone by, and all you'd done was answer emails.
And then your co-worker called that meeting…
Now you know exactly where your day went.
Retain Focus so You Don't Lose a Day
It's easy to lose focus. I understand.
In fact, today I lost at least four hours of my day (and that's a conservative estimate.
I could have gotten a lot more done…and had every intention while in the office of knocking my productivity out of the park today.
You know what stole my focus? An overriding sense of dissatisfaction…or maybe I'd call it disappointment.
A few of my projects just weren't going as I would have liked. Despite my best efforts, I wasn't achieving the results I desired.
I ended up allowing my mood to distract me. Or rather my emotions made it easy for me to get distracted—by email, Facebook, updates on a project, and frozen Milky Ways…
When I realized what I was doing, I stood up from my desk and said, "Nina, focus, focus, focus!"
I then sat down and worked on a project for two hours—fighting my desire to do something else all the while.
Guard Your Attention
You have to force yourself to focus until focusing becomes habitual.
We live in a time when our focus is constantly under attack. It's easier than ever to get distracted.
We can turn to the Internet at any time. There's noise coming at us from our phones, email, apps, and networks.
Most of us juggle many balls.
That's why so many people feel as if they've lost a day…or two or three (or a whole week). They have.
Therefore, you must guard your focus.
Of course, to do so means turning off all the sounds. And it means developing will power. (This is the hard part.) You must develop the strength to shut out and turn away from distractions.
Focus must be your primary focus.
You simply have to decide to get to work on the things that are important to you—and to do that before you deal with anything else. And you have to do it instead of and despite other things—even when someone requests something from you and when you know you just received a text or a Facebook message.
If you have to pick up a sick child, okay. And if you'll lose your job if you don't attend the emergency meeting, alright. But you can and should ignore most everything else that isn't an emergency.
That takes a firm commitment to putting your priorities first.
First, do what is important to you. Or block out time in your schedule to focus on your projects or priorities—and don't be swayed even by the ice cream in the freezer. (Fess up…you know you take breaks to eat ice cream!)
You Can't Find a Lost Day
You can't find a lost day. Once it's lost, it's lost forever.
You can figure out where it went and how it got lost, but you can't bring back those 24 hours.
But you can decide never to lose another day.
Choose how you will spend your time, and then focus in the time you have or give to a project or task.
Remember: You can't manage time—you've got 24 hours per day. That's it.
However, you can manage your attention—your focus—in the time you have.
What causes you to lose an hour, day, or week? Tell me in a comment.

Are you tired of struggling to focus?
You try really hard to keep your attention on your priorities, but somehow you always end up distracted.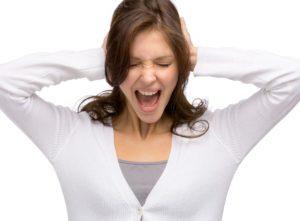 Facebook, emails, texts, YouTube videos…even the laundry…call to you.
And you heed the call.
Give me just one hour of your time…
I promise you'll come away with some new strategies for focusing your attention in the time you have, strategies you can implement immediately.
And when you learn to focus in the time you have, you'll have more time.
Ready to learn how to focus? Follow these three steps:
Email the application to Nina@ninaamir.com.
Schedule your session here.
It's your time…to achieve your goals, become your best self, and live your dream.
Photo copyright: Antonio Diaz / 123RF Stock Photo