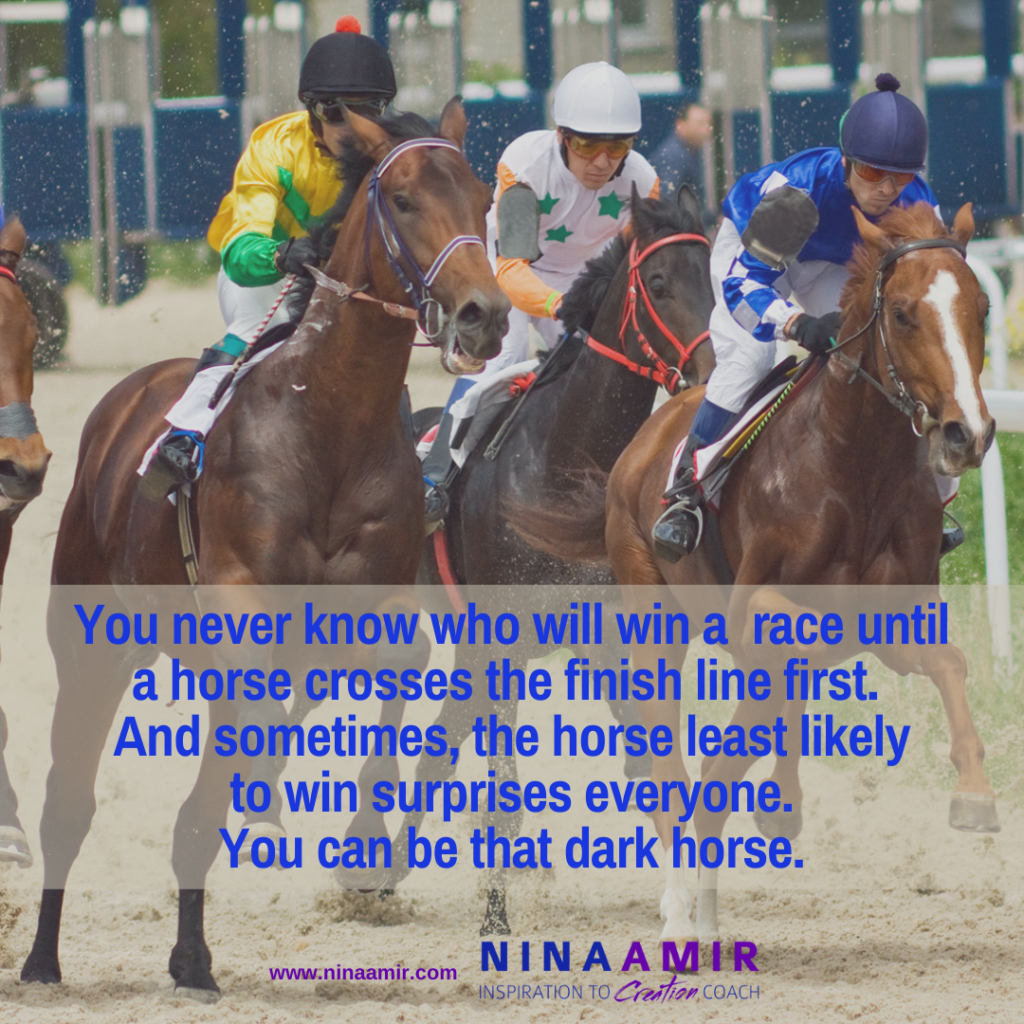 Every year I watch the Kentucky Derby. I'm not much for the pageantry, but I love to see the young racehorses, hear their stories, and watch them run for the roses. It's an exciting and sometimes heartbreaking sport.
To be honest, I'm a thoroughbred lover. I owned and rode several thoroughbred horses when I was younger—all ex-racehorses. As an adult, I also purchased two three-year-old ex-racehorses, which saved them from slaughter. But unfortunately, many of these beautiful creatures end up there if they don't perform as expected on the track.
Back to the Kentucky Derby…
The 2022 Kentucky Derby Field
This year marked the 148th running of the race in Louisville, Kentucky. On the first Saturday in May 2022, 20 qualified horses lined up to run one and one-quarter miles on the historic dirt racetrack at Churchill Downs.
Of that field of horses, only a handful was considered to have winning potential. The rest were not expected to be contenders or even deemed "real" competition. Naturally, therefore, little was said about them by the broadcasters.
No backstory. No information on the owners, trainers, or jockeys.
But you never know who will win the race until a horse crosses the finish line first—even by a nose. And sometimes, the horse least likely to win surprises everyone.
That's why you want to know something about all the horses…not just the favorites.
A Dark Horse
That's what happened at this year's Kentucky Derby. Rich Strike made history as the second-biggest longshot to win the Kentucky Derby in 148 years of the race.
Rich Strike wasn't even scheduled to race. But when another horse was taken out of the running Friday morning, the young stallion moved into the lineup.
But no one—except maybe his owner, trainer, and jockey—expected him to win. In fact, the odds were against him.
When the starting bell rang, Rich Strike came out of the starting gate near the back of the pack. Then, he and his jockey moved up a little…until they found an opening…then another…and quickly moved past the front runners to win the race.
Why am I telling you all of this—especially if you are not a horse-racing fan?
Rich Strike provides some vital lessons about how to win at anything in life.
Lesson 1: Be Ready…Always
Even though Rich Strike was not expected to race, his owner, owner Rick Dawson, and trainer, Eric Reed, acted as if he was on the ticket.
"We came here on a prayer," Reed said. "I told my Dad and told (owner Rick Dawson), the worst thing that can happen to us is to have a call a day or two before the Derby and say you're going to get in and not be prepared. We trained against all odds. Nobody thought we could get in."
But Rich Strike did get into the elite lineup of horses. And because he and his team were prepared for the race, they won.
Be ready…be prepared…always. You never know when your big opportunity will present itself.
Lesson 2: The Odds Mean Nothing
The odds of Rich Strike winning were 90–1 when I began watching the Kentucky Derby. By the time the race started, they were a tiny bit better—80–1.
By comparison, the odds on some of the favorites were:
Taiba—5–1
Epicenter—5–1
Messier—7–1
Zandon—3–1
Yet, Rich Strike beat the odds and won.
Obviously, you can predict all you like…you can bet every day of the week…but the odds mean nothing.
In the end, it comes down to preparation, talent, and…maybe luck. But I don't really believe in luck.
So, don't rely on the odds. Trust your gut.
Lesson 3: Only Compare Yourself to Yourself
When betting on horses, typically, you compare each horse's breeding, track record, trainer, and jockey before you pick your winner. Like odds, sometimes, that works. Sometimes it doesn't.
Few people compared Rich Strike to the favorites. Instead, he was deemed the late addition with little chance of crossing the finish line first. (Of course, some people did bet on him.)
But he had qualified to run in the Kentucky Derby. Technically that made him a contender. He should have been looked at more carefully.
And I'm sure his owner and trainer compared Rich Strike to the other horses in the lineup. They wanted to assess his competition.
Yet, people are better off not comparing themselves to the competition or those expected to "finish first." More often than not, comparisons make you feel worse about yourself, causing you to lose belief in yourself. As a result, you doubt your ability to end up wearing the garland of roses, which makes you less likely to win.
The only person to compare yourself to is yourself. Ask: "Am I doing the best I can do? Am I ready?"
If your answer is "yes," that's all that matters.
Plus, if you are your only competition, you'll cross the finish line first every time. After all, your race has a field of one. So when you break out of the starting gate, wear blinders and see only yourself and your performance—and the gaps opening to let you move to the front of the pack.
Lesson 4: Manage Your Energy
Have you ever noticed that horse races are often won by a horse that runs at the back of the field of frontrunners for most of the race? Then, in the last legs of the race, that horse suddenly moves to the front and comes in first, second, or third.
It's tiring to be a frontrunner. After all, to win, you have to keep running at the speed that got you into that position…or faster.
But finding more energy and speed at the end of the race can be hard when you've already given all you've got. That's why they end up in second or third place…if not farther back in the pack.
As you plan your race strategy, keep in mind that the frontrunners often get tired. Conserve your energy. Be ready to speed ahead when you see an opening.
Lesson 5: Remain innovative and creative.
When a horse and jockey are ahead and in the home stretch, they tend to stick to the plan. Just keep running forward as fast as possible.
But a horse that's coming from behind has to be innovative. The jockey has to be creative. Working as a team, the two must be open to changing up the plan as needed. Only when the horse is ahead can they stick with the strategy of going full-steam ahead.
To succeed at anything in life, you have to remain innovative and creative—even when you are lengths in front of everyone else. That's how you continue to stay ahead.
Lesson 6: Believe you can win.
What would have happened if Rich Strike and his jockey, Sonny Leon, had gone into the race feeling defeated? Or if Leon, Dawson, and Reed had assumed there was no way to win the race?
Maybe they would have won anyway, but it would have been less likely.
After all, we create our beliefs. The entire team behind Rich Strike knew the horse could win. Dawson said afterward, "Never, ever would we put a horse in a race we didn't believe we could win."
Similarly, if you want to win at anything, believe in your ability to achieve that goal.
Lesson 7: Enjoy the race.
You may not realize it, but racehorses love to run. They enjoy the race. The desire to cross the finish line first is bred into them.
When you love what you do, you are bound to succeed. The few thoroughbred racehorses who don't make it often don't love racing. They don't feel the passion for crossing the finish line first.
So, whatever you do, love it. Have a passion for it. And you'll be happy with your performance whether you win or lose.
Did you learn any lessons from this year's Kentucky Derby? Tell me in a comment below, and please share this post with a friend.

Never miss one of my videos! Click here to subscribe to my YouTube channel.