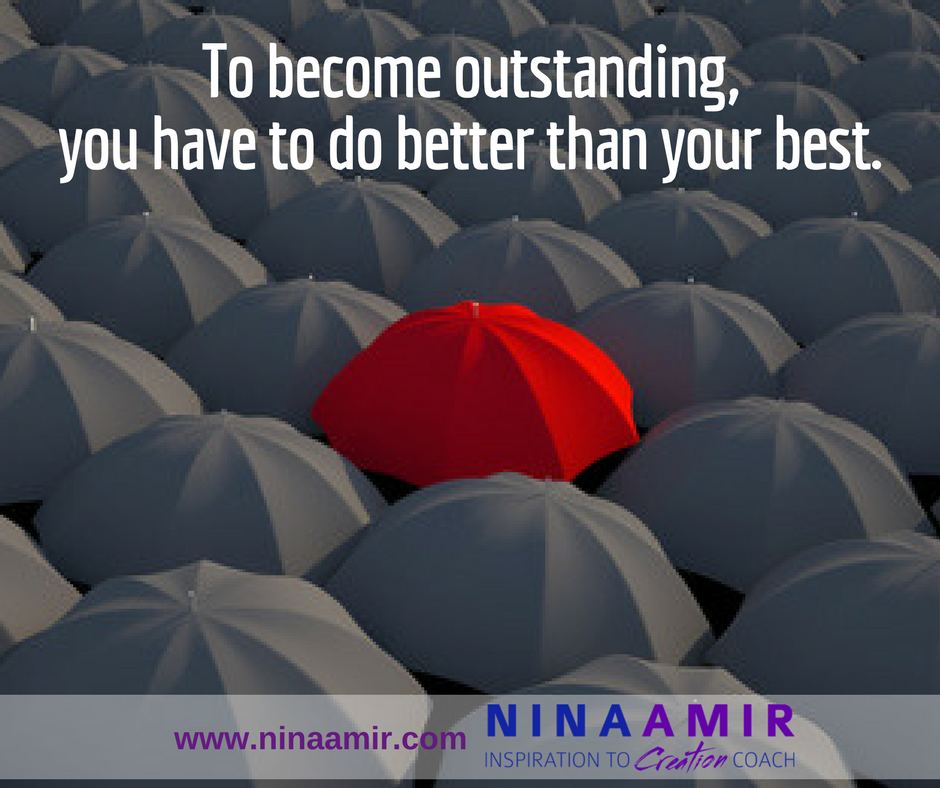 Do your best. I bet someone at some time gave you that advice. And you probably tried to follow their instructions.
But what is your best? Do you know?
Probably not, because your best is a constantly changing state of being. Your best yesterday may not be your best today or tomorrow.
You haven't yet achieved your best. You have had a "best" moment…a peak moment…but you probably didn't know what that "best" moment looked like before it happened. And your next "best" will look different as well.
Imagine being or doing your best. What does that look like? How will you behave? What will you accomplish or do? What will you say? What energy or emotion will you express?
If you are a high performer, you achieve your best daily because you continually strive to be and do better. You also have a vision of "best" that you work toward daily.
How to Be Your Best Daily
Recently I heard someone—unfortunately, I can't remember who—define the word "best" with an acronym. He said, to do your best every day you must:
Be Excited to Smile Today
Be Excited to Serve Today
Be Excited to Succeed Today
If you do these three things, you have done your best.
I agree that excitement, or enthusiasm, are part of doing your best. When you serve, you also are at your best. And when you succeed, you can serve on a greater level with confidence and heightened energy.
Success is critical. When you succeed, you excel beyond your standard norms, and high performers enjoy this accomplishment. They often succeed, which is how they live into their best selves daily.
How to Be Outstanding Daily
But is doing your best enough if you want to succeed and achieve your potential? Tony Robbins talks about being "outstanding." I think this is what you must strive for to become your "best self."
I love the word "outstanding." It reminds me to "stand out" as more than excellent in everything I do. It pushes me to be better than my best.
So I decided that an acronym for this word was in order as well.
To be outstanding daily, you must be:
Optimistic
Optimism changes your world view, That's why optimists sometimes have a less-than-realistic view of the world. They see possibilities where pessimists see impossibilities. Because of this, they strive for things that seem a stretch but do so with the faith that they can make it happen. Your positive mindset helps you manifest your big dreams more often. The more positive you become, the more often you will find yourself excelling above your standard norms consistently, which will make you outstanding.
Unleashed
To become outstanding and achieve your potential, you can't hold back. You have to remove all constraints…let yourself off the leash. When you give your all to everything you do, put your full energy and self into every action, your performance regularly will be recognized as above and beyond others in your field.
Tenacious
If you refuse to fail or give up, if you continue to work hard and embrace the struggle, eventually you will succeed. There's no way you can't. Your persistence—your tenacity—will pay off. And you'll be recognized for that effort and mindset.
Strategic
Those who succeed tend to move forward strategically. Successful people have plans and goals and a big-picture view of where they are going. And they know how to stay focused on their purpose each step of the way. If you can approach everything you do strategically, you will find yourself excelling beyond your wildest dreams.
Awestruck
Fear holds most people back. But at the other end of the spectrum lies awe. Can you feel amazed by your life and the things you do? Can you feel awestruck by your talents, gifts, and skills as well as for the opportunities, relationships, and situations in your life? Outstanding people know how to move through fear by seeing it as excitement for the awesome future they can grab…if they choose to do so.
Natural
One of the best ways to succeed is to be yourself. Whatever you do, do it from an authentic place. When you are natural—in your behavior, speech, dress, and attitude—you attract people and opportunities to you. You naturally live into your best self, which moves you closer to outstanding.
Demanding
The most successful people have enormously high standards for and expectations of themselves. To achieve your potential, you must be demanding of yourself. You can't live complacently or comfortably. You must push yourself, demand the best of yourself. If you don't require yourself to level up daily, it's impossible to become outstanding.
Intentional
Living intentionally means being "on purpose" in every moment. Do you know what you want from each day, hour or minute? Do you set an intention and then move toward it with focus and presence? If not, it's time to start. Intentional behavior begets outstanding results.
Nurtured
To achieve your best self and excel in whatever you do requires self-care. You must nurture yourself. Doing so allows you to have the energy and vibrancy to excel. Plus, it's important to nurture others—to support and care for them. Too many people forget to do both. Those who are outstanding remember.
Generous
If you want to be outstanding, be generous—with your praise, support, donations, help, information, skills, and expertise. Be generous with your love and appreciation. At your core, you are a generous person. Express that generosity in every way possible, and you'll discover—as will those around you—that you have an outstanding ability to share your gifts with others.
Don't settle for doing your best. Instead, strive to be outstanding.
What do you do daily to be outstanding daily?
Do you want 2017 to be the year you do more than your best—that you become outstanding? Get a copy of my FREE ebook, 20 High-Performance Strategies and Habits You Can Implement TODAY! Just fill out the form below. (The ebook will arrive attached to an email.)
And download the application for a free one-hour Certified High Performance Coaching strategy session. (Then email it to me at nina@ninaamir.com). Let's figure out together what you need to do to make this year the most outstanding one ever.
Don't wait! It's your time…now…to level up so you can achieve your potential, fulfill your purpose and live your life fully.
Photo copyright: creaktivahost