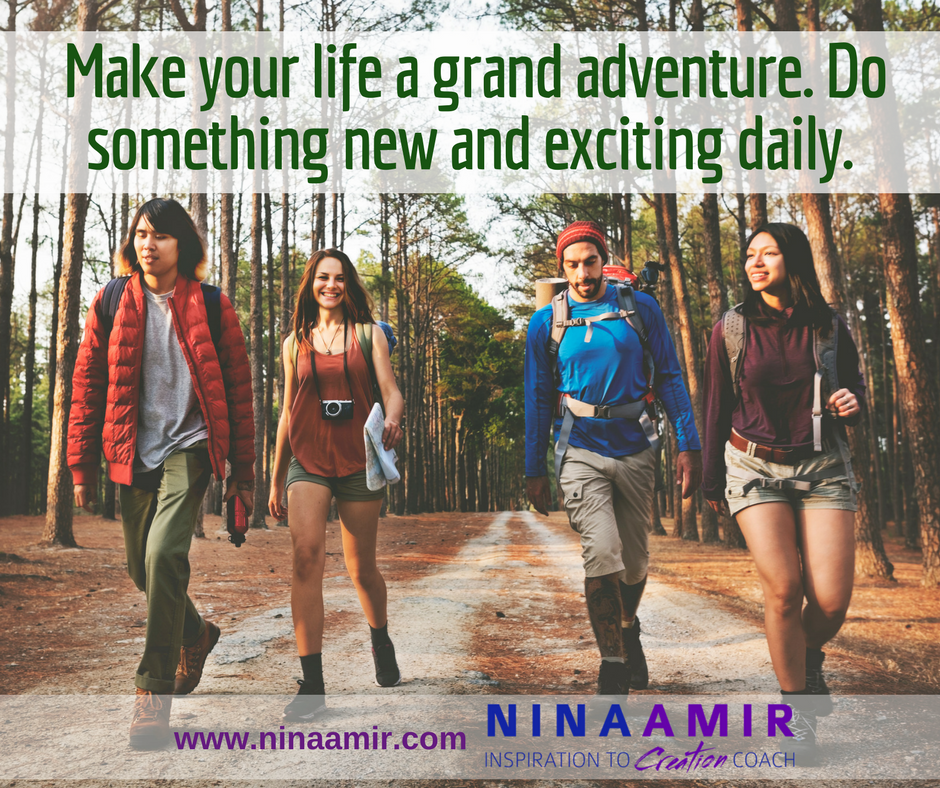 How often do you go on an adventure? Being adventurous can feel hard. Sometimes doing something new requires overcoming the fear associated with the unknown.
The need to move through fear and thinking something will be difficult stops many from pursuing new adventures.
But difficulty does not trump necessity, and being adventurous is most certainly a necessary.
Adventure opens your eyes open and expands your mind.
Through adventure you learn to understand and appreciate other cultures, lifestyles, and perspectives on key issues. Such issues might shape the future of your hometown, home-country, or the planet at-large.
Overcome the Fear of Adventure
Overcome you fear of adventure with a mental reframe. Think of your fear as excitement. After all, fear and excitement trigger the same autonomic response in the body—a heavy release of adrenaline, so there's no reason to view them as different states.
The only difference is in how we consciously "name" the feeling. Call it excitement instead of fear.
Or call it awe. In Judaism, the name for fear and awe are the same because they exist on the same spectrum…even if at different ends.
Adventure is Fun!
When you've successfully reframed your fear as excitement, start referring to that excitement as fun. After all, it's fun to be excited, right?
Adventure…excitement…fun… They're incredible mental sensations that move us in a positive direction—a direction that ultimately leads to the most important thing in our personal and professional lives: inspired results.
That's what you're looking for, isn't it? Inspired results?
You want to be more—more passionate, more successful, more joyful, more enthusiastic, more educated—in every capacity. And you want the results that come with that…you life fully lived and potentially fully realized.
A proclivity and passion for adventure will take you there. It will take you to the land of more.
So, if you're feeling brave and like now is the time for me to start inspiring myself and others, here's what you need to do:
1. Commit to an adventure—any adventure.
A new culinary experience, a new lifestyle experience, a new personal experience—anything.
2. Go on your adventure in the next two-weeks.
It might be something as simple as eating a raw oyster for the first time or something as complicated as flying to Beijing and seeing the Forbidden City.
The magnitude of the adventure isn't what's important. What is important is your willingness to engage with something that's entirely foreign and new…and to do so sooner rather than later.
Remember, it's the unfamiliar—adventure—that helps you achieve the new mindsets and elevated perspectives necessary to make the most of life.
What adventure will you take? Tell me in a comment below.
And if you are struggling to achieve inspired results in your life, please give me an hour of your time; I promise you will gain insight, tools, and strategies so you move toward achieving your potential faster than you thought possible…and your life will begin to feel like a grand adventure as well. To do so, apply for a FREE high-performance strategy session application. Download and complete the application, and email it to me at nina@ninaamir.com. Learn more here.