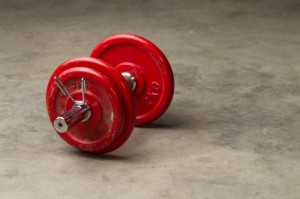 Every day I remind myself that I'm supposed to exercise. I need to build muscle and gain bone mass. After all, I'm approaching 55, and I need to take good care of my body. It's my temple, right?
Yet, I need to build muscle on the inside, too.
I was reminded of this last week as I coached a client who complained about feeling frustrated because he couldn't get to some of the important projects on his to-do list. I could totally relate! As I talked to him about scheduling time for these projects, I realized I needed to do the same. I mentioned deadlines and making decisions to get work done. I told myself to listen…to take my own advice.
Develop Your Will
This is about developing "will," or willpower. The late author Stuart Wilde talked about developing will as a type of spiritual weight lifting. This is building muscle on the inside. I remember my husband and I trying one of his suggested exercises:
Get up at four or five every morning for a month and do a mindless and meaningless task.
My husband accepted Stuart's suggestion of such an activity and moved a stack of rocks from one side of the yard to the other. I took books off a bookshelf and put them back on again.
Why do this? Simply to strengthen the internal muscle we call "will." Make yourself do something that feels hard because it has no meaning.
Use Your Muscle
Then apply your new muscle, your new strength, to something that does have meaning, such as to writing a book, finding new clients or a new job, painting a picture, or selling a house. You'll find you have the power to stick to the task day in and day out. You will have developed the discipline, the willpower, to do what you desire. You don't have to get up at 4 a.m. to accomplish the task, but you could.
Of course, you don't have to use Wilde's exercise to develop inner muscle. You can accomplish this by applying your will to a meaningful task. You can use whatever muscle you now have and strengthen it by putting it to use on a project daily without fail. Get up at 5 a.m. and write for two hours. Decide to contact organizations for potential speaking gigs every day at the same time for the next month—and do it. Make cold calls every day for 30 minutes—and do so at the same time no matter what.
Your inner muscles will get bigger and stronger. You will have more willpower every day. Others won't see it. You won't have a "six pack" to show off, but your results will be amazing.
I need more inner muscle. If I had it, I'd manage to exercise regularly, among other things.
Have you exercised your inner muscles in some unique way? I'd love to hear about it…and about your results. Leave me a comment below.
Photo courtesy of chrisroll | freedigitalphotos.net