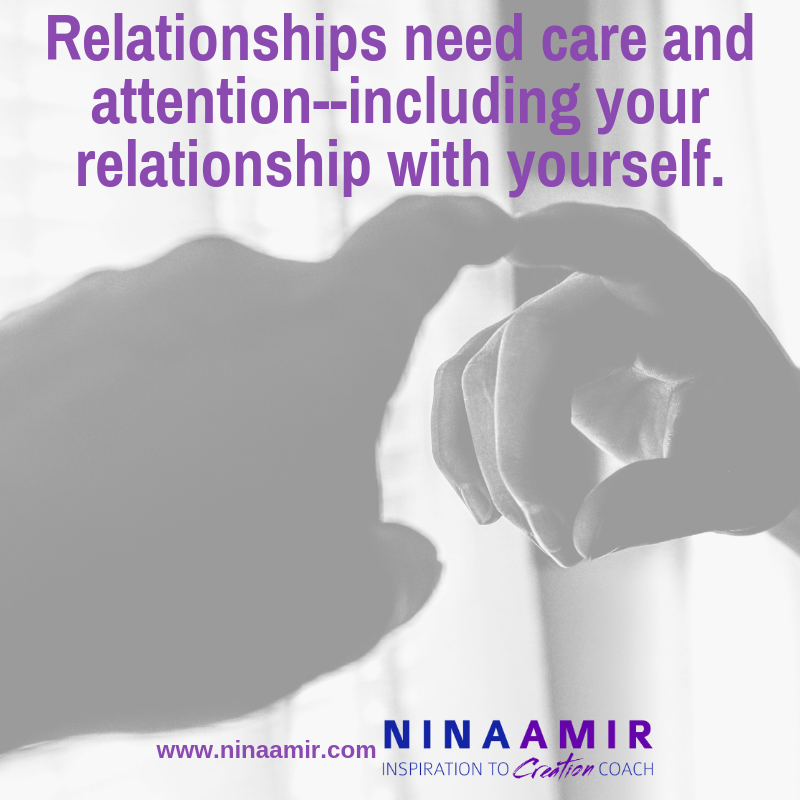 Have you ever identified which relationship has been your longest one running? In the past, I would have said it was my relationship with my mother, my siblings, or a few of my high school friends. I've been married 30 years—that probably qualifies, right?
Wrong. These are all incorrect answers.
Let me explain.
Your Longest Relationship
A while back, I received an email from Peter Shankman, five-time bestselling author, entrepreneur and corporate keynote speaker. I first connected with Peter years ago when I subscribed to Help a Reporter Out (HARO), a company he founded that connects journalists with experts. He also founded, The ShankMinds Breakthrough Network, an elite mastermind, and Faster than Normal, the Internet's #1 podcast on ADHD. I still subscribe to HARO, but I'm also on Peter's mailing list.
When I opened Peter's email that day, I read this: "In the end, you are your longest relationship. Not your partner, not your job, not your latest project, not your next speech, not your startup, nothing but you. If you're not taking care of yourself, how can you possibly expect to help others, to do great things, to build empires? Simply put, you can't. The greatest victory starts with taking care of yourself and making you the most important project on which you'll ever work. I am my longest running relationship, and you are yours."
This is the email that made me realize I had to spend a lot more time and put in a lot more effort to take better care of and improve my relationship with myself.
I am my longest running relationship, and you are yours.
A Relationship that's Easy to Ignore
Most of us get busy interacting with others, our careers or jobs, and our lives. We spend most of our time looking outward and fostering relationships outside ourselves. We forget to focus on the relationship with self. In fact, we ignore that relationship almost entirely.
I know this has been true for me. Yet, I remember times in my late 20s when I would just sit on the coach and "do nothing" for an hour or more. And most of my life I journaled. I didn't do either of those things for years and years.
Plus, I would go cycling and horseback riding regularly. I kept myself in decent shape up until I hit my 40s.
I'm just now trying to redevelop several habits that help me take care of myself and reacquaint myself with myself—if you know what I mean. I've started the practice of journaling daily again. I'm pursuing old passions, like horseback riding, and I'm meditating more regularly. I'm trying to work out in some way five days per week. Plus, I'm going through my closet and asking myself which articles of clothing are still "me." These are my attempts to take care of and renew my relationships with myself.
Take Care of You
For many, focusing on a relationship with yourself can mean self-care. You know…going for a massage, taking a vacation, exercising, sleeping more, and utilizing stress-reduction techniques. Indeed, self-care is part of a focus on self. The more you care for yourself, the higher the likelihood that you will begin to move inward and reconnect with you. Also, you'll have a greater ability to accomplish your goals and show up as your best self.
Plus, a bit like the advice on an airplane, if you don't take care of yourself, you can't take care of anyone else. Nor can you achieve your dreams. It just won't happen. Allowing yourself to become rundown, stressed out, exhausted, and overwhelmed will only make you sick or deplete your energy to the extent that you can do only what you must do. I know that's not what you want.
Just becoming conscious of your long-standing relationship with your self—like I did when I read Peter's email—can help you begin to take better care of yourself. But it's not enough.
How to Foster a Better Relationship with Yourself
Beyond self-care, you will foster a better relationship with yourself by spending time with…you guessed it…you. Especially in today's fast-paced world, you must put aside "quality time," as we like to say, to spend with yourself.
What does this quality time look like? That can be different for each person. Here are a few ideas that you can try:
Take a long walk in nature. Don't listen to music or a podcast. Just listen to your own thoughts. You can even ask yourself questions and listen for the answers.
Sit on your porch, deck, or living room couch and do nothing. Just be with you.
Journal. Write down your thoughts, concerns, aspirations. Again, ask yourself questions and journal the answers.
Got to therapy, get a coach, or find a support group. Personal development of any type will help you connect with yourself on a much deeper level.
Draw or express yourself with some sort of art form. You might be amazed at what comes out in your drawings that tell you something about yourself.
Do things you used to enjoy. We often forget to do what brings us joy…or brought us joy. By taking up these activities again, we tap into the person we used to be.
Pursue old and new passions. Much like doing things you enjoy or enjoyed, this activity allows you to connect with your core interests and joys.
Meditate. Just be…with yourself. Calm the mind and body so you can feel the you that is at you core.
Quality Time with Yourself
One thing has become enormously clear to me. Like any other relationship, you must consciously take time to connect with yourself. The constant excuse that you are too busy won't cut it. You have to look at your schedule and carve out time to be with you.
What do you think will help you reconnect with yourself? How can you deepen your relationship with you? I challenge you to do something every day that is only about connecting with yourself and getting to know yourself better again. Plus, as you begin to listen to and understand yourself better, you'll gain clarity on what type of self-care you need or want most.
How to Do Great Things
If you are anything like me, you have big aspirations. You want to make a difference in some way, or you have goals you want to achieve and dreams you want to realize. It's impossible to do that if you don't take care of yourself and have the type of relationship with yourself that allows you to truly understand your goals and dreams—and why they are important to you.
As Peter says, you, first, must make you your most important project. "Nothing else matters, if you don't allow yourself to matter first," he says. From that point, you can do any and all the great things you imagine.
So put "myself" down in your planner as your priority project. Every day and every week, plan time for self-care and for connection with self. Then watch how your ability to achieve your goals and do great things increases. And notice how the quality of your life changes the more often you make your longest relationship your most important one as well.
How does taking care of and improving your relationship with yourself impact your life and ability to achieve your purpose? Tell me in a comment below.

Never miss one of my videos! Click here to subscribe to my YouTube channel.