Do you try to manifest things in your life? Maybe you believe in the Law of Attraction, and you're trying to manifest your desires, to bring them into the physical world, but it's just not happening and you can't figure out why.
Your inability or ability to create what you want in your life has a lot to do with your energetic system—your vibration.
The world is a vibrational place. We have sound and color vibrations and vibrations from just about everything. As a matter of fact, the chair I'm sitting on is just energy vibrating in space. The speed at which it vibrates makes it either physical or not physical.
Line Up Your Vibration
We are vibrational beings. Our energetic vibration attracts like energy. So, if your vibration isn't lined up with what you want, you won't attract it.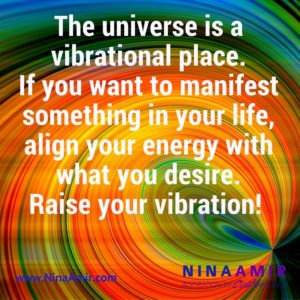 You're not the only one who has a problem manifesting. I do, too, and I write about this topic often.
I stopped myself recently and said, "You know what? I am not manifesting the things I want right now because my vibration is off. My vibration is not aligned with what I want."
Sometimes all it takes is becoming joyous. We tend to get stuck in our negative emotions and when we're focused on such thoughts and feelings  our vibration changes to a lower one. If you want to manifest something, you need to raise your vibration. Focus on positive emotions and thoughts.
How to Raise Your Energetic Vibration
For instance, earlier today as I was driving home,  I made sure every time a sad song came on my iPhone, I turned it to a happy song. Sad songs make me sad. They do not raise my energy. I want to  raise my vibrational energy with happy music. I look for upbeat songs that make me feel good.
What could you do to help raise your energy and align you with what you want? Here are a few ideas:
Pet the cat or dog.
Get up and dance.
Visualize your favorite spot on the Earth.
Lie on the beach and relax.
Make love.
Hug your child.
Exercise.
Meditate.
Go out in nature.
What is it that makes you happy and raises your vibration?
Every time you feel your energetic vibration get low, do something to raise it. Take actions that make you happy, joyous, excited, passionate.
Raise your vibration, first;  then work on manifesting what you want. When you can consistently raise your vibration, you will begin to draw to you the things that you desire. Your attempts to put the law of attraction into use will become successful.
I would love to know what works for you to raise your vibration and help you manifest your desires. Leave me a comment below. And if you enjoyed this post, please share it with your friends.
Get a copy of my FREE ebook, 20 High-Performance Strategies and Habits You Can Implement TODAY! Just fill out the form below. (The ebook will arrive attached to an email.)
Don't wait! It's your time…now…to level up so you can achieve your potential, fulfill your purpose and live your life fully.