It's time to reconnect with yourself. You're so disconnected you don't realize you need to reconnect.
Admit it… Your busy and chaotic life has pulled you far away from your core essence. You hardly recognize or know yourself anymore.
And where did the passion go? And your sense of purpose? Your enthusiasm for life?
They aren't gone…just buried or forgotten.
But if you want to live fully and enthusiastically and achieve the inspired results personally and professionally you desire, you need to reconnect with yourself.
How I Lost Myself (and How You Did, Too)
For the last five years, I've been busy working on my writing career and coaching and speaking business. Before that, I had many busy years with my children.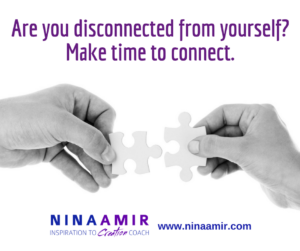 My focus led me away from my spiritual practice and involvement in my spiritual community. It also caused me to "hole up" in my office and stop exercising, seeing friends, studying, or attending events of any type. My hobbies fell by the wayside, too.
While I'm an introvert much of the time, I'm also an extrovert. And I get an enormous amount of joy and fulfillment out of learning, spiritual practice, and being with like-minded people. And I like to bike ride, walk on the beach, hike, and garden.
I stopped doing most of these things almost entirely. But they were part of what made me who I was (and who I'd like to be again).
That means I disconnected from myself and my spiritual core. I lost me.
How to Find Yourself
Finding myself again—reconnecting to the essential elements that me who I am—has take effort. It's a process, and I'm still taking baby steps daily to reconnect.
What I discovered is that it takes time—you have to block out time—to reconnect with yourself. And the reconnection process is different for everyone.
For me, it takes attending personal growth or career-oriented events, going to religious services or practicing prayer and meditation regularly at home, and restarting my hobbies and the activities that interest me. Doing so reignites my passion, reminds me of my purpose and inspires me.
Even a short walk on the beach or 15 minutes journaling can reconnect me with my joy and enthusiasm for life and with my essence—my authentic self. And that connection helps me take action in the world and achieve the results I desire.
You can reconnect with yourself in the same way. Explore the things that have given you pleasure and fulfillment in the past. What were you passionate about? What were your hobbies? What were your interests?
Take time out of your busy week to do those things again…to be you. Become the person you were before you disconnected from your core essence.
In the process, the you from before and of today will merge.
And you'll be a better version of yourself than ever.
If you find yourself struggling to reconnect with yourself, click here to apply for a free one-hour Certified High Performance strategy session with me. I'd love to help you find yourself again so you can find joy and enthusiasm for life and achieve your highest potential.
Photo copyright: PublicDomainPictures / Pixabay.com