Can you trigger yourself—to do things, feel emotions, act a certain way, and become the person you want to become?
If not, it's time to create triggers in your life.
What the Heck is a Trigger?
Never heard of a trigger? Well, lots of things trigger you without your knowledge. For example, traffic might trigger you to get angry and stressed. Coffee might trigger you to get the jitters. Your dog barking might trigger fear.
I think of triggers like the gun going off at the starting line of a race. The sound produces a result: You take off running or hit the gas pedal. You move forward…fast.
Triggers also shift your energy, mood, and mindset as well as your actions and behavior.
Consider what happens when you get a massage. The massage therapists works with your muscles and finds "trigger points." When pressure is put on them, the muscles release. Or if you go for a foot or hand massage, the person working on you presses on particular points to achieve specific results in your body.
Mental triggers work in a similar manner. When you use the trigger, you create a stream of changes within yourself much like the domino effect.
Life with Triggers
That means they affect your life…for the better…in a variety of ways. One trigger could cause a chain reaction.
And this is true in any are of life you choose to use them. They can impact you personally or professionally.
For instance, when I decide to shoot a video, I enter the room where I have my lights and white screen. I turn on the lights, stand in front of the camera, and begin talking. I could shoot a video anywhere, but with the light shining on my face and the screen behind me, something happens. I become filled with a different kind of energy, and I become more animated.
The lights and the white screen trigger me to be energetic, enthusiastic, and entertaining.
If I sit at my desk and shoot a video, I don't get the same effect or result. Maybe it's because I'm sitting in a chair, feel laid back and comfy, and haven't created the pro-video-shoot atmosphere. I just know I don't have the same kind of energy.
Before I talk to a potential client, I say, "I've got this!" It generates a sense of enthusiasm and confidence within me. This energy spills over into the conversations, and the person feels it as well.
Create Your Triggers
A trigger could be stopping at your front door when you arrive home from work. Before you enter your home, you take five deep breaths as you think about releasing your day. Take five more deep breaths and think about how happy you will be to see your family.
This conscious pause and intending of what will happen next helps you to let go of stress and worry and begin feeling love for your family. Your experience when you walk through the door will be very different than if you didn't trigger a different state. You will find it easier to be present with your family and leave the energy of work behind at the door.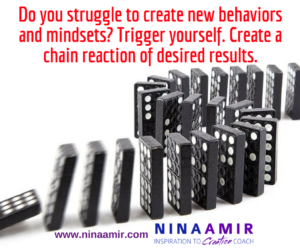 You can create any trigger. Here are a few more ideas:
A morning ritual to start your day off right
A routine before exercising to help you feel energized and eager to move your body
A prayer before starting work so you feel as if you doing holy service
Something you say to yourself, like "I'm ready!" to help you feel confident when you sit down to work on a project
The snap of a rubber band on your wrist to remind you to be positive
A warning to yourself, such as "Calm!" to help you not fly off the handle when you feel yourself about to yell at your kids or pets
Listening to happy music in traffic so you stay relaxed
Your trigger can be anything as it inspires a different mindset or emotional state than you had before.
Here are a few steps you can take to create triggers:
Think about the behaviors or mindsets you'd like to change. Write them down.
Write down the behavior or mindset you want to inspire.
Brainstorm triggers to help you shift your behavior or mindset.
Visualize using each trigger. Imagine yourself in a situation where you would use the trigger. Use the trigger and see if you feel different.
Choose one or two triggers and work with them for 30 days.
You Can Trigger Change
You can change your energy, mindset, emotions, and actions. All it takes is conscious effort to do so.
Triggers help you become aware. After all, you have to remember to use them in specific situations, often before you fall into an old habit. That means you must be conscious to use them.
And they create the change you desire.
Develop different triggers for different situations or conditions. Then use them regularly. Watch how your results change.
If you need help creating change in your life, please contact me for a free strategy session. Click here to download the application.
Photo copyright: macgyverhh