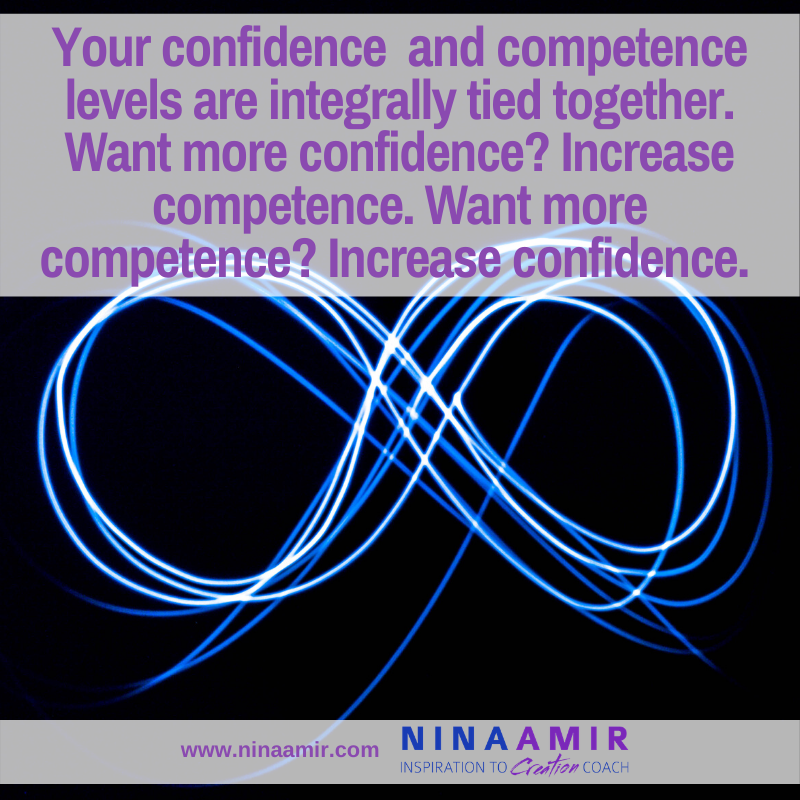 I took a deep breath before I said hello to my very first Certified High Performance Coaching client. I was nervous. My confidence disappeared as soon as I picked up the phone, and I feared that would affect my ability to deliver a high-value session.
"You're competent," I told myself.
After all, I'd been trained by the best and highest-paid Certified High Performance Coach (CHPC®) in the world. And I'd practiced coaching the sessions with other Certified High Performance Coaches successfully.
"But," said my inner voice, "You've never had a genuine, paying client…until now."
My confidence dropped another notch. I wished I had practiced more…
Have you had a similar experience?
Your confidence level is integrally tied to your competence level—or at least your perceived competence level.
The Confidence-Competence Loop
In the world of psychology and personal development, we call this the confidence-competence loop.
The concept is simple: Our success accelerates when we are confident. Also, our confidence increases when we are more competent.
Competence provides the fuel for confidence by reducing the fear of not being good enough. I know very few people who haven't felt less than good enough in some area of their lives at one time or another. Most people live with the core belief, "I'm not good enough" their entire lives.
You can override that belief, however, by convincing yourself you are competent. Some of us do that by getting more degrees and certifications. Others accomplish this by putting in many, many hours to develop a higher degree of skill.
Increased competence then leads to a feeling of confidence. And that turns into a willingness to take action.
No Confidence, No Action
A lack of confidence makes you tentative. It causes you to question every choice, delay making decisions, and procrastinate rather than making a move. Basically, fear keeps you stuck even when you want to proceed toward your goals.
As a CHPC®, I often work with dancers and writers, and I find these two groups of people often suffer from lack of confidence.
I had a client who was in his last year in an elite ballet program. He needed the confidence necessary to audition successfully for a position in a dance company. The more strategies we put in place that helped him feel a higher degree of competence, the more confident he felt.
He rehearsed on his own, and he intentionally thought about the times he'd been complimented for his dance ability. He boldly moved to the front of the room during class, which allowed him to be seen and to get positive feedback.
Three months later, after only a few auditions, he landed a job with a ballet company. Once there, the process began again. Feeling not as good or experienced as the other dancers, he had to work hard to increase his level of dance ability. As he did, he was rewarded with roles in ballets, and his confidence rose.
One of my writing clients claimed over and over again that her writing wasn't good enough for submission to a publication or contest. We focused on her consistently writing and submit her work. We discussed how submission was a skill, just like writing, she would have to develop.
Just a few months later, she proudly announced that she had submitted a piece of work to contest…and won, which meant her writing would be published online. So she submitted again and won. As you can imagine, her confidence and competence levels soared.
How to Become More Confident
You might be wondering how you can become more confident. Here's the simple answer: become more competent.
The more skilled you become at a task, the less fearful you feel. That allows your confidence to increase. Of course, the more confident you become, the more quickly you increase your competence level.
But that still leaves you with the need to reduce fear, which can prevent you from developing more competence.
How to Reduce Fear
If you are too afraid to make a move, you won't do what it takes to become competent. And that leaves you with a lack of confidence.
The only want to solve this problem is through action. You can't develop courage without action. You have to do the thing you fear.
Thus, the young dancer had to boldly rehearse alone, move to the front of the room during class, and audition before artistic directors. The writer had to boldly write and submit her work.
Taking bold action leads to courage, and when the results are good, to confidence as well. And that, in turn, leads to competence.
You Have What You Need to Succeed
Underlying this entire discussion of the competence-confidence loop lies an assumption you have made consistently. You believe you aren't good enough—that you need to do more, learn more, practice more—to succeed. For this reason, I'd like to caution you to beware that this can turn into a trap.
The majority of people who go through life thinking "I'm not good enough" actually are more than good enough. I bet you are, too.
The dancer—he was more than good enough to land a job before he began working with me. The writer was good enough to submit her work, too. And I was more than good enough to add value when I coached that first paid client.
You are good enough, too.
Keep that in mind when you decide you need an additional certification, more hours honing your craft, or another coach or program to make you good enough. I'm not saying that a higher degree of competence won't increase your level of confidence. Of course, it will.
But it's highly likely you've got all you need to succeed already. You just need to convince yourself that's true.
Take an accounting of your credentials and experience. Remember all the times when you took action confidently and, as a result, achieved results that proved your competence.
Keep those in mind as you move toward your goals. Believe in your competence, and allow that knowledge to fuel your confidence.
Do you see the confidence-competence loop working in your life? Tell me in a comment below. And if you enjoyed this post, please share it with someone who will benefit from reading it.
Never miss one of my videos! Click here to subscribe to my YouTube channel.