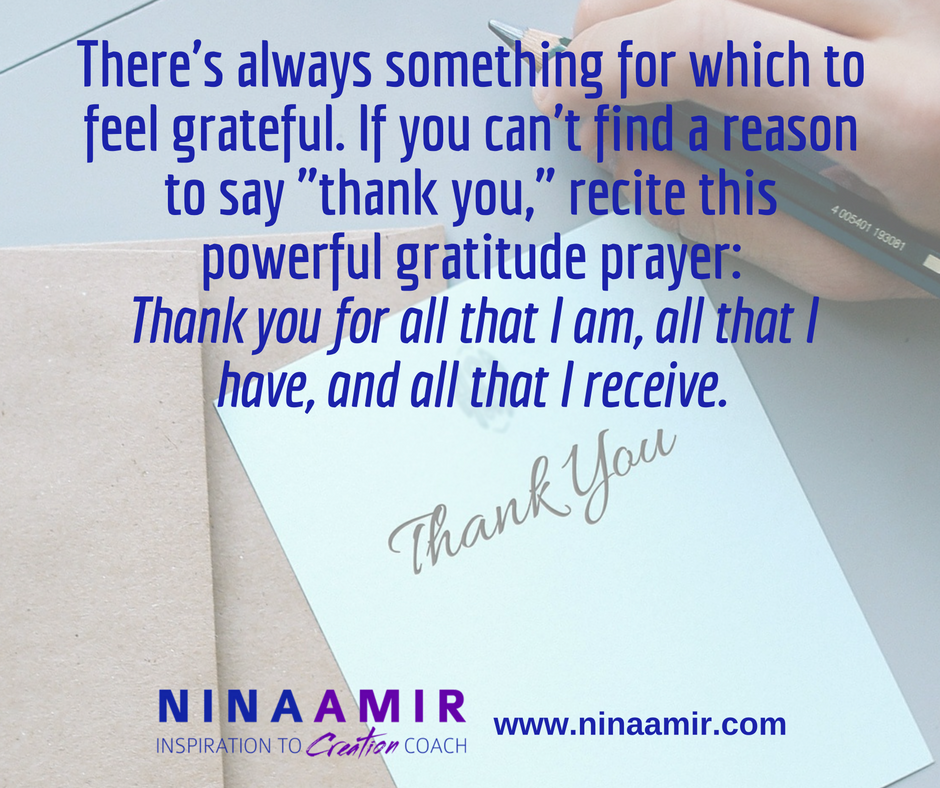 Gratitude is the strongest prayer you can offer.
Many of us in the United States celebrated Thanksgiving yesterday. Other countries, such as Canada, China, Brazil, Malaysia, India, and Korea, have similar holidays at different times of the year. On these days, we focus on gratitude.
But one day of thanksgiving is not enough.
Do you say Thank you often enough?
I offer this prayer daily: Thank you, God, for all that I am, all that I have, and all that I receive.
Do you have a prayer of gratitude?
Create a Daily Gratitude Practice
Much has been written about the power of a gratitude practice. And many personal growth thought leaders, such as Oprah Winfrey, stress the importance of keeping a gratitude journal.
I agree with them. Every evening I either write down or think about five things for which I can feel grateful.
Developing a daily gratitude practice helps you recognize, acknowledge, and appreciate what you have and receive. When you focus on thanksgiving, you turn your attention away from what you don't have, wish you had, or haven't received. Instead, you focus on what you have now, will have, and receive.
This shift in focus changes how you experience life.
3 Steps to a Gratitude Practice
To start a gratitude practice, you can start writing down on a daily basis three or five things for which you feel grateful. However, to even notice the aspects of your life that deserve gratitude, take these three steps.
Step 1: Recognize
To feel grateful, you must first recognize what you have. Even those of us experiencing tough times or who have little have something for which we can offer gratitude.
Maybe someone smiled at you in a store, you received extra work (that will help pay bills), or you have a roof over your head. Recognize what you do have and feel thankful.
Step 2: Acknowledge
It's easy to lessen the importance of what you have. For example, you might say, Yes, I have an apartment, but it's more like a hovel, Yeah, I have a job, but it sucks, or Yes, I've got a car, but it's got 200,000 miles on it.
Instead, acknowledge the miracle of having these things at all. Some people don't have a home, a job, or a car.
You can't feel grateful until you recognize and acknowledge what you have.
Step 3: Appreciate
Finally, appreciate what you have…whatever you have. This is the step where you say thank you. You offer gratitude to others, to God, or to yourself (for creating what you have).
Develop a Attitude of Gratitude
Don't wait for special occasions to feel grateful. Focus on the things for which you can feel thankful daily, hourly, moment to moment.
Learn to express gratitude consistently.
Go through life with an attitude of gratitude, and watch how the power of your prayers change how you see and experience life.
Want some help feeling grateful? Shift your habits. Get a copy of my FREE ebook, 20 High-Performance Strategies and Habits You Can Implement TODAY! Just fill out the form below. (The ebook will arrive attached to an email.)
Don't wait! It's your time…now…to level up so you can achieve your potential, fulfill your purpose and live your life fully.
Photo copyright: geralt / Pixabay.com