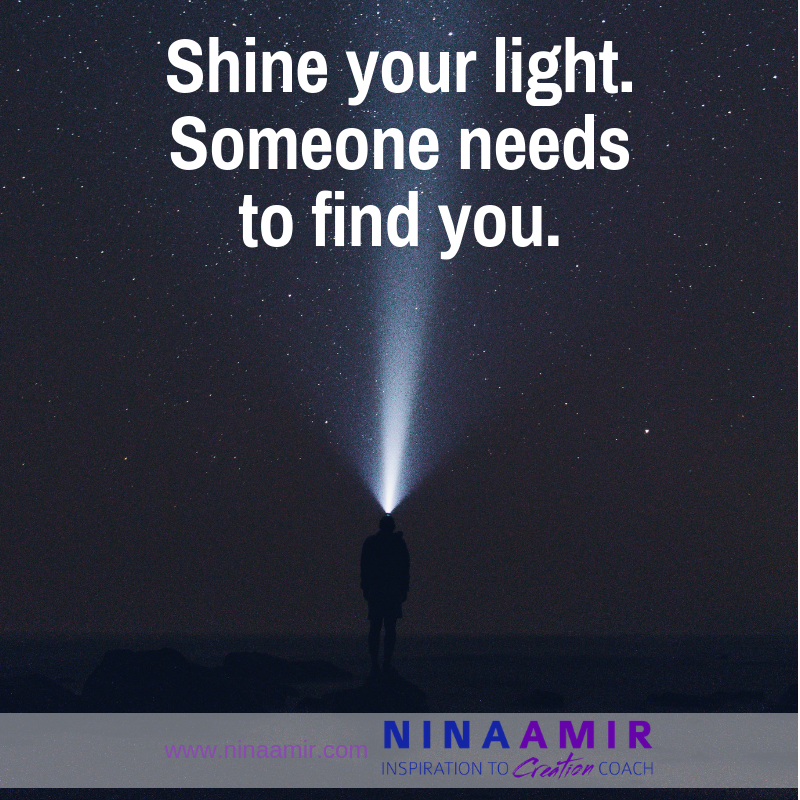 Flip the switch. Turn on your light…now…and shine it on the world. Someone needs to find you.
Why?
Something ails him, and you have the prescription he needs. Only you can end her pain, struggle, or confusion. You can answer her questions and solve his problems.
Yes…you.
You have a gift to give the world. It's your job, your purpose, to let people know how to access it…how to find you so you can put it in their hands.
That's not possible if they can't find you.
So turn on your light, and let it shine like a beacon attracting those who need your service.
How You Stay Dark
If you are like most people, you stay dark. You keep your light turned off so no one can find you. You prefer to remain hidden. After all, it's safer that way…
Maybe you stay quiet on social media—if you use it at all. Or you don't step up at church or work. Perhaps, you keep your gifts to yourself—you never let anyone read what you write, you don't post your inspiring thoughts, you hold back your ideas, and you don't speak up when you have something to say.
I remember the girls and boys at my children's high school who wore their sweatshirts with the hoods pulled up over their heads. They'd walk with their head down not looking left or right or at anyone they passed. They wanted to be anonymous…hidden. Somewhere inside that hoodie their light still shone, but no-one could see it.
Don't let that be you…not any longer.
How You Turn on Your Light
Pull down the hood on your sweatshirt, and look up—look to the future and to those you can serve. See the contribution you can make. And allow others to see, too— by merely looking into your eyes.
Take the sweatshirt off. Allow your heart to radiate outward to all those you meet or pass.
Now…flip the switch! Turn your light on. Then, as if you had a dimmer switch, twist it to make the light brighter (rather than darker). Turn it all the way up.
Imagine the space around you brightening and attracting others. Like a flare in the night, you draw others to you. Like a bonfire, the moths flock to the warmth and glow.
It's Easy to Shine
In the real world, you can do this in any number of ways. Yes, you can do it with a look or an outstretched hand. Additionally, you could:
Start a blog and publish posts that share your ideas, knowledge, solutions.
Create "quote cards" and share them on social media, thus inspiring others with your words.
Write articles for local newspapers or even national magazines.
Write and publish a book.
Volunteer to be a mentor to someone who needs support.
Create a MeetUp group for those who need what you can provide.
Donate your time and expertise to your church members or co-workers.
Travel to those who need you (like Doctors Without Borders).
Speak up in meetings.
Say what you know needs to be said in all situations.
Smile at passersby.
Offer a helping hand.
Ask questions.
Listen well.
Be present
Many of you know that it's my goal to create an army of change agents—writers that author change. But there are so many ways to create change…change for the better.
My teachers, coaches, and mentors keep pushing me, too. "Get out there and make a difference," they say. And I hear them…and I'm taking more and more action daily. I'm shining my light more brightly and starting to attract those who want to do the same. (Is that you?)
What You Get in Return
Why bother to shine your light? As I said, someone…likely lots of people… need you to share your gift and be of service. And maybe you'll make some money in the process.
However, the reason to do it more simple: it's the right thing to do. And the world needs people like you…people who can make a difference.
If you are still concerned with what you'll get out of shining your light, watch the video below. I've shared it before, but it answers that question…
By shining your light, you not only change the quality of other people's lives, you also improve the quality of your own.
Ready? Turn on that light!
How are you shining your light and what affect does doing so have on you or others? Tell me in a comment below.

Never miss one of my videos! Click here to subscribe to my YouTube channel.
Photo courtesy Soroush Karimi on Unsplash