For the last three weeks, I've written and spoken about preparing for the New Year. I discussed goal setting, choosing your direction, completing unfinished business, and why you won't achieve your goals or resolutions—and how you can ensure you do. But you might not have felt ready for any of these suggestions, strategies or tools. You might not have known what you want to achieve in 2016 or how you want to serve—and maybe you still don't. You could have no idea how to envision your best year because you don't know how your best year would look.
No worries. If you aren't yet at the stage where you can write your goals, or if you began writing goals but floundered through the process without clarity or direction (and ended up with goals that don't feel right), the following three things can help you determine what you want to create and where you want to focus your attention this year.
Go Inward for Direction
First, instead of looking at your to-do list or considering all your "shoulds" and "musts," ask your "self" what you want to do this year. You have the answers to how to make this your best year ever. Turn inward to discover them.
Listen to your intuition. What does your gut tell you? Have you seen signs that lead you toward a particular path or action?
Take an hour, half a day, or even a day, weekend or week, and meditate with the intention of figuring out what to create this year and how to make it an awesome 12 months. Listen to your self.
Go Upward for Direction
Second, invoke guidance from above. Call on your ancestors, your spirit guides or a Higher Power. You have an amazing amount of help around you. You need only access it.
Again, get quiet. Ask your Divine Team for information on how you should focus your time and attention this year to best serve or to get closer to fulfilling your potential and purpose. Then listen for an answer…or be conscious of what you see and feel.
The information you seek might appear in any number of ways, shapes or forms. Be open and patient.
Feel the Answer
Third, allow your feelings to guide your actions this year. I don't mean that you shouldn't have a plan and goals. And you definitely shouldn't let your emotions govern your decisions. However, you can create goals or a vision with the help of your feelings.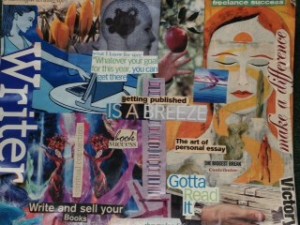 I do this by creating a vision map or vision board, which is like a collage of pictures and words or sayings. Find photos that elicit the feelings you want to have this year. Paste them on a poster board. Look at this daily.
See if the process of creating a vision map sparks ideas about actions you can take to create more happiness, peace, abundance, fulfillment, and love—or whatever you desire—in your life.
Click on the links below if you want to read my previous posts on setting goals and preparing for the New Year:
Do you have a tool to share that helps you envision the new year? If so, tell me about it in a comment below.


High Performance Coaching
can help you gain the strength you need to stay on course and reach your destination. It support you in becoming more clear, courageous, energetic, productive, and influential as you fulfill your potential and purpose.
To set up a 1-hour FREE High Performance Coaching session, click here.
Find out after you apply how to receive a FREE ticket to Brendon Burchard's next High Performance Academy (value $1,997).