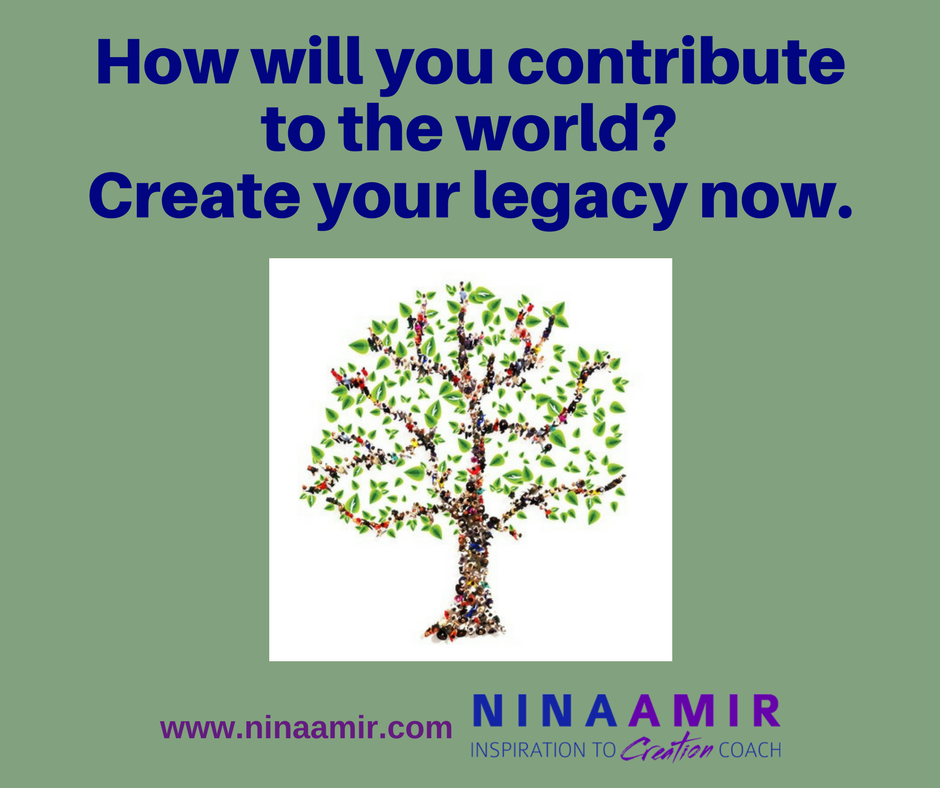 Legacy. Will you leave one?
I'm not talking about a financial legacy, although that can be important to your family. I'm talking about what you leave behind or are remembered for after you are gone. What type of impact will you make on the world?
What Will You Leave Behind?
Not sure? Think of it this way:
When your life is over, what difference will you have made or how will you be remembered?
Now, while you are alive, it's time to consider the impact you want to make on the world. Later, it's too late.
Becoming known for something during your lifetime is how you leave a legacy. So now is the time to decide how you will contribute.
Give Your Gifts Now to Leave a Legacy
I believe life is about contributing. We all have gifts and abilities that allow us to give something to others and have a positive and meaningful impact on the world.
Maybe your gift is compassion. You could give that gift in a variety of ways, such as volunteering in a shelter or hospice. Maybe your gift is your ability to take photographs. You could share that gift by publishing your photos for others to enjoy—or even publish photos that uplift, provide hope, or show love.
When you give your gift, you create a legacy.
Work Backward
If you aren't sure if you are creating a legacy, work backward. Imagine the end of your life, what impact will you have had or what will you have created that will remain for others to use or enjoy after you are gone.
I have a client who wants to write a book, but she isn't writing. I asked her, "What would it be like if at the end of your life you hadn't written your book…if you didn't share your message, which you hope will change lives?"
She replied, "I'd feel like a failure. I'd feel unfulfilled. I'd feel sad I hadn't done what I feel I came here to do."
"How would you feel if you did write your book?" I queried.
"I would feel satisfied, fulfilled, and like my life had meaning and purpose."
Indeed, that's how most people respond when they imagine themselves living a life of contribution.
Anyone Can Contribute
It doesn't matter who you are or what you do; you can contribute in some way and leave a legacy. For example, you could create a legacy by:
Teaching your children and children valuable life lessons.
Giving your recipes to your family and friends.
Behaving in a friendly manner with all those you meet.
Making people at your church feel welcome.
Creating and sharing your art—books, dance, jewelry, music, or paintings, for example.
Teaching in schools or online.
Beautifying your community.
Sharing stories.
Cleaning the coastline.
Feeding the hungry.
Providing advice via a blog.
Manning a suicide hotline.
Smiling at the people who come into the restaurant or store where you work.
Why am I Here?
I think about why I am here on the earth in this lifetime. I often ask, "What am I supposed to leave behind when I'm gone?" And I encourage you to do the same.
Think of your legacy as your purpose. You don't have to search for that purpose. Just ask yourself what you'd like to accomplish, how you'd like to contribute, and how you'd like to be remembered.
Then take action to create, give, and serve. Every day, evaluate if how you spend your time gets you closer to leaving the legacy you desire to leave.
When you live in this way, your life takes on a greater meaning—for you and others. You will naturally leave a legacy.
What kind of legacy are you leaving? Tell me in a comment below.
Never miss one of my videos! Click here to subscribe to my YouTube channel.
Photo courtesy of Scott Betts /123RF.com