Have you ever gotten a feeling, one that says you should or shouldn't do something? You don't know where that feeling comes from, other than somewhere deep inside.
That's intuition.
Do you trust your intuition?
Failure to trust your intuition can lead you astray. After all, your intuition is your personal GPS system. It's meant to guide you through life.
I want to share a story with you about someone who followed her intuition:
This young woman had plans to do something that she thought she wanted to do, and she felt it was time to move forward. She wanted to start achieving her dream.
But as time got closer and she took steps toward her goal, she became more and more anxious. She had panic attacks.
Something was off.
Even though she wanted to achieve her goal, she instinctively felt that if she were to continue on this path, it would be a mistake.
And so she changed her goal. She gave up the dream and turned toward a new one.
The moment she made the decision, her anxiety and panic disappeared. Not only that, the path to her new goal was an easy and joyful one to follow.
She followed her intuition, and it paid off. She was thrilled with the results of her decision.
Have You Followed Your Intuition?
When have you had the gut-wrenching feeling that something was off?
Was it with a career? A relationship? Your health?
What happened when you trusted your intuition and took action based upon it?
Maybe your intuition has been trying to tell you something for months. Can you hear or feel it speaking to you right now?
How to Hear and Trust Your Intuition
Not sure how to hear or trust your intuition? Let's look at how you learn to use your internal GPS.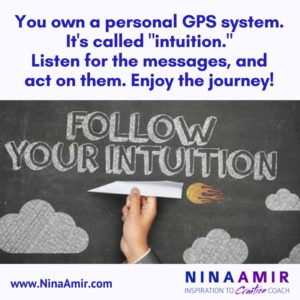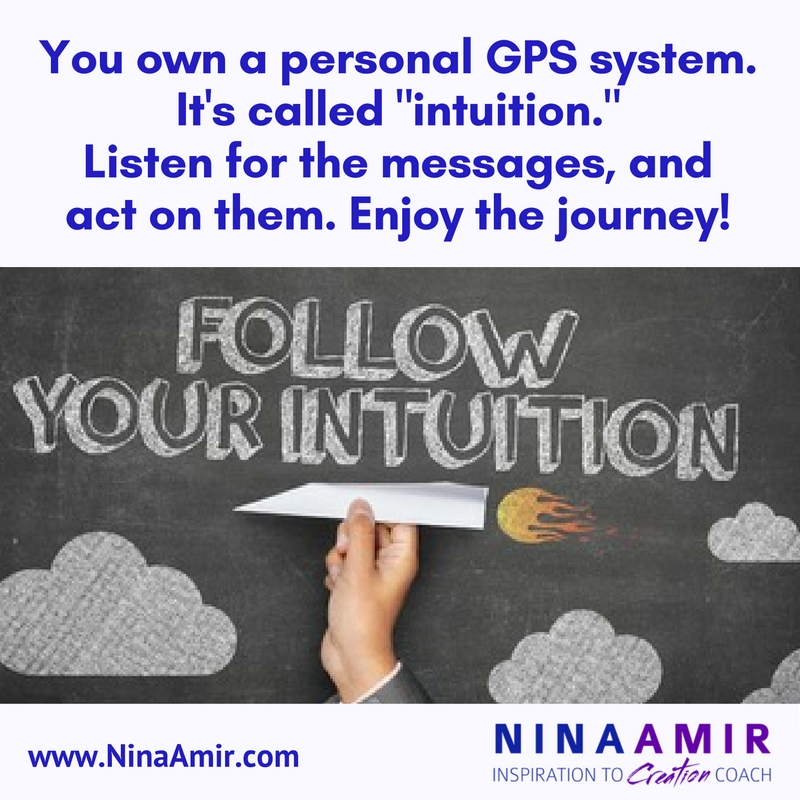 First, pay attention.
Notice the messages you get—a feeling of anxiety or excitement, a little flutter in your chest or belly, a feeling of dread, or a constant thought or "nudge" to do something. You may hear something or smell something. You may get a stomach ache or headache.
Become aware of how you receive feelings and impressions. Get out a journal and write down the things you feel or think. Become conscious of how you feel in different situations.
Want to go a step further? Try meditation. Ask yourself, "What do I need to know today?" Write down the impressions you receive as you sit quietly focusing on your breath. Pay attention to those impressions.
Also notice how your body feels when you visualize specific situations or opportunities.
Second, act on the messages. Once you've mastered how to recognize the messages from your personal GPS, follow it's direction or guidance.
You learn to trust your intuition by acting upon it and see what happens!
If you like the positive results you achieve, you'll want to continue paying attention. You'll never do anything again without first consulting your GPS.
When you act on intuition, you put yourself on the path you are meant to travel.
When you act on your inner guidance system, you will find that your life filled with miracles.
How do you get messages from your intuition, and how have these messages guided your life?


Get a copy of my FREE ebook, 20 High-Performance Strategies and Habits You Can Implement TODAY! Just fill out the form below. (The ebook will arrive attached to an email.)
Don't wait! It's your time…now…to level up so you can achieve your potential, fulfill your purpose and live your life fully.
Photo copyright: scandinavianstock / 123RF Stock Photo