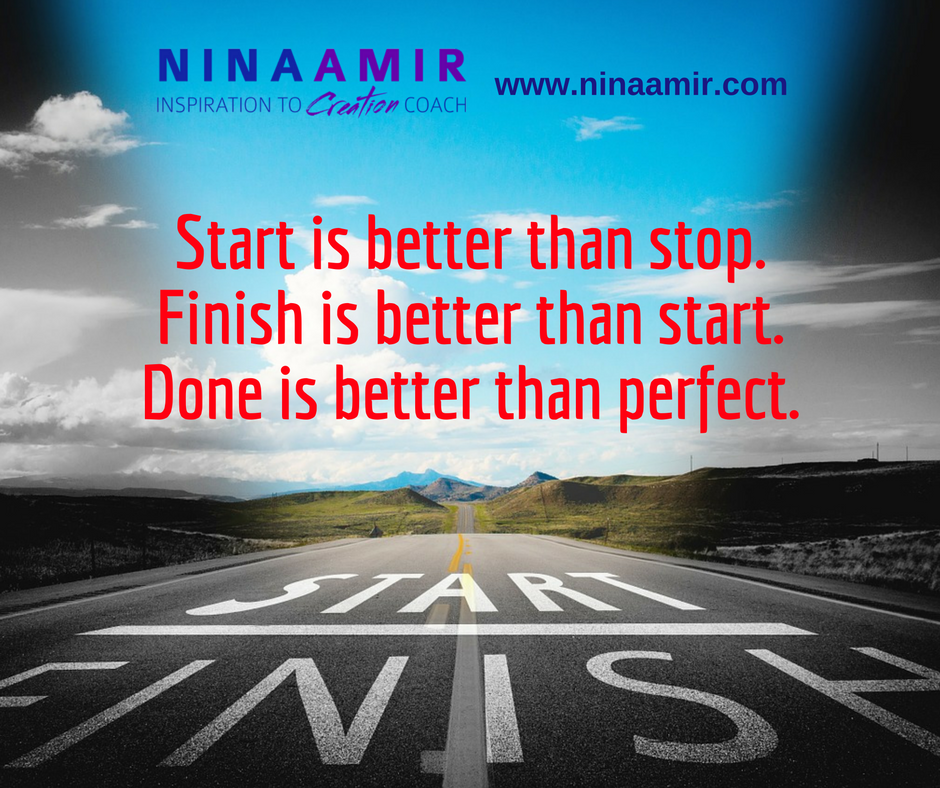 Perfect. It's hard to achieve…nay, maybe impossible.
So many of us strive for perfection personally and professionally and then feel unworthy when we don't think we have achieved it. Worse, as we wait for perfect, we stop ourselves from achieving desired results. Instead, we continue striving, working, perfecting and never say "done."
Feeling uncertain about whether you or your work are good enough could mean you don't ship out your work, submit the application, join a dating service (or go on a date), complete the painting or manuscript, or finish the job. If what you want is to get paid for your work, obtain a new job, find a soul mate, become a professional artist or writer, or do a good job at work, being a perfectionist won't help you obtain these things.
Done is Good Enough
Maybe you've heard this saying:
Indeed, it is.
Often done is good enough…plenty good enough.
In fact, if you are a perfectionist, your done may be way closer to perfect than someone else's done.
Here's the rub: If you don't ever get to done, nothing gets done! You don't ever achieve the results you desire.
And you can always perfect later. Just get it done, see if it works, and then fix what needs fixing.
You'll be way more productive with this strategy.
Fail Faster
Here's the thing… We learn from our mistakes. That means we learn from being imperfect and from producing imperfect work.
And failing isn't failure. It's just an opportunity to try again and do it better.
So the faster you fail, the faster you get it right. And the faster you find out what you did was, indeed, good enough.
But that takes letting the work out of your hands or taking action so you can see if you succeed or fail.
Then you can course correct.
The One Secret Thing Stopping You from Getting to Done*
I know… You are a perfectionist. That's what you claim prevents you from getting to done. But that's not your real issue.
You are afraid—afraid of getting it wrong, not being right, not being good enough, failing, being judged, and any number of other things you think might happen if you or your work are imperfect.
Your fear stops you from getting to done.
Your fear keeps you striving for perfect when you could see the results you desire—results only possible when you finish what you start.
Fiddling keeps you safe because you don't have to find out if you or your efforts are imperfect. But you can't get results by playing safe.
The Spaghetti Approach to Perfect

Here's my solution to your problem:
You know how spaghetti sticks to the wall when it is cooked or even partially cooked? Well, think of anything you do—your attempts to get in shape, paint, write, date, get promoted, find a new job, drive, develop a positive mindset, or anything else—like spaghetti.
Do you want to know if it's done perfectly yet? Throw it against the wall (not literally, of course). See if it sticks.
If it sticks, it's done.
Do this every time you find yourself fiddling, feeling indecisive, or doubting if whatever you are working on is done.
Throw it against the wall. See if it sticks.
If not, cook it a bit more and try again. But always throw it against the wall and do so as often as necessary until it sticks.
Try this strategy. It will get you to done…and possibly even to something close to perfect.
Want some help getting to done…or starting? Get a copy of my FREE ebook, 20 High-Performance Strategies and Habits You Can Implement TODAY! Just fill out the form below. (The ebook will arrive attached to an email.)
Don't wait! It's your time…now…to level up so you can achieve your potential, fulfill your purpose and live your life fully.
Photo copyright: geralt / Pixabay.com