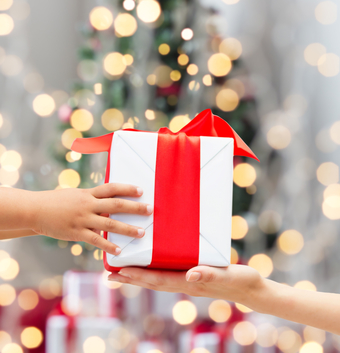 Christmas offers those who celebrate the holiday, as well as those who don't, an opportunity to take a deeper look at the meaning behind acts of giving and receiving. However, its easy to get caught up in the commercialism of the season and focused either on getting the things you desire or on giving your loved ones the things they want for the holiday. In the process, you can miss the lesson to be learned.
Many mystical traditions discuss the importance of giving, but receiving has an equally important place in wisdom teachings. The publication nine years ago of The Secret  popularized the terms conscious creation and deliberate creation, which already were in use, and the Law of Attraction as a technique for receiving desires.
Receive to Give
The giving and receiving of holiday gifts may not appear to fit exactly into the scheme of deliberate creation, which means consciously trying to manifest your desires. But it doesn't really matter how you attract into your experience the things you desire. If what you want shows up in a nicely-wrapped present under the Christmas tree, this still qualifies as successful manifestation. And, if you approach deliberate creation from a Kabbalistic perspective, the gift you want to receive actually involves giving to others.
According to Kabbalah, the Jewish mystical tradition, this Christmas—or any time—you want to receive from Santa a brand, spanking, new consciousness that desires to receive not for yourself alone but for the sake of giving to others. The kabbalists, or Jewish mystics, teach that it is God's nature to give, and God created humans with a huge desire or will to receive all God's goodness, or abundance. Thus, it's human nature to receive and to want to receive. If it weren't, our nature would be incompatible with God's purpose in creation. In fact, our will to receive, coupled with our focused thoughts of what we desire, draws to us —attracts—all the good God intends for us.
Receive a New Consciousness
Indeed, the will to receive gives birth to needs and desires, which, in turn, give birth to thoughts about what we want. If you were to stop having desires, you would die. Every breath you take asks for life-giving oxygen. Desires get you out of bed each morning and keep you moving forward toward your goals every day. While it is all well and good to want "things" in the physical world, and it is part of your nature as a physical being to want and to need material "stuff," the Kabbalists also teach that such desires—and sometimes even the fulfillment of those desires—never makes you happy. Additionally, manifestation of material desires doesn't open you to the total flow of goodness and pleasure that God is waiting to give to you.
For that to happen, you must change the focus of what you want. This Christmas, you must ask to receive a totally different present. You have to want to manifest a new desire—the desire to receive not for yourself alone but for the sake of giving unconditionally to others. In affect, the Kabbalists tell us that we should desire a new consciousness. Only when we manifest this new consciousness will we truly be happy. Only then can we open ourselves fully to the flow of Infinite goodness and pleasure available to us. So, when we come from a place of unconditional giving, when we want to receive only so we can give to others, we actually begin attracting into our lives the things we want on all levels.
Don't Get Stuck in Giving to Get
You might say, "Aha! If I give, I will get! That's the secret formula to the Law of Attraction." Maybe it is, and maybe as you begin developing this new consciousness you may find that, indeed, when you give you do get. However, that realization, and that reality, represents just one step towards your new consciousness. You don't want to get stuck at that step, because the point is not to get but to give.
In the process of giving something wonderful happens—something in line with the spiritual, rather than the commercial, aspect of the winter holidays: You find yourself connected to the Divine Giver. The separation that you normally perceive as present between Giver (God) and receiver (human) disappears, and you achieve what the Kabbalists would call  "affinity of form" with God. You become a giver.
And when you become a giver, you feel a unity with God, and your giving and receiving become one spiritual act. Then, when you receive all that goodness, when you attract all those things you've desired seemingly without trying—without conscious and deliberate thought, feeling or action to manifest them, you feel gratitude for the fact that the gifts you receive allow you to give more.
Photo courtesy of dolgachov | stockfresh.com