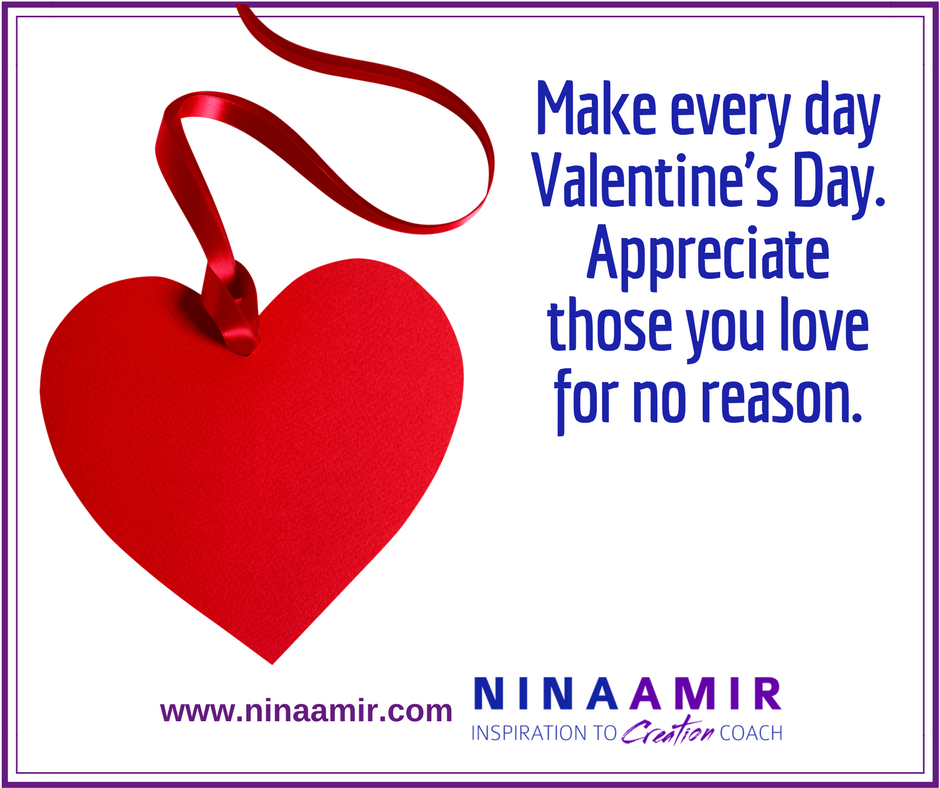 Heart-shaped boxes full of candy. Red and   pink cards. Roses. Bags of chocolate kisses and hard candies that say, "Be mine." Advertisements for diamonds in all sizes, shapes and forms. It's hard to forget the fact that Valentine's Days is upon us once again.
Valentine's Day represents a wonderful opportunity to tell those we care about the most how we truly feel about  them. The holiday reminds us to show love and appreciation every day of the year.
Appreciating those you love daily, not once per year on Valentine's Day, is a powerful way to sustain and improve romantic relationships as well as all your important relationships.
It's amazing how a small expression of love and appreciation can improve a relationship, but many of us forget this little bit of  relationship advice. For this reason, Valentine's Day offers most couples a  chance to recommit to appreciating and loving each other—and demonstrating those feelings.
New Love vs. Old Love
If you are newly in love, you likely express your feelings both verbally and physically often and shower your partner with flowers, love-laced poems, cards, and gifts on a regular basis. For you, Valentine's Day represents one more opportunity to do more of the same. That's one of the reasons that new relationships thrive—the partners are so focused on showing their love and appreciation for each other regularly.
If you are in a long-term relationship, however, you might forget regularly to say "I love you" or to show your spouse or significant other that you love and adore him or her. You might not show how much you appreciate your partner or spouse. If you fall into this category, celebrate Valentine's Day even if you don't feel like it. Use it as a reminder and opportunity to express your love and show your appreciation outwardly for those you care about most—even if your or they no longer think you feel that way.
The February Start-Over Day
If you are stuck in a relationship rut, Valentine's Day can serve as the beginning of a new "love-and-appreciation" campaign that last not just for 24 hours but all year long or all relationship long. Instead of making February 14th a Hallmark holiday—one that simply involves the purchasing of a card and a gift, make it the day you commit to revving up the romance in your relationship and in your life. Spend time and energy remember and expressing all the reasons why you first loved and appreciated your partner, and then watch how the relationship heats up.
Tony Robbins likes to say that if at the end of your relationship you treat it like the beginning of the relationship there will  be no end.
The longer people are married or together, the more common it is for them to take each other and their relationship for granted. Valentine's Day offers people in such relationships a chance to remember how much they love and appreciate each other. It's a chance to commemorate the many year's they've been together and to recommit to their relationship once again.
Valentine's Day Vows
Just like an anniversary or the retaking of wedding vows, Valentine's Day can be a time when couples say, "I'd marry you all over again." Or it can be a time to look back over the years and remember both the good and the bad times, the easy and the hard times, and to be grateful youo weathered them all together.
Since Valentine's Day does come only once per year, remember to show your appreciation and gratitude for those you love on a regular basis. It's so easy to forget to say "thank you" and "I really appreciate it when you do that" and "I love you." Learn to shower your partner with gratitude so he or she always feels loved and appreciated.
Don't wait for a card company to tell you when to speak from your heart—or to put words in your mouth. Do it every day in your own words and with your own actions. Your love will grow and your relationship improve because of it.
Do you want to create amazing things in 2017? Get a copy of my FREE ebook, 20 High-Performance Strategies and Habits You Can Implement TODAY! Just fill out the form below. (The ebook will arrive attached to an email.)
And download the application for a free one-hour Certified High Performance Coaching strategy session. (Then email it to me at nina@ninaamir.com). Let's figure out together what you need to do to make this year the most outstanding one ever.
Don't wait! It's your time…now…to achieve your potential, fulfill your purpose and live your life fully.