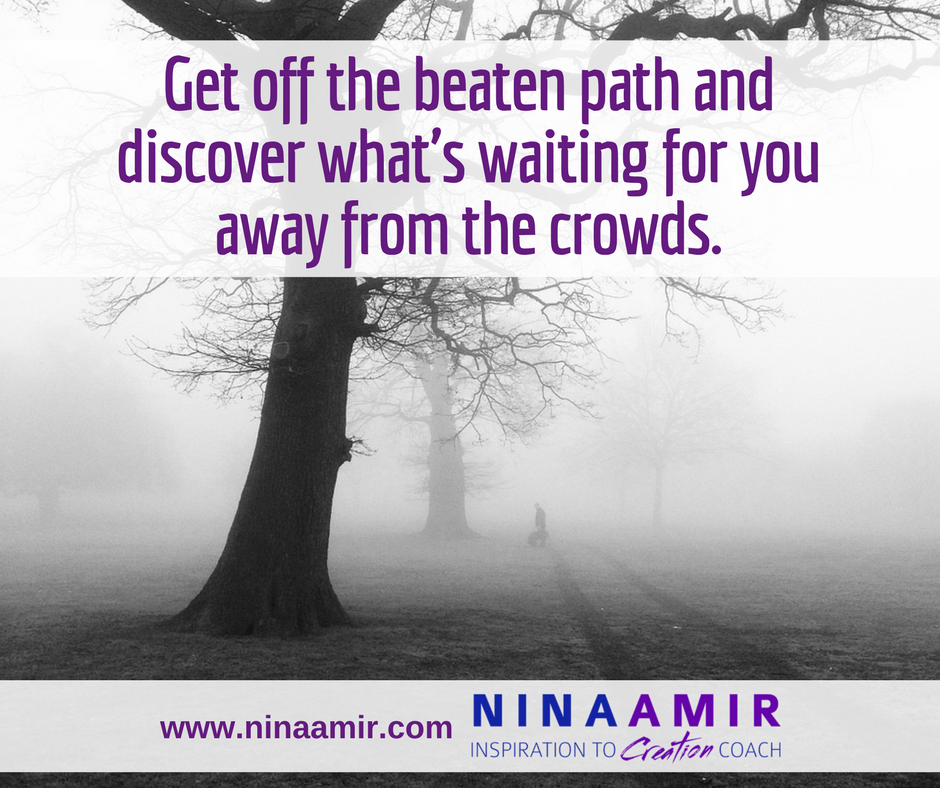 Are you walking the beaten path? You know…that same old path everyone walks. It's time to get off. Take another route.
Variety, as they say, is the spice of life. You can equate variety to uncertainty, and uncertainty is a basic human need.
Variety—in all its forms and faces—is what makes life worth living and what allows us to live fully.
Are You on the Beaten Path?
Imagine a world in which every day and every minute is the same. Everything looks the same, smells the same, tastes the same, sounds the same… How boring would that be?
How frustrating would it be to live in a world where unwavering predictability was the order of the day?
Sounds terrible, right?
So many people experience life this way. They experience life devoid of variety and absent of adventure, trapped by the ease of familiarity in every action they take, from their commute to work to how they plan their holiday travel.
Don't Follow the Herd
People consistently follow the herd, preferring to trample down the same tired track as everyone else rather than branch out or cut a new path through the pasture.
But it's when you branch out that you get off the beaten path. When you make inroads you see something interesting.
Or feel something interesting…
Or live an utterly unique and unforgettable experience.
Find a Path Less Traveled
So, no matter where you're going, instead of turning right at that intersection—along with everyone else, hang a random left. See where it goes. Maybe it will lead to a faster commute, a great coffee shop, an interesting part of town, or a chance encounter with someone new.
Instead of planning a trip to France to see Paris, why not plan a trip to France to see the coast of Normandy?
Or the foothills of the Pyrenees?
When you visit San Francisco, don't stay in one of the big hotels right off of Union Square. Stay in an Airbnb with some locals, or rent a cottage across the bay in Berkeley or Oakland.
Do not be afraid to dabble in the unconventional. Don't be nervous about exploring the unknown.
It is only by taking the road less traveled that we can enjoy the experiences that make life truly worth living.
What has happened when you got off the beaten path?
Do you lack the confidence or courage to address the warning signs in your life? If so, please give me an hour of your time; I promise you will gain insight, tools, and strategies to help you heed the warning signs…and create the positive outcomes you desire. To do so, apply for a FREE high-performance strategy session application. Download and complete the application, and email it to me at nina@ninaamir.com. Learn more here. Sign up by February 1 for a 12-session Certified High Performance program and receive a FREE ticket to Brendon Burchard's High Performance Academy in San Diego, CA, March 9-12, 2017 (value $997).

Photo courtesy of coombesy / Pixabay.com