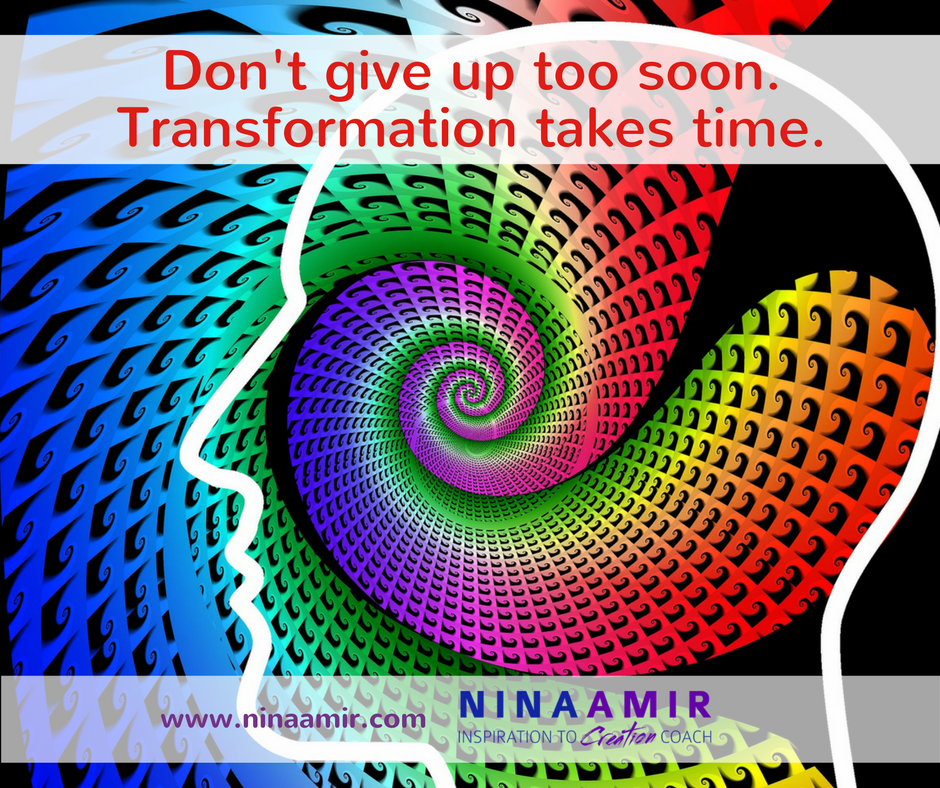 Have you given up on the spiritual, metaphysical or personal development techniques you've tried in the past?
You decided they didn't work and went in search of something else…
Or not.
Instead, you simply stopped trying new transformational tools.
I get it.
Many personal growth or spiritual tools promise huge results but don't deliver.
And sometimes they do, but we don't give them a chance.
Know what I mean?
You start out excited and inspired, and then that feeling fizzles out. You stop using the tool consistently. You don't give the technique enough time.
Nothing Works, So Why Bother?
I know someone who used to be interested in transformational tools. He went to classes, workshops, and retreats. He learned all sorts of useful things, but he would only use what he learned for a short period of time—a few weeks or a few months.
When nothing happened—he or his situation didn't change—he would shrug his shoulders, stick out his chin and say, "This stuff doesn't work."
After a while, he decided it wasn't worth learning or trying anything new. "It's a waste of time," he said. "Nothing works."
He gave up too soon. He didn't work.
User Error
There have been many times—more than I wish to share—when I did the same. But there's a difference.
I didn't give up. I haven't given up.
I understand that if a technique or tool I've learned and put to use…briefly…hasn't worked, it's probably due to user error.
I'm not saying that every transformational technique you try will work for you. Nor will the ones that work for me necessarily work for you. We are each different.
However, I do believe that most of the tools out there do work—if you give them a chance.
Most of us don't do what is necessary to make them work.
We think we can meditate once per month and see a difference.
We think we can practice the Law of Attraction—combine the thought of what we want with the feeling of having it—once or twice, and what we desire will suddenly appear in our lives.
We think we can pray to God when we really, really need something, and that our prayer will be answered.
And we think we can say affirmations or visualize for a week and discover that we or our lives have changed.
That's user error.
Give it Time and Attention
To change anything—your relationship with Source, financial situation, intimate relationship, self-confidence, or weight to name a few things—you have to give time and attention to give the tool you choose to use.
Transformation of any kind is a process. By it's very nature, a process requires time.
And if you don't focus on the change you desire and on using the strategy you have chosen, you'll feel as if it's not working. And it's not.
The reason it's not working is that you aren't working the process. You aren't putting your full attention and time into using the transformational tools you've chosen in the way they were meant to be used.
3 Ways to Discover if Your Transformational Tools Work
How do you discover if a transformational tool works…or will work for you, do these four things.
Commit a minimum of six months to using a transformational tool or strategy. Results usually take time. Sometimes they are immediate, but that's a rare occurrance.
Commit a minimum of 15 minutes per day to using the transformational tool or strategy. Change happens when you consistently and regularly place your attention on what you want to create.
Don't quit too soon. No matter what, don't stop using the tool or strategy you choose until you've used it for 15 minutes per day over a six-month period.
If you stop for more than two days, start over. It's amazing how much progress you can lose when you get out of the habit of doing something. Remind yourself daily that you'll be back at day one if you choose to take more than a day or so off from your practice.
You Have Company
Last, know you are not alone. Typically, people "fall off the wagon" many times before they retain their seat for good.
Like you, I struggle to use transformational strategies. I've got a lot of change-related tools in my toolbox, but sometimes I forget to take them out and use them. Or I use a tool and leave it somewhere. I then find it difficult to find and put to use once again. Or I forget about it altogether.
Here's the thing to remember: You can decide to be among those who maintain their practice and don't give up. You can be someone who achieves results from the strategies you choose to employ.
And that's the point. Discover tools, use them, and achieve the results you desire.
How do you ensure that you regularly use your transformational tools of choice?
Get a copy of my FREE ebook, 20 High-Performance Strategies and Habits You Can Implement TODAY! Just fill out the form below. (The ebook will arrive attached to an email.)
Don't wait! It's your time…now…to level up so you can achieve your potential, fulfill your purpose and live your life fully.
Photo courtesy of bykst /Pixabay.com