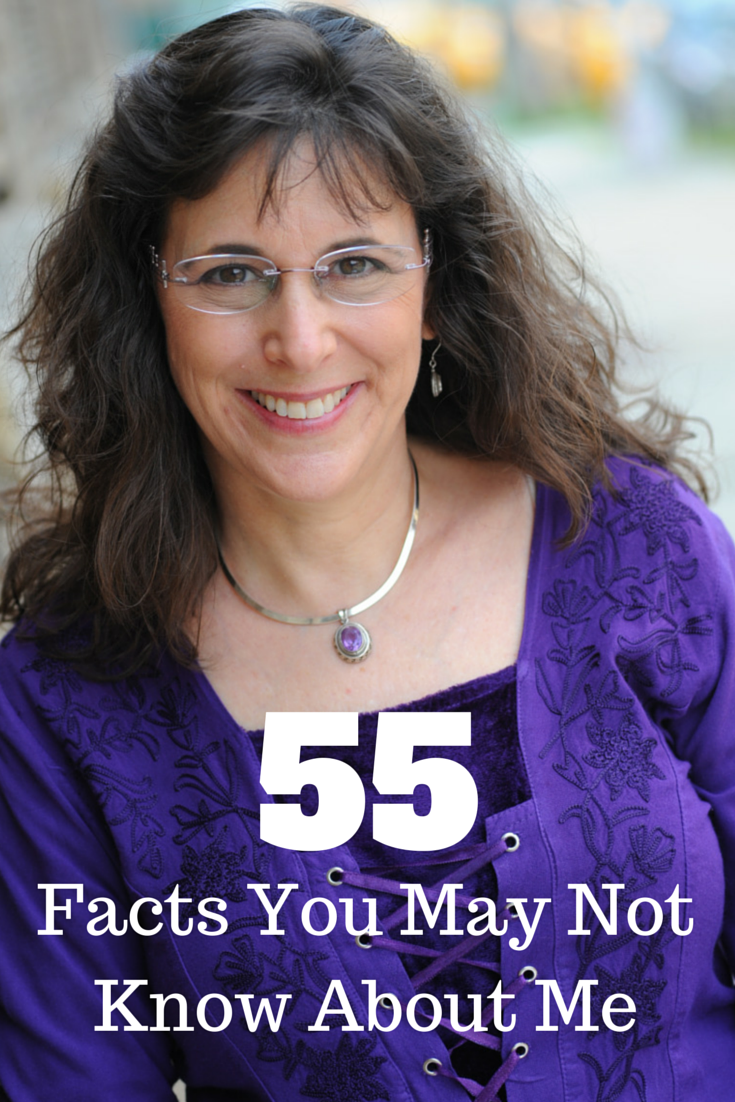 I celebrated my 55th birthday almost a week ago on April 5th. The day before, I had a conversation with two friends who had both been working on their "stories"—crafting personal messages related to major turning  points or experiences in their lives. Last week I also read a blog post written by my colleague Shelley Hitz, who, in commemoration of her birthday, published a list of facts people might not know about her. These events inspired me to make my own list of 55 facts you may not know about me.
Why write such a post? Because you might find some of these facts interesting. Or they might give you  insight into who I am as a person and what types of events molded my values, interests and character. You might also discover why I chose my particular work path—decided to write the books I've written or to create the programs I offer. And this knowledge might influence your decision to work with me in some other way or to subscribe to my blog(s).
Possibly, you'll simply find this list fun and insightful. I know it proved to be both for me.
I wrote it to explore my own personal narrative—the events that have molded me and the things that make me unique. I plan to expand on some of these facts in a variety of ways, some of which include blog posts.
I was born in Manhattan (as in New York City proper).
My mother had my birth induced for convenience; she had two other children and wanted to be sure she could plan for their care while she gave birth to me. This "birth script" affects me in many ways, including that I am often late or balk at being told when to do things. (Interestingly, I chose a career that involves deadlines.)
I lived in Manhattan until I was about five. My family then moved to a lake community at the base of the Catskills. I lived there until I graduated from high school.
My father died when I was seven.
My father was born in Russian but grew up in Israel. After he married my mother, he decided to move to America and make a "better life" for his family. He was an investment banker—a risk taker.
My mother is Czech and escaped Europe to Israel when Hitler invaded Czechoslovakia.  She lived in Israel until a year or two after my oldest sister was born. Almost all of her (my) relatives were killed during the Holocaust with the exception of her immediate family.
I started riding horses about a year after my father died and didn't stop until about 10 years ago. (I miss it and the horses terribly.) I rode hunters/jumpers and competed in hunter, jumper and equitation classes at many horse shows in the New York, New Jersey and Connecticut area all through middle school and high school. I tried to qualify for the Medal/Maclay finals, but I never made it.
About 12 years ago I decided to save race horses from slaughter by buying them, retraining them and then reselling them. I saved two horses, one simply by getting him to our stable before he went to auction and another by buying him and training him. That one died…long, sad story…before I could get him sold, leaving me in debt. I never saved another racehorse, but I would like to do so someday.
I was a member of the National Honors Society in high school.
My school system had two Jewish families; mine was one of them. But we were not religious or even spiritual; my father joined a synagogue for business purposes. My sisters and I dropped out of Hebrew school after his death.
I attended Syracuse University's S.I. Newhouse School of Public Communications, where I received a degree in magazine journalism.
I wanted to be a novelist, but I got inspired by a journalism teacher at my high school. (Plus, my mother told me only "good" writers made livings as novelists.)
I never had a bat mitzvah; I read Torah for the first time as an adult.
I got married in 1988. (Do the math…I've been married a long time.)
I have two stepchildren. We did not always get along (and that is the "nice" version of that story). We now all get along well.
My stepchildren lived with me a good bit of their lives.
I have two biological children.
I'm the youngest of three children (all girls).
I used to play a mean game of tennis.
I like to bicycle, but on the road. I ride a hybrid bike because I have a bad back.
I love crystals and rocks.
I am passionate about anything to do with personal development, metaphysics, consciousness, spirituality, Jewish mysticism, etc. I believe in past lives, angels, guides, extra-sensory perception, out-of-body experiences, and more… That's why I sometimes call myself the woo-woo lady.
I can read Tarot cards intuitively.
I can read Kabbalah cards somewhat intuitively (and with the help of a book), and I am an amateur Kabbalist. I also created a process based on the Law of Attraction and Kabbalah.
I am a certified High Performance Coach. Also, I have been working on a life coaching certification for a long time (and a Law of Attraction certification).
I'm a certified rebirther.
I am a trained Voice Dialogue facilitator.
The first books I wrote were all on spiritual and personal development topics, and I hope to write more books on similar topics in the future.
I created a line of blank, humorous metaphysical greeting cards.
I became a nonfiction writing and publishing expert because of my book editing and magazine journalism experience as well as my own desire to figure out how to successfully publish (traditionally).
I'm a bestselling author (four times over).
I have lived in five states: New York, Oklahoma, Georgia, Illinois, and California.
I love the ocean. I live just 20 minutes from the coast but would love to live on the coast.
I love to learn new things.
I am the member of a women's spiritual support group that has been together for 20 years. We met every Monday for two years when I lived in Atlanta. Now we meet sporadically for reunions (since some of us moved away). These are my best friends.
Richard Bach's Illusions: The Adventures of a Reluctant Messiah put me on the New-Age path.
I once went to an ashram in Nebraska to pray with a priest from Babaji's temple, and I interviewed the priest.
As a journalist, I have interviewed a ton of celebrities as well as people of interest to me. The ability to interview almost anyone is the part of being a journalist I most enjoy.
I have had ACL surgery on my left knee twice.
My son is a professional dancer. My daughter is a scenic designer and also does technical direction and scenic carpentry for the theater.
I am a jewelryaholic.
I always wanted to play guitar, and I have owned two, but I still don't play often and am not good.
I used to play piano.
I love to garden, but I rarely have time these days. I have a huge property with a  garden the size of a house (literally). Typically, the gophers and deer eat everything I plant. I have a fabulous vision for my property with a tree of life walking path (like a labyrinth) and many lovely places to sit and work, including in our tree house, which sits between two giant redwoods.
I live in the mountains between Santa Cruz and San Jose, CA. On a clear day, I can see the ocean glittering between the Coastal Redwoods.
I knew I'd be a writer from the time I was  quite young—definitely by early high school. Additionally, a numerologist once told me my name equated to "7," which meant "writer." (Numerology is based on your name at birth, so my maiden name.) That was when I stopped using my married name for business and went back to my maiden name.
My first kiss took place at a neighbor's house with a bunch of neighborhood kids; we were playing Spin the Bottle.
I am still in touch with one of my high school boyfriends.
I was never in a sorority, but I was a little sister at a fraternity.
I wasn't raised Jewish but developed my Jewish identity in college. (Syracuse had tons of Jewish students, and I even edited the Hillel magazine.) Yet, I don't think of myself as "just" Jewish; my beliefs are much broader than that. That said, we celebrate Shabbat almost every Friday night, and I used to bake challah, cook, and clean the house to prepare for the weekly holiday.
I married a Southern Baptist but awoke one morning married to a Jew. (Do you know why?)
I consider myself a dog person, but since our last dog died we now only own a very old cat, and I love her. (I'm allergic to cats, but not to her!)
I spend most of my work time writing blog posts, helping other authors, teaching, speaking, and writing books. I always knew I would speak and write, and I was thrilled when I became an author and a speaker and could join the Expert Industry Association. I was my dream in my 30s to be a "trainer" of some sort.
I traveled extensively when I was younger. My mother didn't like to travel alone, so she took me with her to Peru, Norway, Denmark, and all over Europe. I also spent a summer in London during my junior year in college, during which time I traveled all over the UK, Scotland and Ireland. When the semester ended, I spent a month traveling across Europe, ending up in Trieste, Italy, to visit an Israeli man I'd met briefly the summer before in Israel (a country I've visited four or five times) and who had sent me several romantic letters. We thought we would marry… Obviously, that relationship did not work out.
When I turned 50, I had a Jewish ceremony and changed my Hebrew name from Nehara, which means "light," to Kohenet, which means "priestess." I was never given a Hebrew name at birth; I gave myself the first one. A rabbi I know gave me the second one. So, my full name is Nina Kohenet Amir Lacey. (Lacey is my married name).
This was fun and enlightening for me to write. Every time I edited it, I remembered something else to add! I plan to expand on some of the facts as I work on my own narrative, or stories.
I hope you enjoyed reading this post and discovered something new and interesting about me in the process. (You can read a similar post that shares 55 facts about my writing career here.) Tell me in a comment below what you learned or found most interesting.