Careers and jobs are two different things. Yet, we mistakenly consider them one and the same.
When someone says the word "job," what comes to mind?
Career vs. Job
For most people, it's a vision of a clock-in, clock-out role. A place where you perform a task in exchange for some fixed sum of money. This job may be temporary or it last for several years, but at the end of the day the essence of a job is an economic exchange.
A "career" is something uniquely different. It is something you can do with passion and fervor for the duration of your natural born life.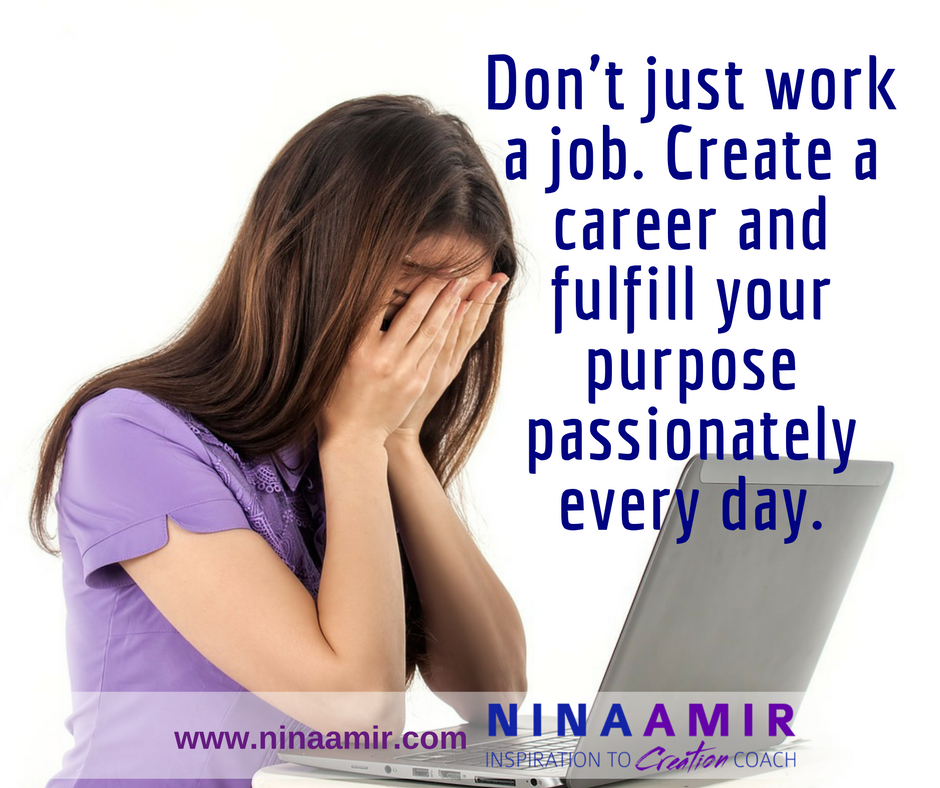 Careers can be blue collar—carpenter—or they can be white collar—pediatrician—but they are simultaneously sources of income and inspiration. A career provides a mechanism by which you can feed your family and your soul.
I'm not trying to say that careers aren't without lousy days; they most certainly have some of those. But if you have a career, you don't experience days on end filled with boredom, frustration, or anger.
Plus, lousy days make you want to quit your job but not your career.
A career is infused with your passion…calling…gifts. It allows you to do the thing you were put on this Earth to do so you can leave a positive mark.
Careers allow you to embrace your authentic self; jobs don't.
Do You Have a Career?
If you're not sure whether you're in a career or a job, think about your authentic self. Think about your purpose. Are you incorporating these into your professional life every day?
If you're not, you're working in a job. (And it likely feels hard and unsatisfying.)
Do you frequently feel stuck, unmotivated or unfulfilled? If yes, you've got a job.
But if you always feel excited and inspired by your work…if you're more frequently ready to seize the day than to shy away from it, then you may be pursuing a career.
It's Not about Money
Remember—work shouldn't be about making money. Work should be about enthusiastically making a difference. It should be about living your life and purpose to the fullest potential…and having a good time while doing it.
Now that we have inched into the first few weeks of 2017, take time reflect upon your professional path.
How does it currently look and feel?
Does it feel like a career?
If it doesn't, consider making 2017 the year of professional passion. Focus on finding a career that is true to who you are and who you want to be for the remainder of your working years.
Will it be easy? Of course not.
But when you consider the alternative is spending a lifetime doing a job you at best tolerate and at worst loathe, it's a challenge worth accepting.
Do you have a career or a job?
If you are interested in getting clear, courageous and energetic about a career—rather than a job—and influencing yourself to take action toward fulfilling that dream and your purpose, apply for a free one-hour high-performance strategy session. (Click here to download the application.) Fill it out, and then attach it to an email and send it to Nina@Ninaamir.com.
PLUS, for a brief time, I'm giving away two bonuses to those who sign up for my 12-week Certified High Performance Coaching program: a bonus session (value $300) and a ticket to Brendon Burchard's High Performance Academy (value $997) this March in San Diego.
Make 2017 the year you do what you love while making a living.

Photo copyright: Concord90 / Pixabay.com