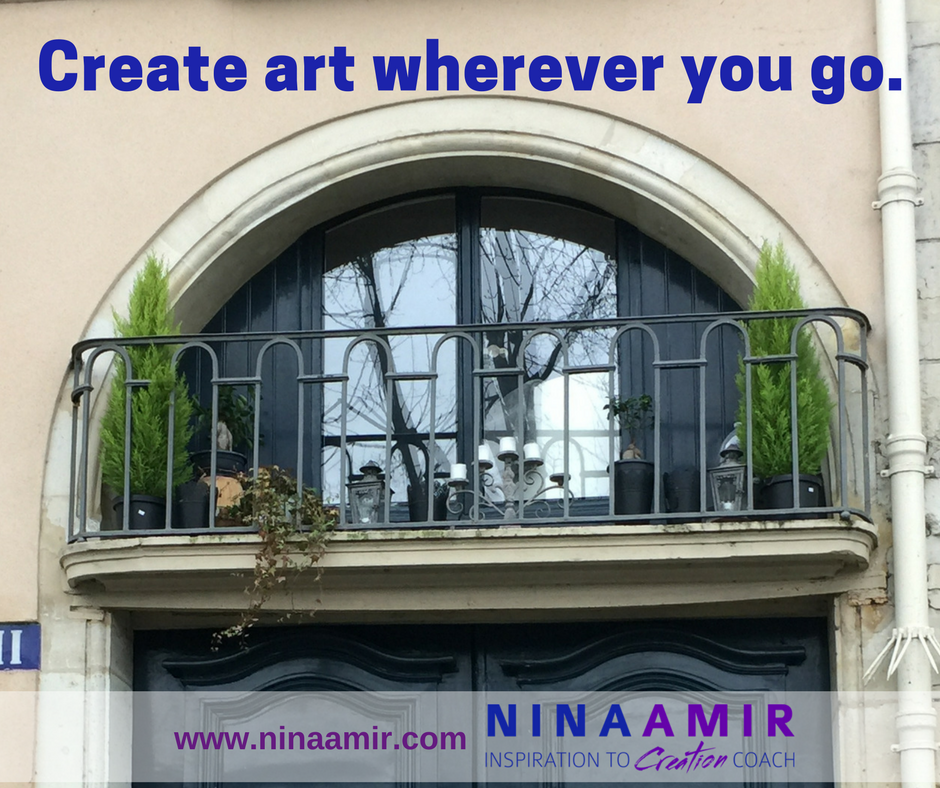 Share your art. Share your gifts, your creations, with the world now…not later, and make it a more beautiful and loving place.
"But I'm not an artist," you say.
Bullshit.
We are all artists. We all can create.
Yes, that means you.
Your Thoughts and Energy Create Art
You are a creator, and that makes you an artist. With every thought, you create something, and you have the ability to think positive or negative thoughts. Where you place your focus is a choice.
That means you can create something beautiful or ugly just by focusing your thoughts on beauty or ugliness. You can create something that makes you and others happy or sad, uplifted or downtrodden just by the mindsets with which you approach them or life.
With your mind, what do you create? What do you see? What do you focus on?
The energy that flows from you when you think creates as well. It either makes people feel warm and fuzzy or cold and prickly. Your energy creates negativity or positivity, connection or disconnection, acceptance or judgment.
So, what do you create with your energy? What energy do you put out, and what effect does it have on the world around you?
Use your thoughts and energy to create art, attractive manifestations of every sort.
Use Your Gift to Create
You also possess a unique gift, and it allows you to express your art as well.
I don't know what your gift is, but you do. (If you don't know, ask your friends and family members or coworkers. They will know.) And with that gift you can create goodness in the world. You can make a difference.
Or not. The choice is yours.
Your gift provides a way to produce art. What art form do you use to express your gift—your art?
Maybe you make art when you use your:
Ability to listen and support to create a safe place for people to gather and share their thoughts and feelings.
Love and understand of animals to create a foster home for pets.
Writing ability to create an ebook with proven tips for feeling and expressing gratitude.
Knowledge and ability to teach to create a course that teaches people how to lead in their communities.
Watercolor skill to create a series of paintings about how to live peacefully with people of all faiths and cultures.
Communication skill to create a podcast about making a difference in the world.
Poetry craft to produce poems that express appreciation for all things—good and bad.
Choreographic ability to create a ballet that fosters world peace.
Musical acumen to create an uplifting song.
Designer eye to create a warm, beautiful and welcoming home for your family.
These are all art forms and ways to express a gift.
My son expresses his art each time he dances. My daughter expresses her art every time she produces a painting or builds theatrical scenery. My husband expresses his art when he helps his company grow. And I express my art when I write or speak.
Everyone Produces Art
You do not need to be an artist—or what we call an artist—to produce art. You have your form of art. You know how to make the world a beautiful place.
Maybe your art can be seen in how you set a table, plant and grow a garden or care for the elderly.
Or maybe you are the architect of grand buildings or the coach who transforms lives.
Traveling in Europe provides an opportunity to see many types of art. Art in the form of a gilded balcony or gorgeous golden rooms. Art in the shape of paintings, churches, and statues.
But art can be created on an otherwise-drab balcony. You can create it with a cup of coffee or a plate of food.
A friend told me about the culinary masterpieces he creates. That's art, especially if the food not only tastes great but is prepared with love and presented in a gorgeous way.
Your art could be long-lasting, surviving the ages, or short-lived, lasting just moments or an hour. It's still art.
What art are you creating? How are you expressing your artistic ability? Tell me in a comment below.
Want 2017 to be the year you crush it with your goals? Get a copy of my FREE ebook, 20 High-Performance Strategies and Habits You Can Implement TODAY! Just fill out the form below. (The ebook will arrive attached to an email.)
And download the application for a free one-hour Certified High Performance Coaching strategy session. (Then email it to me at nina@ninaamir.com). Let's figure out together what you need to do to make this year your best year ever.
Don't wait! It's your time…now…to level up so you can achieve your potential, fulfill your purpose and live your life fully.
Photo copyright: Weerapat Wattanapichayakul/123RF.com