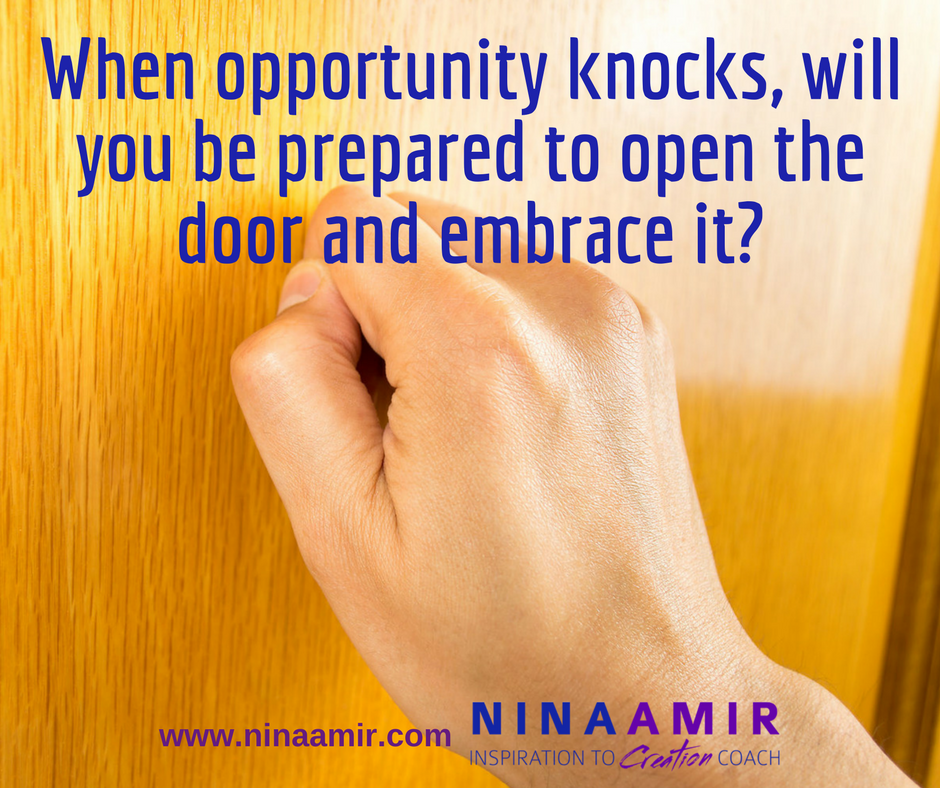 Are you prepared for opportunity? Or are you unprepared?
When opportunity shows up at your doorstep, you need to be ready and willing to open the door and let it in. In fact, you want to open the door and rush out to embrace opportunity.
Otherwise, opportunity will knock, and you'll cower in the foyer. You won't open the door, and opportunity will turn and walk away. If you do open the door, you'll send opportunity away and close it again.
And opportunity will go elsewhere. It will pass you by and find someone ready and willing to embrace what it has to offer.
Knock. Knock. Knock.
My son, who is a second soloist with SemperOper Ballett in Dresden, Germany, flew to New York City to perform with his company. He was scheduled to dance in one of four pieces. However, when during the first day of rehearsals a fellow dancer was rendered unable to perform in a pax de deux, opportunity knocked on his door.
The artistic director asked my son if he could perform the role. "Yes," he replied. "I'll be ready."
Mind you, while he had danced the role previously, he had never danced it with the ballerina he would have to partner. But he rehearsed and performed—to rave reviews. He told the ballerina, "We've both danced the role. I do things a bit differently, but you can trust me. Do that, and we'll be fine."
He trusted himself because he knew he was ready.
My daughter is a first-year grad student in a props program at Ohio University. Recently, opportunity knocked at her door.
With several students graduating early, she became the student of choice to manage props for the next show produced by the department. Her professor said, "I could do the job and have you assist me, but I'm going to let you be the props master instead," she smiled and said, "Awesome. I can do it."
First-year grad students are rarely if ever asked to do this job since they have not had time to watch other students go through the process. My daughter told me, "I've managed crews, scenery builds and theater load ins and load outs. I'm sure I can do this job."
In much the same way, in 2010 opportunity knocked on my door, too. I was asked to speak on a panel with other bloggers at the San Francisco Writers' Conference. I was not a well-known blogger at the time, nor was I a seasoned speaker. I read the description of the conference session, and three words stuck out: blog a book. Attendees were supposed to learn how to do this from the panel of experts, but no one on the panel was an expert in blogging books.
I told the conference director, "Thank you! I'd be honored to speak on the panel, and I'll be prepared."
So I opened the door to the opportunity to speak before an audience and embraced the chance to become the only expert on blogging books. I started a blog called How to Blog a Book and began writing a book on the blog about how to do just that—write a book post by post on the Internet. When I spoke at the conference several weeks later, I came as the expert on the topic.
Get Prepared or Opportunity

Are you doing what's necessary to prepare for whatever opportunities come your way? If not, when opportunity comes knocking at your door, you'll open it and then close it…fast. And opportunity will have to find another door upon which to knock. Someone else will open the door and let in YOUR opportunity. You will be left with regret rather than advancement and success.
Don't let that happen to you. Prepare for opportunity. Here's how:
First, get a journal, and brainstorm the types of opportunities you wish you would come your way.
Second, strategize how you will attract those opportunities.
Third, write down three things you need to do to be ready for that opportunity.
I firmly believe that the right opportunities show up for us at the right time. However, we also need to invite them to come our way. That means you migh tneed to put yourself in situations that make opportunities more likely or meet people who can help you create opprotunities.
And when the opportunity shows up, how do you ensure you are ready? Here are a few ways:
Practice a skill.
Rehearse your role.
Get experience.
Educate yourself.
Interview or study those who have embraced similar opportunities.
Do these things until you feel prepared…for almost anything. Do them until you feel confident and certain.
Then, when opportunity knocks, open the door and welcome it into your life.
What opportunities are you preparing for or willing to grab? Let me know in a comment below.
Never miss one of my videos! Click here to subscribe to my YouTube channel.
Photo copyright: cunaplus / 123RF Stock Photo