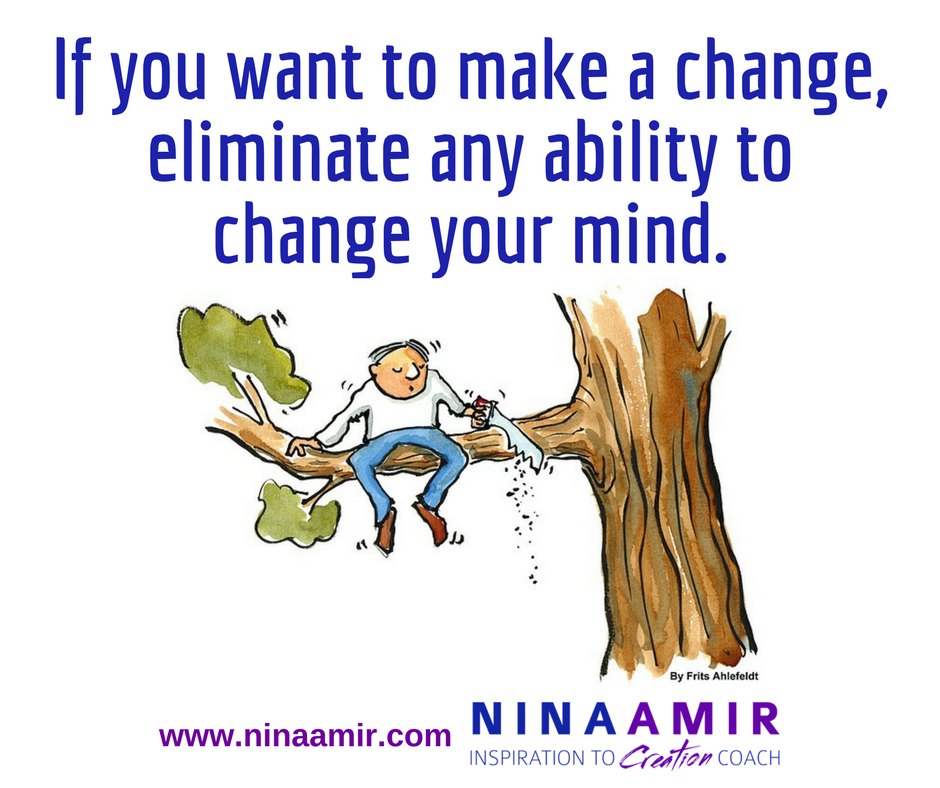 Change. We hate it. We want it. We struggle to create it. We run away from it.
And at this time of year—with the New Year fast approaching—most of us think about change a lot.
I know I do. There are some things in my life I'd love to change, but I haven't dared to do so. I also know I need to change some habits or build better ones. I am sure that's what I need to do, but I've been dragging my feet. In either case, I may be procrastinating because I'm scared or it feels hard. Or I'm not yet certain, and so I haven't fully committed to one path or another.
Any way you look at it, change hasn't happened because I haven't decided to do something different and then taken action. That's a fact.
Can you relate?
You Don't Need Certainty to Change
If you wonder how to change…how to make the New Year better than the year before, here's your answer: To create change, you don't need to be certain. You do have to make a decision and then take action.
You may be waiting to know for sure that the outcome of a change will be positive. You can never have that certainty. So realize you may need to trust that things will work out as they should if you do something different…if you decide and then move forward based on that decision.
Or maybe you are waiting for the right time. You could wait forever. The only right time is the moment when you decide you must change….now.
Often certainty only comes when you decide. Then you have a clear path and can take steps to move along it to your desired destination.
Get Help
If, like me, you have some areas of your life you know need to change but you can't seem to do something about them, it's time to seek help. If you know you need to change, but you don't seem to have the will to do things differently, it's time to get support.
I have used coaches and counselors—even friends—to help me get to a decision point. And you can do the same. There's no stigma in going to a counselor. The most successful people in the world use coaches (sometimes more than one). And you're friends won't hate you for asking them to be a sounding board or to provide feedback.
If you didn't change last year and you dont' now how to change in the New Year, don't struggle. Reach out, and get help.
Trust Your Intution
Admit it. You know when you need to change. And you usually know how to change yourself and your life. But you question and make excuses.
I get it. I've been there and done that. I've learned one thing, though: If I follow my intuition, I usually end up better off.
Trust your intuition. Listen to its soft prompting to do something differently—to make change.
You know what to do.
Listen, then take action.
If you can't make the change immediately, pick a date on your calendar and mark it "D Day." It's best to choose a date that feels a little uncomfortable, but with that deadline, you can begin working backward to make the change possible.
You don't need to jeopardize your family, relationships, safety, or healthy to change. That's why you pick a future date upon which you will make a change and move toward it consistently.
How to Change…Really

No matter what, when you decide to make a change, burn the boat and storm the island. Shut the back door and be all in. Or open the front door, walk through, and then shut the door…and lock it…behind you. Decide there is no turning back.
If you allow yourself an "out," you'll take it. So make it impossible to go backward.
Remove all paths back to the way you were. Eliminate the options to return to the past.
Focus on Future Change
Again, at this time of year, you are likely thinking about change. But it's easy to get focused on the changes you didn't make in the last 12 months. Don't get stuck wondering how to change.
Instead, list the changes you want to make in the coming 12 months. Choose a few that are a priority. Then create a plan for making those changes.
What you didn't do last year is only relevant as a reminder of what you want to accomplish this coming year. Allow any frustration or disappointment about what you didn't do to fuel your desire to do something differently.
Then put all your focus and energy on stepping into the person and life you desire and know you can create.
And remember: You have the power to change just about anything in your life or yourself. You just have to want to change badly enough. If you haven't changed yet, you don't want it badly enough.
Change. It's time.
How are you going to change or what are you going to change in the New Year?


Never miss one of my videos! Click here to subscribe to my YouTube channel.
Photo courtesy of PublicDomainPictures/Pixabay.com