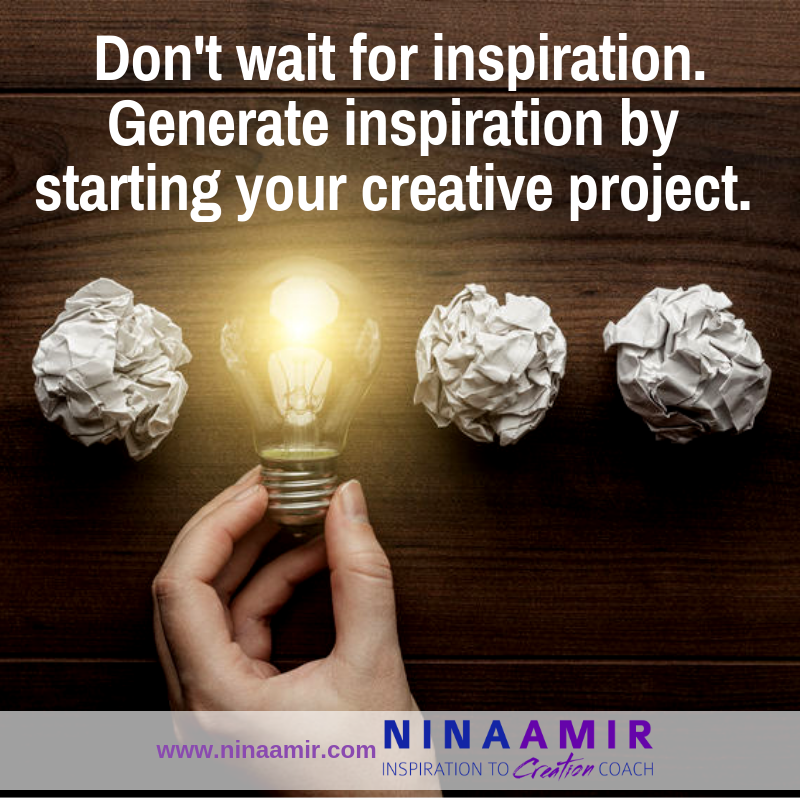 A lot of people talk about inspiration as if they expect it to hit them like a lightning bolt. Only then will they have the ability to start writing their manuscript, pick up the paint brush, plan the new business, or go to the gym.
However, you can spend a lot of time waiting for inspiration…and never create anything. Or, instead, you can generate the inspiration to move toward your creative goals.
Get Moving
It's time to stop sitting in front of the computer twiddling your thumbs or standing in front of the easel staring and the canvas. Instead, do something that increases your level of inspiration at any given moment.
The most successful creators in the world—in any industry—know they have to do something to get inspired. And by "do something," I mean putting hands on the keyboard and, if they are writers, writing…not waiting to figure out what to write. They just begin and, as they write, ideas come to them. Or they put brush to canvas, start writing code, start sketching a design, or put numbers on paper.
As they do, they get inspired. Ideas come to them.
Don't worry about producing something that isn't good enough or useable. Your efforts won't have been a waste of time. As you examine your work, you'll get new ideas for how to improve it or do a better job next time. That's inspiration.
Do Something—Anything!
If diving into a project doesn't get your creative juices flowing, then do something else. Specifically, move your body. It's incredible how many great ideas pop up while walking or exercising, for example. Those ideas then inspire you to take action when back in our office or studio.
However, it's best to set out on your walk, for instance, with the intention of arriving back home feeling inspired. You don't have to mull over your project or desire for an idea as you walk or exercise. Instead, set that intention—to get inspired—before you set out. Your mind will solve problems for you without any effort on your part. And suddenly the ideas will pop into your awareness.
Then sit down and start creating as soon as you arrive back at home or in your office or studio.
Move Your Mind
Moving your mind also can generate inspiration. Try meditating, but, again, set an intention before you start. A simple statement like, "I am going to clear my mind to allow in ideas about my project. I am open to receiving inspiration during this meditation period," will do.
Meditation can help you stop the mental chatter that says you aren't inspired, have no ideas, and should go read a book or do the laundry instead of creating something amazing. Of course, your brain will never stop talking to you, but meditation can slow down the conversation and allow new thoughts to come into play. That's when inspiration hits!
You also can move your mind with inspirational activities. For instance, brainstorming gets your mind moving toward creative solutions and ideas. I love using a mind map for this purpose. You'd be amazed at what happens when you put your mind to work solving a problem that it can see. This is especially true for those who are visual in nature.
If you aren't visual, a mind mapping exercise can prove enormously useful. It helps you see the problem a new way because it accesses a different part of your brain.
Journaling can work as well. It trains your mind on a topic and allows for a free flow of thoughts and ideas to come out on paper. If you are visual, this exercise can prove quite useful because, again, it uses a different part of the brain.
Ritually Generate Inspiration
To get inspired quickly and consistently, consider creating an inspiration ritual. Imagine an ancient church. Thousands upon thousands of people have come into that church each week to pray. When you walk through its doors, you immediately feel a sense of reverence. The energy of the sacred space permeates everything—even you. Over the years, the church has become a vortex of spiritual energy.
In the same way, if you sit down in the same place every day to do your creative work, that place will become a vortex of inspirational energy. Make writing, painting, coding, planning, or whatever you do not just a daily habit but a daily ritual.
You can turn your workspace into a sacred space with candles and incense. Or you can meditate there before you work or set an intention before you dive into your project.
Your ritual might be even simpler: Come in, sit down, and begin to work. Your work becomes a prayer to your Muse asking her to come and be with you and help you feel inspired.
The more you repeat your ritual, the more you create your own vortex of inspirational energy. Just as you feel spiritual when you enter that ancient church, you'll feel inspired every time you enter your workspace.
Stop Waiting for Inspiration
You can't wait for inspiration…not if you are serious about creating something. Actively generate inspiration. Invoke inspiration by doing the work every day.
A professional writer will say, "I don't wait for inspiration. I sit down, and I begin to write. That's when I get inspired."
Begin. Inspiration will catch up to you.
How do you get inspired? Tell me in a comment below.

Never miss one of my videos! Click here to subscribe to my YouTube channel.
Photo courtesy garloon