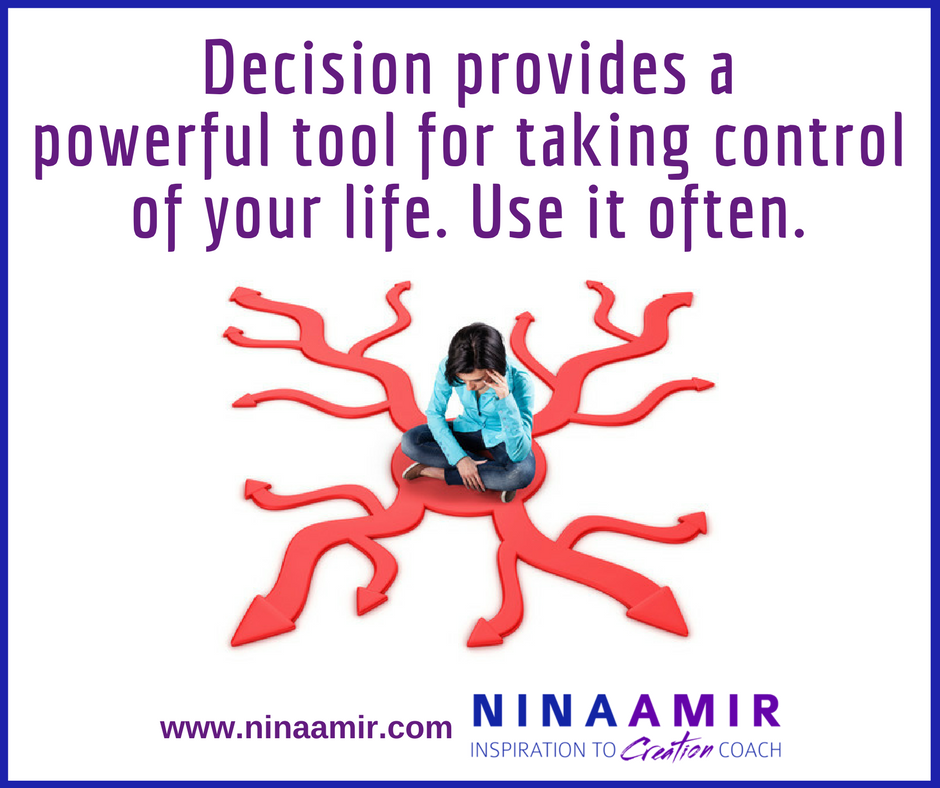 Every human has a drive for control. And we each possess a powerful tool for taking control of our lives. It lies in our ability to make decisions.
Each decision you make helps you gain more control over your life. Of course, it also affects the course of your life. I've written about decisions before, and I've shared what Tony Robbins says: "It is in your moments of decision that your destiny takes shape."
But shaping your destiny might feel scary. And that could be one reason why you don't decide…even if it's as small decision, like what to order off a restaurant menu, or a large one, like whether or not to end your marriage. You're afraid of the domino effect your decision will create.
Here's the thing, though. As long as you stay in a place of indecision, you give away control. You allow other people or situations to shape your life and experiences.
Indecision is a decision—the decision not to decide. That particular decision means you also choose not to control the course of your life. That could be more frightening than choosing and facing the repercussions.
An Overabundance of Opportunities to Decide
According to some Internet sources, the average person makes about 35,000 decisions per day. Yet, many of them are inconsequential.
You might make a decision about what to wear or which route to take to work. Maybe you make decisions about when to go to the bathroom or get lunch or what to do in each hour of the day.
All the small decisions you make impact the most important or large decisions. This leads to decision overload and feeling as if you don't or can't decide. One more decision seems overwhelming.
Some people limit their daily decision making. They wear the same white shirt and black pants day in and day out, for example. Doing so frees up their mind to make more important decisions.
Making Tough Decisions
While some of the small decisions you need to make may feel monumental, it's the tough decisions that can leave you frozen and unable to take control.
I've been struggling with a few tough decisions in my life. One was whether or not to euthanize my cat.
Cupcake had been ill for a long time…years, in fact. The vet was unable to determine what ailed her. And as she got weaker and skinnier, I kept hoping she would peacefully die in her sleep. But the tenacious kitty refused.
Every day I thought about Cupcake… I worried. Was she in pain? Was she happy? Or not?
I felt out of control. I couldn't change her health issues nor could I will her to let go of life on her own.
Finally, I had to face it. My indecision was causing the cat to live in misery and with little quality of life.
So last week I realized I had to make a decision…a tough decision. So I called the vet and asked him to come to the house and relieve her pain. I'd know for a while that this was best for her but couldn't bring myself to decide.
I took control of the situation…and of my fear. I decided. And I took action on that decision.
Even though her passing left me feeling sad, on another level, I felt better. I had handled the situation. I decided. And I followed through on that decision. I had taken control.
What's Best for You?
You might need to make tough decisions that are in your best interest—or in the best interest of someone you know or love. It's common to avoid difficult choices, though…even when you know they are right.
Your indecision keeps you stuck where you are. The only way to move forward and do the "right thing" is to decide. Then, as Tony Robbins says, "take massive action."
Let's say you want to leave your marriage. You know it's in your best interest to do so. What you don't know, however, is if you can support yourself, will feel happier, or can find another partner.
Your focus on the "what ifs"—the undesirable results—put you into fear. You don't take your destiny and well-being into your own hands. As long as you don't make a decision, you allow yourself to remain stuck and out of control. Also, you don't do what is best for yourself.
Your decision—to stay or to leave the marriage—gives you control. Even if you can't take action immediately, the decision itself gives you the sense that you govern what happens next.
Indeed, you do.
Gain Control
If you feel out of control in your life, ask yourself what decisions you need to make. What tough decisions are you avoiding? How would making them help you take better care of yourself or someone else or change a current condition?
Create a list of the decisions you could make in any aspect of your life—leave or stay at a job, move or stay where you are, start a new exercise program or continue to be a couch potato.
Even if you can't move forward immediately, the decision to do so changes everything. You gain control and begin to see ways to take action—even small steps. You plan for action. And that gives you control.
Decide—for your sake and the sake of those in your life. Watch your destiny unfold and your life improve.
What decisions do you need to make to feel that you have control over your life?
Photo courtesy of Viktoriya Malova/123RF.com