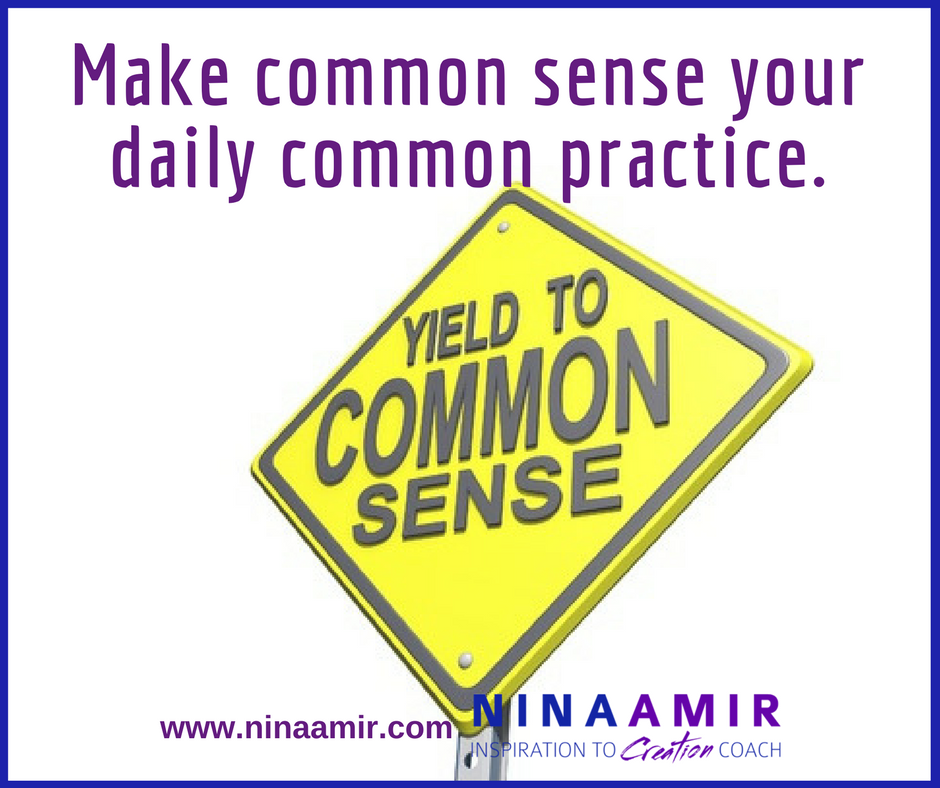 You've got common sense. But you put your common sense into common practice?
My mentor, Brendon Burchard, often says, "Common sense is not always common practice." And it's not.
So don't beat yourself up if you know you often don't put to use beneficial information or develop habits that are in your best interest. You aren't alone.
What is Common Sense?
Typically, common sense is defined as "good sense and sound judgment in practical matters."
It's common sense to:
Go to the doctor when you feel sick or get injured.
Follow traffic rules.
Obey the law.
Do a good job.
Be kind.
Don't overeat.
Sleep eight hours per night.
Don't litter.
But not all of us do these things…even though we know they are good ideas and habits. Can you relate?
What Common Sense Do You Want to Put into Common Practice?
And admit it… There are some common sense practices you want to put into common practice. But you've just not done so.
It's easier to continue as you have been. I get it. Change seems tough and scary.
But underneath those excuses, you know the truth. You'd be better off if you made those things part of your daily…weekly…monthly…even hourly…life.
What common-sense practices will advance your life if you put them into common practice? Make a list.
Make Common Sense Part of Your Life
To make common sense part of your daily life, follow these three steps.
Choose one or two common sense actions that you can implement today. No, not tomorrow. Right now. No more excuses. What will you do differently today? Write them down.
Decide how you will implement these common sense practices in your life. What will you do today? How will you behave differently? What steps do you have to take to implement these new habits?
Create a tracking system. You only will continue with your new common sense practices if you see the benefit. So determine if you will use a scale, such as rating the effect of the new habit on a scale of 1 to 10, or journal daily about the positive impact you see (or don't see).
Next month, take on one or two more common sense habits or ways of behaving in the world. Make them common practice. Watch how your life changes for the better.
What common sense will you make common practice in your life this month?
Never miss one of my videos! Click here to subscribe to my YouTube channel.
Do you struggle to make beneficial changes in your life? You want to improve, but you just can't seem to change your habits. Please give me an hour of your time; I promise you will gain insight, tools, and strategies to help you get from where you are to where you want to be. To do so, download my
FREE high-performance discovery session application.
Complete the application, and email it to me at nina@ninaamir.com.
Learn more here.
Photo courtesy of Paul Brigham /123RF.com