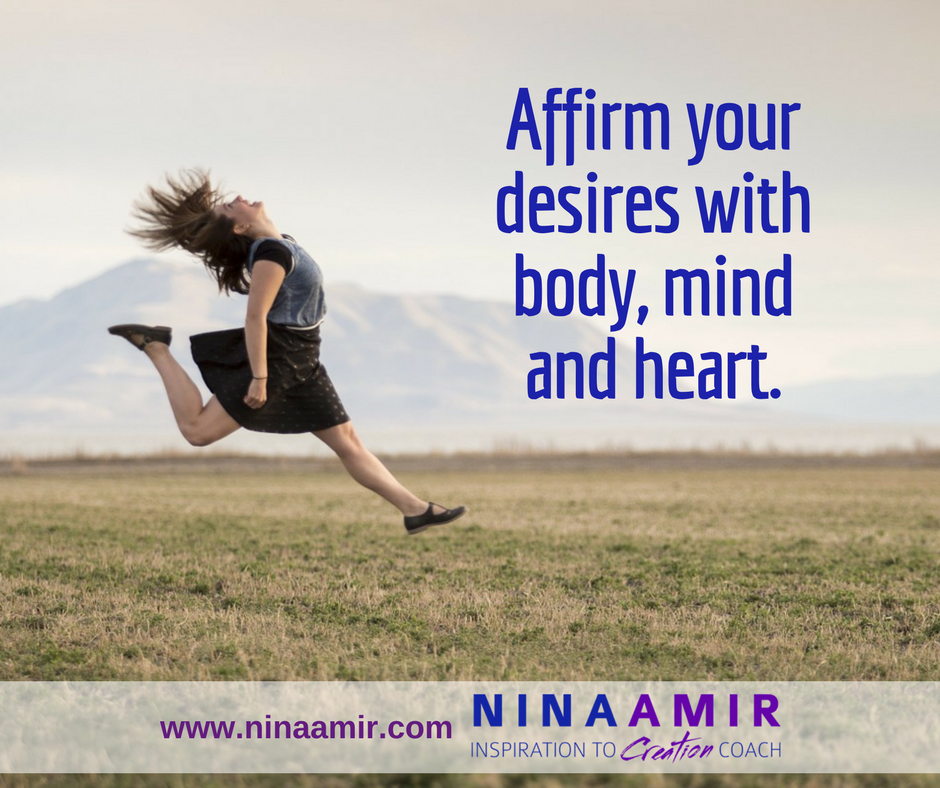 Affirmations provide an awesome tool to help you create what you want in life. But some people say they don't work…at least not for them.
Affirmations are positive statements about future results or conditions. For example, if you want to attract more money, you might repeat, "I am a money magnet." Or if you want a new relationship, you could repeat, "I easily and effortlessly create opportunities to meet my soulmate."
Why Affirmations Don't Work
There are a few reasons why affirmation might prove ineffective. For instance, you might not be using the right affirmation. Some affirmations are stronger than others. And some affirmations still focus on the negative, like "I no longer suffer from migraines." To become powerful affirmation, you would have to say, "I live a pain-free life."
You might not be repeating your affirmation often enough or with emotion. Affirmations are meant to be used with visualization…see it done, achieved, or manifested. Imagine what that would feel like…how you or your life would change.
People with extremely low self-esteem can find affirmations not only ineffective but detrimental. The constant repetition of a positive statement makes them feel worse because the statement is not yet true.
For those people who use affirmations but have a significant amount of doubt about the efficacy of this practice, affirmation won't produce results. On some level, you must believe your affirmations—that what you say will come true…that good things are coming your way in the future.
But for most people affirmations prove useful not only for changing your subconscious or conscious negative thoughts about a subject but also for achieving positive results.
Three Ways to Create a Powerful Affirmations Practice
Use the following three techniques to help your affirmation practice become a powerful way to create what you want in your life.
1. Use your affirmations daily.
Sporadic use of affirmations doesn't help you achieve success. Create an affirmation practice in the morning when you wake up and in the evening right before you go to sleep. Spend five or ten minutes saying the affirmations to yourself aloud or silently (or both) and visualizing the result you desire. See and feel what you want as if it has already shown up in your life. You can do this more often if you like, and you also can write your affirmations.
2. Embody your affirmations.
Don't just say, imagine, or think your affirmations. Anchor your affirmations in your body. Stand up. Use your hands and arms, facial expressions and even your legs or torso to embody the affirmation. Say the words as if you mean them—with power, emotion, and conviction. Tony Robbins calls this creating incantations, but that sounds a bit like magic. I'd rather think of it as invoking what you desire. When you say the affirmation, mean it! Put your whole body into the statement.
3. Make affirmations of action.
It's all well and good to affirm that something is true, but if you never take action to make the statement true the time between starting your affirmations and getting the result you desire will be much longer. To shorten our manifestation time, do something to help bring what you want into your reality. Convince your mind the positive statement is true. If you are affirming that you will have a new job, send out a resume or two or three. Go on an interview. Look for jobs online.
Affirmations do a pretty good job of switching negative thoughts and beliefs to positive ones. But when you put action and emotion into them, they become much, much more powerful. And the more positive thoughts you put into the world about what you desire, the higher the likelihood that you will create what you want.
Do you have a tip on how to make affirmations more effective or powerful? Tell me in a comment below.