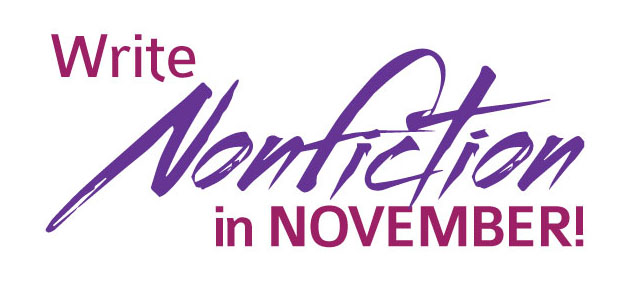 Are you ready for the Write Nonfiction in November Challenge?
It's almost time to write your book in a month!
How to Participate in WNFIN
The Write Nonfiction in November (WNFIN) Challenge, which is also known as National Nonfiction Writing Month (NaNonFiWriMo), is an informal, personal challenge.
You do not need to become a member of a site or organization. You do not need access to a forum. And there are no formal rules, like "write 50,000 words in 30 days."
The only rule is that you commit to starting AND finishing a work of nonfiction in a month.
No one counts how many words you write during the month or even checks what you write. You can write any type of nonfiction, such as a magazine article, blog posts, a white paper, or a book. And your WNFIN project can be as short or as long as you like.
You do not have to take the challenge totally on your own, though. Opportunities exist for you to be in community with other writers and to get support as you write nonfiction during the month of November. 
Read on to find out how to participate in group activities during the WNFIN Challenge.
And use the navigation bar at the top of this page to learn about the history of the WNFIN Challenge, the WNFIN Summit, or to read all the WNFIN Challenge blog posts (yes...all the way back to the first year).

 Register for the 2021 WNFIN Challenge
From mid-October through the end of November, Nina Amir provides live weekly group Author Coaching for those participating in the WNFIN Challenge. While you can watch on Facebook and even ask questions in the comments there, you also can attend these sessions live via Zoom.
If you would like to join Nina and other writers on Zoom, register here. 
You will then receive schedule updates, Zoom links for sessions, and reminders.
Here is the schedule of free live WNFIN coaching sessions:
October 21 at 3 pm PT (WNFIN Prep)

October 27 at 3 pm PT (WNFIN Prep)

November 3 at 1 pm PT

November 10 at 2 pm PT

November 17 at 1 pm PT

November 29 at 2 pm PT
Nina only offers complementary live group Author Coaching during the WNFIN Challenge. So grab this opportunity to get your questions answered and receive support and feedback on your project and progress during the challenge.
 "Like" the Write Nonfiction NOW!
Facebook Page
During November, the Write Nonfiction NOW Facebook page becomes the hub of WNFIN activity. This is where you find a community of writers taking the challenge, post your status updates, ask questions, and get support.

You can use this page to post public accountability, info on your project, and status updates. Connect with writing buddies in your area and meet in person, or ask for virtual accountability buddies.
Also, the Facebook page is where Nina Amir provides live weekly coaching. You also get the opportunity to join her live via Zoom if you register for the event and agree to receive email updates. (See below.)
All of this happens  on the Facebook page. So, be sure to join!

Subscribe to Write Nonfiction NOW!
Receive Blog Post Updates
If you'd like more inspiration, motivation, and information as you take the WNFIN Challenge, subscribe to Nina Amir's blog, Write Nonfiction NOW!
When you subscribe to receive twice monthly blog posts published on Write Nonfiction NOW! right in your email box every 1st and 3rd Wednesday of the month.
Also, subscribers receive a FREE GUIDE to help start a nonfiction book! If you are unsure how to structure your nonfiction book, you want this guide!

To subscribe, submit your name and email address below: