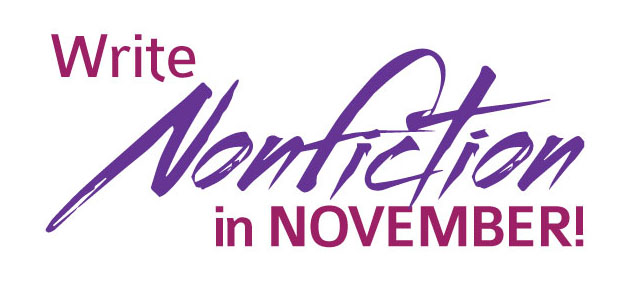 Are you ready for the Write Nonfiction in November Challenge?
Hurry up… It's almost time to write your book in a month.
How to Participate in WNFIN 2019
The Write Nonfiction in November (WNFIN) Challenge, which is also known as National Nonfiction Writing Month (NaNonFiWriMo), is an informal, personal challenge.
You do not need to become a member of a site or organization. You do not need access to a forum. And there are no formal rules, like "write 50,000 words in 30 days."
The only rule is that you commit to starting AND finishing a work of nonfiction in a month.
No one counts how many words you write during the month or even checks what you write. You can write any type of nonfiction, such as a magazine article, blog posts, a white paper, or a book. And your WNFIN project can be as short or as long as you like.
You do not have to take the challenge totally on your own, though. Opportunities exist for you to be in community with other writers and to get support as you write nonfiction during the month of November. 
Read on to find out how to participate in group activities during the WNFIN Challenge.
And use the navigation bar at the top of this page to learn about the history of the WNFIN Challenge, the WNFIN Summit, The Remote Writing Room, or to read all the WNFIN Challenge blog posts (yes...all the way back to the first year).

 "Like" the Write Nonfiction NOW and in November Facebook Page
During November, the Write Nonfiction NOW and in November Facebook page becomes the hub of WNFIN activity. This is where you find a community of writers taking the challenge, post your status updates, ask questions, get support, and comment on the blog posts.

Use this page to post public accountability, info on your project, and status updates. Connect with writing buddies in your area and meet in person, or ask for virtual accountability buddies.
Also, watch for weekly live tips from Nina Amir, special contests or offers, and opportunities to get your questions answered—all on the Facebook page.

The newest WNFIN offering is a way to write in community. The WNFIN Remote Writing Room provides you with a virtual group of writers with whom you can write 2X per week. No more toiling away alone...write in community! The first session takes place on Friday, November 1.
To find out more and join, click the link below.

Learn to Write Quickly and Productively!
Last year, the WNFIN Challenge included a WNFIN Summit, which focused on writing quickly and productively. Specifically, it was about becoming a high-performing writer. Even though the summit is over, you still can gain access to the recordings.
The WNFIN Summit is a series of nine video interviews with authors who are also Certified High Performance Coaches. They discuss how to become a productive nonfiction writer and write faster than you thought possible.
To find out more and get lifetime access to the information-packed interviews, click below.
Subscribe to WNFIN Blog Post Updates
If you'd like more inspiration, motivation, and information as you take the WNFIN Challenge, subscribe to Nina Amir's blog, Write Nonfiction NOW!
When you subscribe to receive the blog posts published on Write Nonfiction NOW!, you get the special WNFIN posts right in your email box every Wednesday during November (and all year long). As a subscriber, you are certain to be sent any important notices about WNFIN as well.
You will continue to receive posts and monthly roundups of posts as long as you remain a subscriber. (You can unsubscribe from this list at any time by using the link at the bottom of any email.)
Also, subscribers receive a FREE GUIDE to help start a nonfiction book! If you are unsure how to structure your nonfiction book, you want this guide!

To subscribe, submit your name and email address below:

Note: Nonfiction Writers' University (NFWU) and Nonfiction Writers' University Masters (NFWU-M) members get a new WNFIN BONUS this year: access to the just-recorded WNFIN Preparation Program, which helps you get ready to write a book in a month. This program was previously offered as a live, paid program run in October.
Also, NFWU-M members receive free access to The Remote Writing Room, and NFWU members can enter at a 50% discount (using a coupon code which will be sent to all qualifying members).
You can learn more about the NFWU and NFWU-M programs by clicking on the following links:
Nonfiction Writers' University
Nonfiction Writers' University Masters