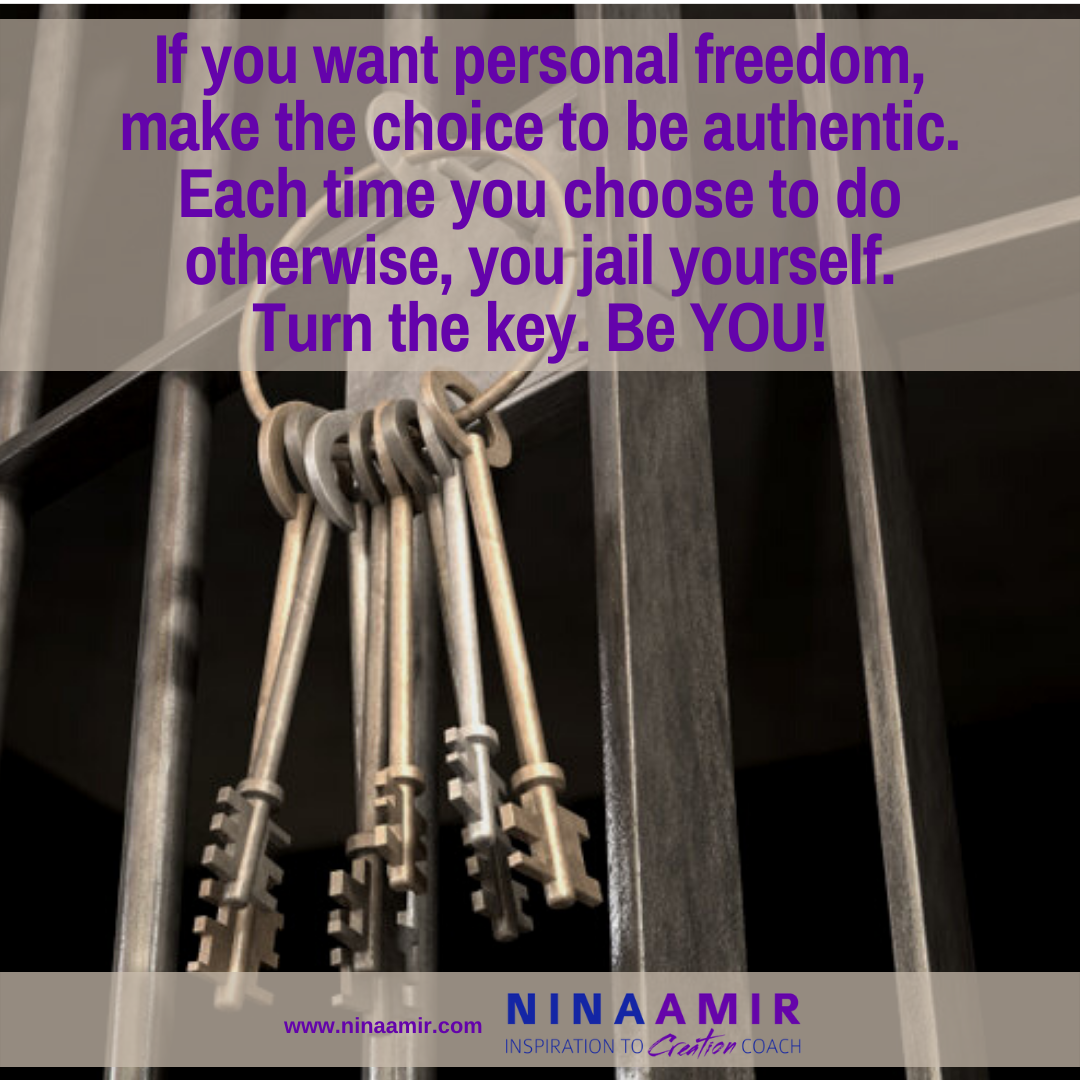 If you don't feel free to show up as yourself—authentically—in one or more areas of life, in certain situations, or with specific people, you lack personal freedom. In fact, personal freedom is an internal sense of safety that allows you to show up as you…all of you…all the time.
If you are wondering how to increase your sense of personal freedom so you feel free to be you, you aren't alone. Many of my clients ask, "What's the secret to feeling free to be myself?"
To be honest, in the past I couldn't answer that question. I, too, struggled to find the keys to personal freedom. I wasn't showing up authentically, nor did I feel free to go after my dreams—the ones that aligned with my true self. These days, though, I rarely hide myself, and I take steps daily toward my aspirations.
So, how did I develop a higher level of personal freedom? I discovered 12 secrets to feeling free to be me—and I put them to use in my life.
Where I Found the Secrets
It wasn't hard to find these secrets—once I knew where to look. In fact, they are part and parcel of the third set of Certified High Performance Coaching sessions, called the Declarations. A fellow Certified High Performance Coach took me through all 12 sessions about three years ago, and, as a result, I became more able to show up in the world authentically.
Additionally, each time I have coached my clients on these sessions, I leveled up my own sense of personal freedom. I've once again declared who I am, who I want to be, and what is important for me to take action on.
I'm about to offer the Declarations sessions to members of the Inspired Creator Community, so I've been revisiting the concepts. And, again, I find myself convinced that these "secrets" do, indeed, help you create an internal state of personal freedom. Each secret takes you one step closer to empowering yourself to be fully you and to take action on the things you find meaningful.
The 12 Secrets to Creating Personal Freedom
I'm sure you don't want to wait any longer to be privy to the 12 secrets to feeling free to be you. And I don't want you to be without them either. So, I've created a brief synopsis of each one, so you immediately can put each one to use and begin feeling freer every day.
Define what personal freedom means to you. I define it as the ability to be my authentic self and take meaningful action without holding back for any reason. But unless you know what it means to you, you won't know if you've achieved (or lack) personal freedom. So, start here.
Anticipate and manage fear. Everyone feels fear, but personal freedom includes the ability to take bold action—despite fear. Don't let fear keep you jailed. Be aware of your fears and when they take you captive. Then manage them by focusing on the future you desire—not the future that frightens you.
Develop sustained motivation for aligned ambitions. The ability to pursue your ambitions is part of feeling personally free. However, any number of things can make you feel unable to go after your dreams. When you know your reason(s) for wanting to pursue a goal —why that ambition is meaningful to you and how it aligns with your best self, you are unlikely to let anything, or anyone, stop you.
Become aware of and present to the roles you play. Increased levels of presence and awareness make it possible to freely choose the roles you take on (or drop the ones you didn't consciously choose). From a place of power, you are then free to express yourself in those roles.
Reclaim your soul's agenda. Only act in ways you choose. When you remain true to yourself and your purpose, you take control of your day. You no longer allow yourself to be held back by distractions, conformity, and needless obligations. You freely choose to do the things you find important.
Defeat internal resistance. The inner voice of doubt, resistance, and fear makes it feel impossible to be authentic and on purpose. Identify the mental resistance that sabotages you—and know it is not you and, while it wants to keep you safe, its words are untrue. Then you become free to move unshackled toward your goals and dreams.
Advance boldly toward your goals and dreams. Exercise your freedom of choice; choose to take bold action. Be decisive. Drop your perfectionistic tendencies (internal resistance) and the expectations of others, and advance courageously and quickly toward your dreams. Notice how doing so unlocks a new level of personal freedom.
Find, feel, and share joy and gratitude. No matter your situation, you have the freedom to bring more positive emotions and experiences into your life. Consciously create moments of joy and gratitude. Feel them deeply. Share them with others. As a result, you will feel free from the negative emotions and experiences of life.
Increase your level of integrity. Integrity is about having intention and commitment for who you wish to be and how you want to treat others and yourself. You have the freedom to keep your promises to others—and to yourself, so stop blaming others or circumstances for your lack of integrity. Filter your decisions and actions through the lens of integrity—especially self-integrity—and powerfully stand behind your word.
Live from your heart. Connect to your heart and deepen your most important relationships. You always have the freedom to show up for those you love most—and to express love in whatever way possible. And don't forget to love yourself; you have the freedom to do that…always.
Inspire greatness in yourself and others. Define what greatness means to you, then freely choose to live into that definition. Choose greatness as part of your identity. Live as your best self. As a result, you will be a role model for others and inspire them to step into greatness, too.
Slow down time. You have the freedom to pause and be mindful and appreciative of the simple moments of life. No one has taken away your ability to slow down and be present. Stop missing the moments that matter because you aren't present and aware, and you will feel a higher level of freedom wash over you.
Deep Dive into Personal Freedom
These synopses just scratch the surface of the 12 secrets. I know you'd probably like to deep dive into all of them and learn more—and develop even more personal freedom. After all, you want to express your most authentic self and do the things you find meaningful and on purpose, do you not?
If you truly want to develop a greater degree of personal freedom—to set yourself free to be you, I'd love to invite you to become a member of the Inspired Creator Community. It would be my honor to coach you through the Declarations sessions, which the community begins on 9/13/21. (If you are reading this after that date, you can still join! Everything is always recorded so replays of missed sessions can be watched.)
And…if you don't feel free to follow your intuition and join the Inspired Creator Community—even though that's what you feel called to do, then you and I both know it's time to ramp up your level of personal freedom.
I get it…I do. For years, I found many reasons why I couldn't do what was best for me. No more…
You should always feel free to do what is best for YOU. To be you…to do you. But if you truly cannot join the Inspired Creator Community at this time, then put the 12 secrets to use…now! Don't wait. Watch as your sense of personal freedom increases (maybe enough to join at a later date).
What helps you feel personally free to be you? Tell me in a comment below. And please share this post with someone who might benefit from the 12 secrets to personal freedom.