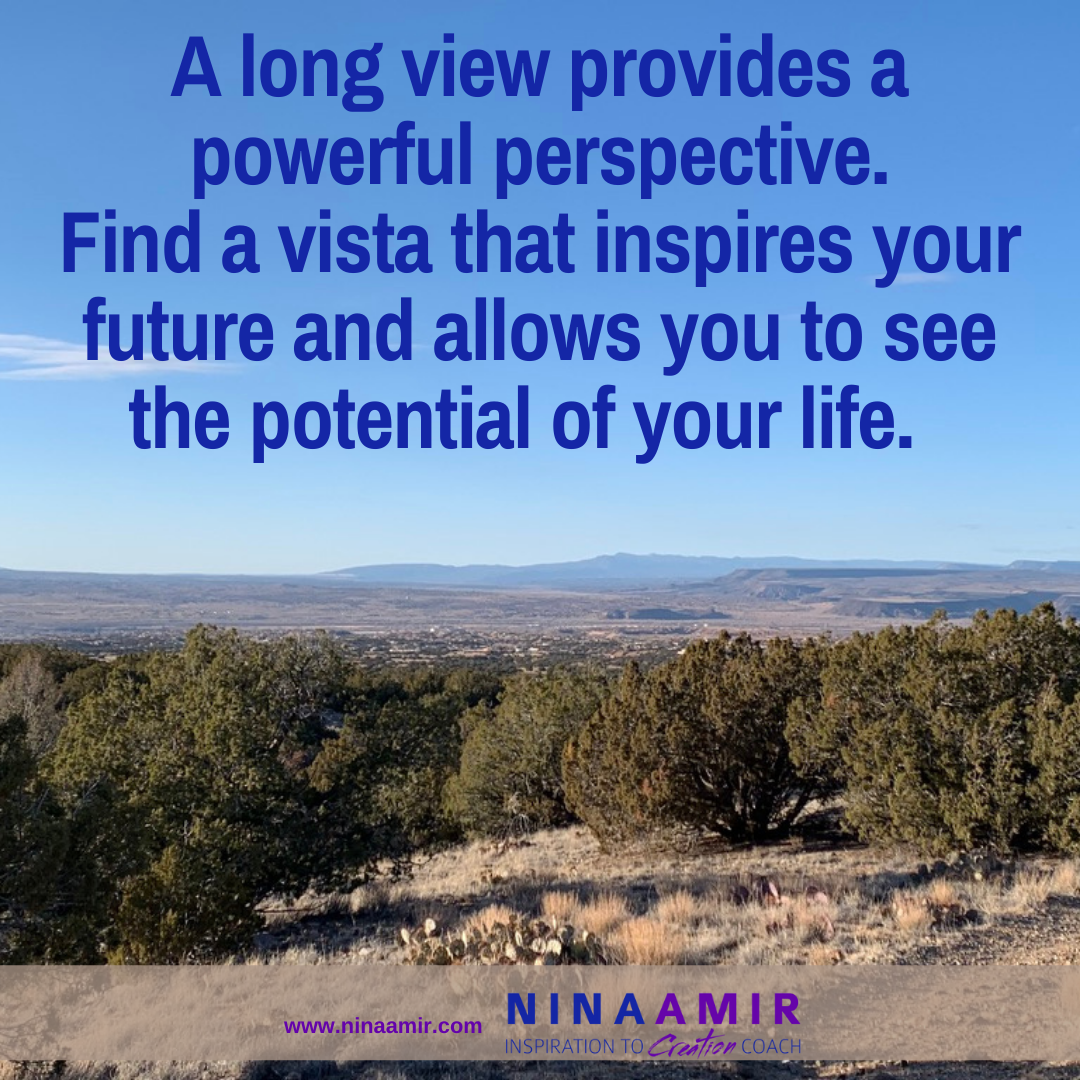 Growing up in New York's Catskill Mountain region, I only saw long-range views from the top of hills or mountains. The rest of the time, the view was obstructed by the landscape itself. But I remember loving the times I could see for more than a short distance.
I didn't realize, though, how much I craved wide open spaces and expansive vistas until I moved to Oklahoma in my early 20s. You could see for miles there because the land was flat as a pancake.
Nor did I realize the lesson I learned from the contrast between these two places. In Oklahoma, I was privy to immense vistas daily. In New York, I could only see what was right in front of me.
At the beginning of the year, I moved from California, where I lived amongst the redwood trees, to New Mexico, where I live with a view across the Jemez Mesa and for miles beyond. The contrast is very similar…and the lesson, too.
While there is nothing inherently wrong with a short view, a long view provides a powerful perspective. It inspires you to see the possibilities and potential of the future while, at the same time, helping you feel connected to something bigger and grander—the Creator.
Missing the Long View
After college, I lived in Westchester County, just outside of New York City. Rye was a small town, but its traffic congestion was large. The same was true of most of the metropolitan area.
I missed even the limited openness of the Catskills and felt claustrophobic living there. Then, when I changed jobs and began working in Manhattan, with its crowds and skyscrapers, the claustrophobia became worse.
Plus, I rarely had the chance to enjoy a long view of the environment around me. Instead, I was stuck looking at my immediate surroundings rather than expansive vistas.
A View of the Great Plains
So, when I was offered a job in Oklahoma, I seriously considered it. And one trip to Bartlesville convinced me I needed to accept the position—if only for the view.
After I moved, I enjoyed the feeling of living in a vast open space and adored the view across the Great Plains. You could see a storm coming from 100 miles away, and Tulsa's cityscape became visible long before arriving there.
In retrospect, I can see how living somewhere that offered an unobstructed view helped me look toward the future. My environment inspired me to think bigger and to gain a sense of something greater than me at work in my life. Looking over the vast vista, I sensed God's hand in the world and my life.
This brings to mind the phrase "God's country." When we see the hand of God in our surroundings, we connect with Creator and our place in the universe.
The Vastness of the Universe
Now that I live in New Mexico, I am constantly reminded how much my soul longs for wide-open spaces. The front of my new house offers a spectacular view of the Sandia Mountains, which means I have a short view in that direction. However, the back of the house affords a long view over the Jemez Mesa to the Jemez Mountains and across the open space due north and west of Albuquerque.
I can see for miles.
Once again, I feel unrestricted when I am privy to open spaces and vast vistas. I sense the enormity of our universe and the awe of how it works. I need only sit on my patio at night and look at the moon and stars to know I am part of something miraculous.
Seeing What's Right Infront of You
Even if you live somewhere with amazing views, you likely spend most of your time looking at whatever is right in front of you. You don't look beyond.
You might even miss or ignore things nearby. This is because you are so preoccupied with the situations, people, and things around you, that's all you see. It's as if you are walking on a steep, rocky path that requires you to focus only on where you place your feet. As a result, if there is a view, you don't see it.
Or you ignore what's in front of you or don't notice it because you have seen it too often. I had a babysitter who would tell me whatever I was looking for was "right in front of my nose." It was within view, but I couldn't see it.
Seeing the Forest
If you only focus on what's right in front of you, that's all you'll see. And that means you'll miss a lot of amazing things in your environment.
Consider the phrase "you can't see the forest for the trees." Indeed, if you are so focused on the trees, you don't see the entirety of the forest. And if you only see the mountains, you don't see the sky or the view from the summit.
Inspired by the View
Today, someone asked me if I missed the Coastal Redwoods that surrounded my house in California. Of course, I miss them, but they blocked my view from the deck. My husband and I would regularly pay a tree service to remove trees and branches to increase our view over the hills and down to the ocean.
It was the ocean we wanted to see.
Yes, the trees were majestic and inspired thoughts of growth, longevity, and reaching for the sky. But the ocean…well…it makes me feel part of something so much bigger and grander. It made me feel like just a tiny part of the universe yet connected to the Source of it all.
That's what I feel when I look at the view from the patio of my new home.
Lengthen Your View
And these vistas remind me of the importance of vision—of seeing past where you are to where you want to go. I'm talking about being a visionary in your own life. For that, you need a long view—an immense vista.
As I write this post, we are three weeks into January 2022. The start of a new year is a great time to move beyond the four walls that confine you. Lift your eyes off the path you are traveling. See the destination toward which you are headed—and beyond.
See past your current life to the future you desire. If you can't see it clearly, imagine it. Create a vision.
What do you want to see in the distance?
What view do you desire?
Take a trip to the summit of a mountain or to an ocean. Travel to the plains or desert or anywhere that provides an unobstructed view. If you can't do this, find a video or photo of such a place.
Look at the view, and let it inspire you to think and dream bigger. See the vastness of the possibilities before you. Feel your presence in the universe and the Creator's hand in all that surrounds you.
What view do you see—in your environment or future? Tell me in a comment below, and please share this post with a friend.

Never miss one of my videos! Click here to subscribe to my YouTube channel.
Photo courtesy of anyaberkut.